Outdoorama 2017 Almost Here!
By editor on Jan 29, 2017 | In Showspan, Outdoorama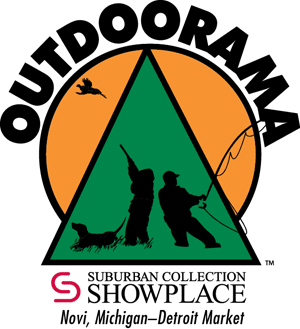 Outdoorama 2017 is at Suburban Collection Showplace February 23 through February 26.
The 44th Annual Outdoorama, February 23 to 26, 2017 at the Suburban Collection Showplace, 46100 Grand River Ave. in Novi, is one of Michigan's most popular shows for hunters, anglers, campers, boaters, hikers, conservationists, canoeists and general outdoors enthusiasts. More than 150 booths of new outdoors-related products including fishing boats, pontoons, canoes, kayaks, deck boats and runabouts are in the show.
Outfitters from across North America and beyond will be present at Outdoorama's Outfitter Expo so show patrons can get the early jump on booking a hunting, fishing or adventure trip. Over 50 free hunting and fishing seminars by national experts including walleye experts Mark Martin and Mark Romanack.
New to the show this year is The Lumberjacks Show, with daily presentations on log rolling, ax throwing, pole climbing races and other exciting agility, strength and skill demonstrations. Also returning are crowd favorites such as "Big Buck Night East," deer processing demos, complimentary scoring by Commemorative Bucks of Michigan, and a Trout Pond for kids are among many special features.
The show is held in conjunction with the 10th annual Cottage and Lakefront Living Show – Detroit, providing patrons with two major shows for one admission.
Hours: Thursday, 1pm to 9pm; Friday, 11am to 9:30pm; Saturday, 10am to 9pm; Sunday, 10am to 5pm.
Admission: $10 adults, $4 children 6 to 14, free for children 5 and under.
Information: www.Outdoorama.com or 800-328-6550.