68th Annual Ultimate Sport Show
By editor on Mar 2, 2013 | In Showspan, Ultimate Sport Show

Ultimate Sport Show – Grand Rapids Rolls into DeVos Place - March 21-24, 2013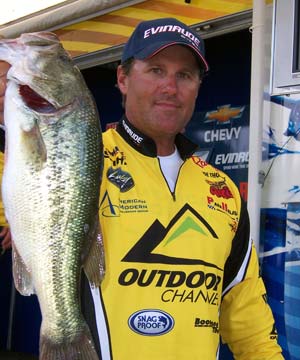 Professional bass angler, author and television host Joe Thomas headlines the 2013 Ultimate Sport Show Grand Rapids with seminars on Saturday and Sunday, March 23-24. Photo Credit: Showspan
Grand Rapids, Mich. — Professional bass angler Joe Thomas and walleye angler Marianne Huskey, the only woman ever to win "Angler of the Year" honors in a national fishing circuit, headline an all-star lineup of seminar speakers at this year's Ultimate Sports Show–Grand Rapids, March 21 to 24 at DeVos Place in downtown Grand Rapids.
After several years' absence, returning is the popular Hawg Trough, a 5,000-gallon freshwater fish tank/seminar platform. A weekend Super Bass Clinic comes back for the second consecutive year; and a kids Fly Fishing Hour on Lake Ultimate makes its official debut. Joe Thomas presents Modern Bass Techniques from the Tournament Trail Saturday and Sunday only. All the traditional fan favorites return including the Michigan Taxidermist Association's annual competition, Big Buck Night–West, Ultimate Air Dogs with Milt Wilcox, Woodland Woodcarvers, special displays of antique fishing tackle, vintage boats, antique motors and more.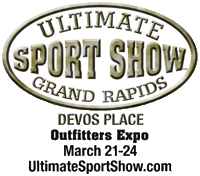 Michigan's biggest outdoor sports show, which dates to 1946, fills four acres with the newest fishing boats and tackle, outdoor accessories, hunting gear, professional guides and outfitters, travel destinations, family entertainment and featured attractions.
"Ultimate Sport Show—Grand Rapids has a rich history of supporting Michigan's great outdoors, and this year's show promises to be bigger and better than ever," said Show Manager Ben Nielsen. "From kid's activities and mushroom hunting to big game and wilderness canoeing, this show truly has something for every outdoors person. I can't wait for it to begin."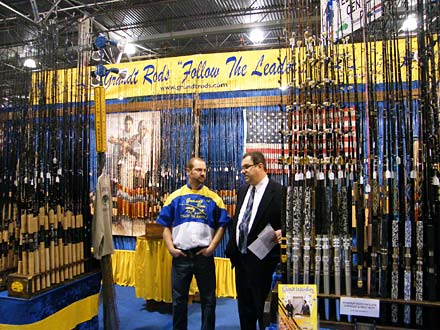 The Ultimate Sport Show Grand Rapids always provides a wide range of fishing tackle and gear like the giant Grandt Rods display featuring over 1,000 fishing rods made in the USA

Star-studded Seminars
For Bass Anglers
Professional bass angler, author and host of multiple television fishing shows Joe Thomas presents Modern Bass Techniques from the Tournament Trail Saturday and Sunday only. Also, look for multiple bass seminars at the bass tank every day of the show - Complete Seminars Schedule. Plus,top pro-staffers from the National Bass Anglers Association will present several how-to seminars designed to educate anglers on the art of bass fishing, and the ins and outs of tournament fishing. Don Watts is one of the many local expert anglers and one of Michigan's most accomplished tournament anglers. He has won tournaments across the midwest and throughout Michigan. Captain Wayne Carpenter will provide Total Smallmouth Solutions. Wayne has dedicated fifteen years of effort to bringing in fishing information and bait technology to anglers.
Put Saturday, March 23, 3PM at Stage D on your calendar for the 2013 Super Bass Clinic! Captain Wayne Carpenter and Combat Bass Fishing Pro Staff offer you a look into bass fishing secrets in technique, style and tackle. Get more than your monies worth from a seminar that delivers the details then sends you out with info and more value in product than you paid for! Get the inside scoop on techniques from tournament fishing pro-staff and guide level techniques for dialing in on spots from Capt. Wayne. At the end, fire questions at our panel and get more than one perspective or solution for catching super bass. One hour just isn't long enough for anglers who want advanced bass fishing information so get two hours, and leave with more than you bargained for! Sign up for the Super Bass Clinic and get a "tournament tune-up" for the upcoming season.
A fee of $25 will be collected at the Xtreme Bass Tackle booth Thursday through Saturday morning. Each attendee will receive a "free gift" valued at more than the cost of the clinic, plus a chance to win the Grand Prize drawing! Those signing up for the clinic on Thursday or Friday will be given a free re-admission pass to enter the show on Saturday for the Clinic. Don't miss this opportunity to learn from a team of professionals who want to see you succeed! Sign up early, seating is limited!
Pages: 1· 2