All roads lead to Novi for OUTDOORAMA
By editor on Jan 20, 2012 | In Showspan, Outdoorama

Michigan's top family event for fun and conservation education
February 23 to 26 show features Big Buck Night, Wildlife Encounters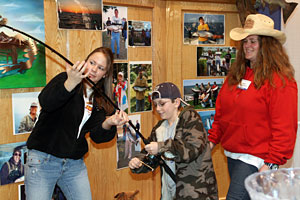 The fishing simulator allows visitors at the MUCC Outdoorama show in Novi to fight a large, virtual fish. Photo Credit: Showspan
NOVI, MI — Thousands of outdoor enthusiasts can't wait for the year's shortest month when the annual Outdoorama sport show, sponsored by RAM Trucks, comes to town. February 23 to 26 are the dates for the 39th annual edition of Michigan's most popular outdoors event at Suburban Collection Showplace, 46100 Grand River Avenue in Novi.
Many of the state's more than one million anglers and hunters will pack the house for great deals on boats and sporting gear, for conservation education that includes nearly 100 free seminars, and for family entertainment and features.
Returning to crowd fanfare are favorite attractions like "Big Buck Night," "Wildlife Encounters" and "Ultimate Air Dogs" with Milt Wilcox hosting daily demonstrations and weekend competition.
Although hunting and fishing are the show's roots, Outdoorama has long appealed to legions of conservationists, those lovers of nature who also hike and camp, boat and canoe, and who pursue bird watching, wildlife photography and mushroom hunting.
"Outdoorama is all about celebrating Michigan's outdoors heritage while keeping in mind our responsibilities toward the environment," said Adam Starr, show manager. "That's why the Michigan United Conservation Clubs, which started the show nearly 40 years ago, still plays a major role."
Adding to the show's broad appeal is the 5th Annual Cottage & Lakefront Living Show, which runs concurrently at Suburban Collection Showplace. Patrons to either event receive free crossover admission. "We've kept the admission fee low again this year," Starr said. "It's only $10 for adults and $4 for children 6 to 14. Kids 5 and under get in free."
Scores of lodges, outfitters, guides and charter boat captains from Alaska to Africa have reserved space in the show. Great values on fishing boats, duck hunting boats, pontoons and pleasure boats will be on display along with docks, lifts and other accessories. Many specialty vendors with hunting equipment, fishing gear, and camping supplies will offer broad selection and great value.
Besides Ultimate Air Dogs, family fun activities include a Trout Pond with live rainbows, pellet shooting range, free Casting Kids Contest, a video fishing simulator, and the Sportsman's Grill with fried fish all four days of the show. Premier Animal Attractions is bringing a live baby tiger, a kangaroo and other exotic creatures.
Dozens of sport clubs and organizations, many of which are MUCC affiliates, will staff booths with volunteers to hand out literature and explain club programs.
National hunting and fishing authority, Joe Thomas, leads a stellar cast of Hunting Academy seminar leaders that include turkey-hunting ace Seth McCullough and whitetail-hunting experts Tom Nelson, Mark Martin and Fred Abbas. Specialty speakers include Doc Morrow on creating food plots for deer.
Walleye pros Mark Romanack and Lance Valentine headline the Fishing Academy of veteran speakers that includes Mark Martin and muskie-fishing guide Don Miller.
Tim Fox from Shooting the Breeze Hunt Club, will demonstrate basic bird dog training tips. Traditional skills expert Jim Miller offers demonstrations on building birch bark canoes, making fire with a wooden stick, and tanning hides the Native American way.
Team Morel, featuring wild mushroom expert Theresa Maybrier from Missouri, will be on hand all four days of the show to share techniques for hunting, preserving and preparing the delectable fungi.
The Huron Valley Chapter of the National Wild Turkey Federation will host a calling contest on Saturday. Experts from Country Smoke House in Almont will demonstrate how to field dress and butcher a deer.
Terry McBurney from Ada will head up a major display of collectible gear for outdoor sport. Patrons can bring their artifacts to the show for a free appraisal. There are even vintage boats and collectible outboard motors, thanks to expert Dick VanRaalte from Grand Haven's Starboard Marine Restorations.
The first 500 attendees on Thursday and Friday receive a free, collectible Dardevle spoon from Eppinger Manufacturing Co. in Dearborn.
The show that celebrates Michigan's great outdoors is February 23 to 26. Bring the kids and grandchildren. Show hours are Thursday and Friday, 2 to 9:30; Saturday, 10 to 9; and Sunday, 10 to 5. For more information, go to http://www.Outdoorama.com or call 800-328-6550.
You can also follow late-breaking news and developments at www.facebook.com/Outdoorama and at www.twitter.com/Outdoorama