Steve's Apocalypse on the Rio Negro
By editor on Feb 21, 2010 | In Peacock Bass Fishing, Brazil, Amazon, Rio Negro
A couple actually got into our bedroom. Though we tried to use a live and let live attitude towards the creatures, the bedroom was going too far. So I stepped on one. It crunched. I bent over to pick it up and the beast flopped back over and crawled away!!!
So I stepped on it again! It crunched even louder. This time... the grasshopper flipped back over and actually half flopped and half flew away!! Man! These are some tough critters!!
Since that wasn't working too well, I just grabbed the other one and wrestled it off the floor. Out the door it went. I can't say for sure, but the next two days, this dude hung out our window asking to be let back in...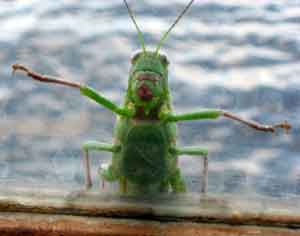 It got so bad on the boat, the crew actually woke up a couple hours early and used brooms to sweep as many of them off the boat as they could before started getting up. That is what I actually woke up to. Even so, there were rogue hoppers scattered around the boat for several more days.
A few still fluttered in even though we were moving miles up the river each day. They were floating on the river. Up on shore. Everywhere. And some still managed to latch back on to one of us like this freeloader that hitched a ride on Randy VanDam's hat.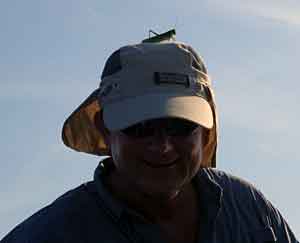 While it ended up not being Steve's apocalypse after all, it was definitely another interesting part of our Amazon peacock fishing adventure with Exotic Outdoor Adventures aboard the Amazon Clipper.