Steve's Apocalypse on the Rio Negro
By editor on Feb 21, 2010 | In Peacock Bass Fishing, Brazil, Amazon, Rio Negro
Not only that, but it stuck a spiny leg right up my nose! Now, I don't know how many of you have had a five inch long giant grasshopper stick its leg up your nose, but it is a surprise. My immediate reaction was to grab the monster and yank!
Not the best idea. Having seen how strong these suckers are when they don't want to be pulled off something, if I hadn't been so surprised, I would have known this was a bad idea before I reacted...
I grabbed! And I pulled! And nothing really happened. Other than the huge hopper dug his little claws in and wouldn't budge. In a small panic (this all happened in about one second), I yanked. This time the grasshopper came off my face, but so did several tiny chunks of my nose!! Check out the claws on these babies and you'll see why!!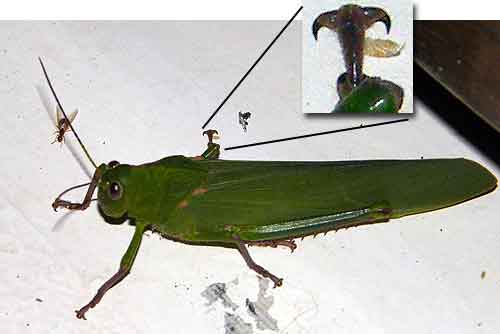 Well, everyone got a big laugh (with me) out of that one! The funniest part was me trying to ask the kitchen ladies for a small band-aid without knowing the Portuguese word for band-aid. They first brought me a glass of water. Then some pepper. Finally at least a napkin that I could use to stop the bleeding anyway...
After that things started getting a little crazy! Whopper hoppers were fluttering in from very direction landing all over the boat. Everywhere you looked there were grasshoppers! The floor. The furniture. The ceiling. The walls. Now the trick was trying to keep them from getting into the bedrooms. Who would want to try to sleep with one of clawed critters fluttering and crawling around in the dark?!?
Steve could be heard all over the boat saying, "it's the apocalypse, I tell you! The apocalypse!!" You be the judge.