Steve's Apocalypse on the Rio Negro
By editor on Feb 21, 2010 | In Peacock Bass Fishing, Brazil, Amazon, Rio Negro
We didn't take Steve serious at first. As the evening progressed though, the sound of invading hoppers kept growing. They started landing on everything. Kind of dive bombing in with mini-crash landings. Many ended up smacking into us anglers.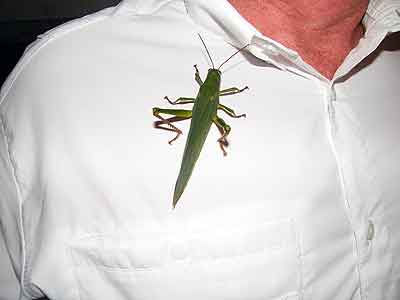 We had to pull them off our shirts, backs, legs, flip them off our plate or out of our glasses. Was starting to get a little annoying. And of course Steve kept saying it's the apocalypse. I was thinking if he's right, at least we could stay on our fishing trip past the last original day!
Not everyone was over the novelty of 'mutant' grasshoppers early that first evening. Many of the anglers took pictures of the critters. Some even tolerated having them hanging on like Tony here posing with a whopper on his shoulder.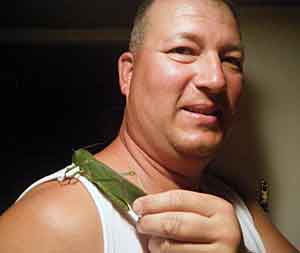 Personally, I don't usually mind big bugs too much... except when they crawl on me. Especially my face! More and more of the hoppers were fluttering on to the boat. And some of our group was getting a little jumpy too, yanking the insects off shirts, pants, shoes, hair... That's when one smacked into my face.