Category: "Welcome"
By djkimmel on Jan 4, 2009 | In Welcome | Send feedback »
It's here already!! The 2009 Ultimate Fishing Show Detroit actually, in Novi, Michigan at the Rock Financial Showplace!!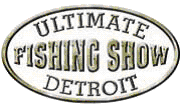 Michigan's BIGGEST Pure Fishing Show!
This show is all about fishing tackle, fishing trips, fishing boats and features: Lake Ultimate, Trout Pond, Seminar Stages, Walleye Fish Fry and more. Detroit is the largest freshwater fishing market in the U.S. ...and now it has the Ultimate Fishing Show in the BEST suburban expo center! And some of the best bass tackle under one roof you'll see all year including your first chance to BUY the brand new Xtreme Bass Tackle Great Lakes Perch tube!!

By djkimmel on Nov 16, 2008 | In Welcome | Send feedback »


– Open to All Members
I know some of you have made your own fishing videos. Now that the new video upload service is running, how about a contest for members to pick the best fishing video uploaded by one of you within the next two weeks?

By djkimmel on Aug 19, 2008 | In Welcome | Send feedback »
Welcome to the new GL Blog...
the primary bass fishing and tournament blog for GreatLakesBass.com. Unfortunately, sharing user databases between this blog system and the forum will be too complex. You can participate and comment on GL BLog without being a 'member' at this time.
If you do want a membership here too (which makes you eligible for the DK Open if you aren't a forum member also), you can use the same user name you use on the forum or a new one if you aren't a forum member, but will have to maintain a password here too.
Please, if you have an existing user ID on the forum, it'd be nice if you use that one here too for continuity. Please do not use an existing user's name for someone else if you can avoid it.
Thanks and stay tuned for updates and new posts...