Fishing with a Legend
By djkimmel on Oct 28, 2010 | In Fish Stories
Unfortunately, none of us could get the big fish to show again. So we moved along with a little grumbling that the guy who was getting all the bites could at least land one of them ('rookie'
)! As we fished, we talked about just about anything and everything! So enjoyable to be able to pick the brain of someone who has seen so much history. Not just on Lake St. Clair. But the fishing knowledge contained in Bob's brain is a real treasure. Musky, bass, pike, catfish, sturgeon, you name it!
Luckily, cameraguy was rolling with his multiple camera setup so we have a permanent memory of the great day of fishing. As soon as he gets some of it formatted, yes, we'll be sharing it. I'm sure that if you're an angler, you'll enjoy it as much as I did.
As the afternoon progressed, I finally got a small, but strong and mean musky to torpedo my Hot Pink Baby and hook itself. Finally! Got him in the boat after a jump and a turn around the trolling motor. That's when they turned on me! My Hot Pink Baby was taken away from me! Something about if I couldn't share the bites, and since I was missing most of them, give up the lure!!
So for a while, my production - or almost production - dropped. I did manage to land a skinny northern pike on the only other musky bait I had with me, a big double cowgirl. I saw it come up on the bait following to the boat, and executed the Bob Brunner at-the-boat oval with his fast coaching - easier than a figure eight. The pike actually nipped a hook and I landed it. But no muskies after I gave up the Brunner Runner Hot Pink Baby. Should have bought two!
Eventually, I got my Hot Pink Baby back since it only seemed to be working for me anyway. Shocker, we pulled into one of Bob's many big musky spots and I started heaving out the Hot Pink Baby ahead of the boat. WHAM! Good fish, I shout! Felt good. Hit hard!
Then I notice it doesn't seem to be fighting like a musky. Can't believe it, but it turns out it's a maybe keeper largemouth bass! Now I'm throwing a 12 inch long bucktail with a #10 white Colorado blade and a huge treble. And that little bass hammered it!! I release the bass and whip another cast out. WHAM! Another hard it and this time, I know, it's ANOTHER largemouth bass!! This time about 2 pounds! Bass hitting a giant musky bucktail? Just like Bob said they do!
A few casts later, I hook another bass on the huge bucktail. Bob and cameraguy got into the act too! Bob gets the largemouth to hit his musky baits while cameraguy whacks a couple on a more traditional trap bait.
And that's how we end what really was a great day despite my problems hooking up with maybe 8 to 10 bites. I didn't see a lot of them, but I got a good look at the one big musky. The bites were all mostly similar that I missed. Here's hoping Bob gives me another chance to redeem myself. I will say yes when he calls. Definitely!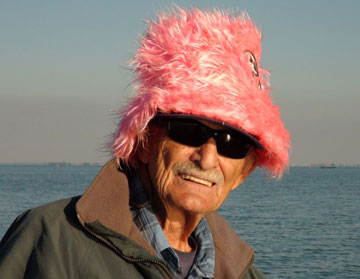 Photo Credit: Mark 'cameraguy' Gomez

Oh, one other thing. You'd think an 80-something legendary angler might be a little serious. Maybe even a little full of himself. But you'd be wrong! Not Robert Brunner Sr - Muskie Bob as many know him. Here's the fun-loving angler showing how fishing keeps us all young at heart!
Pages: 1· 2
1 comment
I want to see the vidio. LOL