Ultimate Fishing Weekend at the Ultimate Fishing Show
By djkimmel on Jan 4, 2009 | In Welcome
It's here already!! The 2009 Ultimate Fishing Show Detroit actually, in Novi, Michigan at the Rock Financial Showplace!!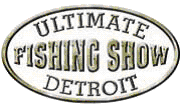 Michigan's BIGGEST Pure Fishing Show!
This show is all about fishing tackle, fishing trips, fishing boats and features: Lake Ultimate, Trout Pond, Seminar Stages, Walleye Fish Fry and more. Detroit is the largest freshwater fishing market in the U.S. ...and now it has the Ultimate Fishing Show in the BEST suburban expo center! And some of the best bass tackle under one roof you'll see all year including your first chance to BUY the brand new Xtreme Bass Tackle Great Lakes Perch tube!!
2009 Dates & Times
Admission (Public)

Thursday, January 8
Friday, January 9
Saturday, January 10
Sunday, January 11

2pm - 9:30pm
Noon - 9:30pm
10am - 9pm
10am - 5pm

Adults: $10
Children (6-14): $4
5 & Under: Free
**Box office is cash only
Click below for a $2 off coupon (Valid Thurs. & Fri. Only) from the ShowSpan web site
Would you like a discount coupon? Click here!
Important News from Xtreme Bass Tackle!
New Lures, a New Book and New Fishing Opportunities for 2009!!
Seminar Schedules at the end
NEW FOR 2009 - Xtreme Bass Tackle - Great Lakes Perchtm
It took two years of product development effort, but now the new, Great Lakes Perchtm tube has become a reality. This is the most complex tube design yet to come from Xtreme Bass Tackle and this bait follows in the footsteps of solid producers like: St. Clair Crayfish, Erie Goby, Great Lakes Craw, Firetiger and more... This natural tone design will have to be seen at the Xtreme Bass Tackle booth (#2251) because words alone are not enough to describe it. Available in a 2 1/2" drop-shot tube, 4" and 5" tubes.