Bass Fishing on Deer Opener
By djkimmel on Nov 16, 2008 | In News
What better day to talk fall bass fishing in Michigan than opening day of firearm deer season? Or so says AM Outdoors Radio host Duran Martinez.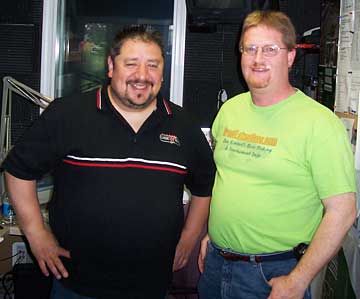 I was happy when Duran called me up and suggested we talk fall bass fishing on his radio shore for the 2008 Michigan firearm deer opener. Why not? So this morning shortly after 8 AM, we did just that. Talked about how awesome it is to be often, the only boat out on the lake enjoying some of the biggest bass of the season!!
Got to spend about 45 minutes on the air talking about big fall bass in Michigan, lures and colors to try like natural colors when the water is clear and painted colors when water is stained, places to look for bass in the fall like river mouths, edges of steep drops and wood cover near dying weeds.
Talked about how the water in normally off-colored lakes and rivers can get very clear in the late months. Talked about my old real cold water technique of holding crankbaits in the current on the edges of river wintering holes for smallmouth bass. How I've caught them downtown on the Grand River in water in the low 40's. Watch them ghost up behind the crankbait and slowly engulf it – I like to use a Bomber Model A dark green crayfish crankbait in size 6 or 7 most often.
I had to tell the story too about breaking surface ice with my Ranger 'icebreaker' bass boat a few Decembers ago on Lake Ovid, making my way to open water... only to find out the ripples farther out on the lake weren't water, but ice ridges.
I didn't tell the story of breaking a casting channel with my boat in thin ice on one of the Grand River gravel pits so I could come back later and make a few casts in the new lane. Oh well. So goes the determination to get in some late season Michigan bass fishing.