Things just begin to heat up at Mullett Lake (includes video)
By djkimmel on Oct 22, 2008 | In News, Fish Stories
So why fight it and get frustrated I say? Save that work the weekdays right?
I run around looking for situations that might make bass more interested in feeding now. At least a few of them anyway. Current. Off-colored water. Heavier cover. Something that should attract those few bass that want to eat! That's how I got the 5-pounder.
And what the heck...? It's a gourgeous day! The morning starts out with BIG Mullett Lake looking like a brand new mirror! The fall colors are exploding!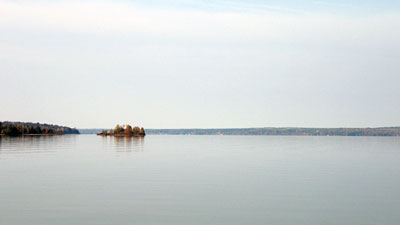 The water has completely cleared up from the wind-stirred cloudiness to clear to very clear over most of the lake. Where I catch the 5-pounder, I see no less that 4 more BIG smallies also just sitting there! Two are GIANTS!! I'm talking the kind of smallies that ANYONE would trip and fall out of a boat for to catch!!! A short distance away are several more including 3 more toads and another giant!