Things just begin to heat up at Mullett Lake (includes video)
By djkimmel on Oct 22, 2008 | In News, Fish Stories
...but it's time to go home (and back to work...)! Isn't that how it always?
I never finished my story about the 2008 fall big bass hunt - shorter in duration this year, but no less important to my well-being. After a total error of a day on Saturday, Sunday could easily go better. It definitely started out well when I saw that hoards of bass were coming into the shallows. They were not doing much other than just sitting there, but at least you could now tell there's a lot of bass in the lake unlike the previous days.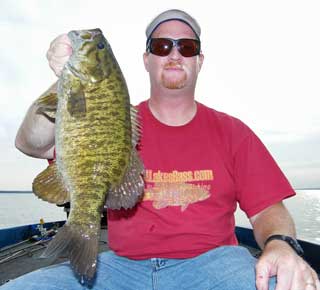 This isn't that uncommon in the fall. Sometimes they crash the shore hard on a warming trend, but the past couple of seasons it's been more of a 'sashay' into the shallows. I was heartened when I got slammed by this very nice 5 lbs 1 oz smallie still fairly early in the day. Caught the beauty on a dark melon tinsel Xtreme Bass Tackle tube in about 10 feet of water.
I decided to wait until later in the afternoon because I've danced with this partner before... bass swimming into the shallows in groups and just sitting in 4 to 7 feet of water over sand looking like a big ole aquarium! You can drive yourself crazy in the spring and fall sometimes trying to catch these bass.