Mullett Lake a No Show?
By djkimmel on Oct 11, 2008 | In News, Fish Stories
Every now and then, the loon would pop up a ways off only to return again. It really seemed to like by Yamaha outboard because it would dive under and next thing I know I see it under water swimming right around my prop. Then it started swimming around the side of my boat and sometimes under it. Here's a shot of the silly bird swimming right along the side of my Ranger near the trolling motor. You can just make out its body and feet kicking: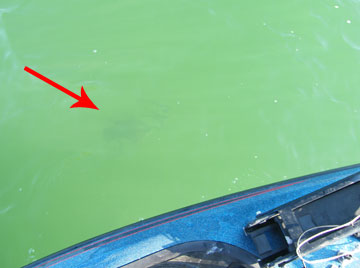 I would be looking out a ways around the boat and then look down and there's the bird swimming under water right around my boat, looking up at me from several feet down. I guess it got tired and finally popped up a couple hundred feet away. But this loon doesn't give up easily.
I ran about 1/8 mile to another point a little later. Drop the trolling motor. Turn and look behind me and there... has to be..? the same crazy loon swimming 10 feet behind my outboard?!? I had to go through the paces all over again to get the bird to move off. They swim really fast and can pop up where you least expect them. It actually almost hit my line at one point after I thought it had moved off only to see it swimming along the bottom right past my tube bait. When it surfaced, it actually left a trail of bottom sand/silt on the surface!
Despite the 'help' of this master angler, I never had another bite nor did I see any bass moving in. Guess I'm going out tomorrow to try something different. Probably a different lake.
Sacrilegious, I know...
2 comments
My shadow is skinnier than I am.
It was skinny enough I was hoping people would think it was me… :D