Mullett Lake a No Show?
By djkimmel on Oct 11, 2008 | In News, Fish Stories
But that was all the talking we were going to do this day, Friday October 10th 2008. I had to drop cameraguy off so he could head back to the 'real' world. As I headed back out, a bass boat came idling up honking and waving. I thought just to say hi, but no, an old tournament partner from a hundred years ago (well, really only about 20 or so) had spun his first hub while up on vacation - he's retired. After a brief discussion on the theories of why the bass fishing was so slow, I ran his wife over to another boat ramp to pick up his trailer.
The off I went to figure out these 2008 fall bass. I don't think I figured them out... Not that the rest of the day wasn't interesting. I went out deeper and found some huge schools of bait, but was unable to find any bass. I did pick up a new 'buddy' however.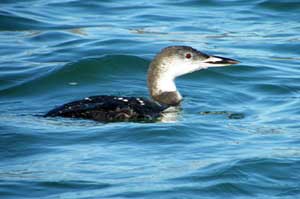 What is really weird is that a loon would come this close to a boat... back in June, my BFL co-angler and I had a young-looking loon swim around and under my boat sometimes coming within 5 6 feet of the boat before swimming off. Usually coming up behind the boat. We did not want to hook this bird so it made casting more than a little challenging.
Well this loon looked like the same bird and did the same thing. It would dive under and swim only to pop up behind my boat of just off the side. Sometimes I could see it swimming by and other times I couldn't figure out where it would pop up. I must have looked like I had a bobble-head!
2 comments
My shadow is skinnier than I am.
It was skinny enough I was hoping people would think it was me… :D