Mullett Lake a No Show?
By djkimmel on Oct 11, 2008 | In News, Fish Stories
We moved on doing more taping and some fishing, trying to make something happen. I tried a rock bar that goes waaaayyy out into the lake that has had a few bass move onto it when things were tough in the past. I finally got a little 3-pounder on a tube just throwing it off the side of the rock bar. Felt good to get a bass finally after several hours. BUT... that was it again. No more bites. And genie tried to say he didn't actually see the bass (I did get it on tape sort of though, you'll see later).
We decided to try a little deeper. cameraguy was working hard with some specialized equipment and wanted to capture some bass so off we went to where he caught his 6.5 pounder. genie and Brett followed us to see what was going on. Minutes after we got there, a BIG smallmouth smashed by Xtreme Bass Tackle St. Clair Goby tube - a very good bait for me all year. After a brief fight with some head-shaking partial jumps, I boated another toad!

I figured it was pushing 5 pounds or so. Not catching many, but we are getting some toads. Typical of fall Michigan bass fishing. After we finished up getting some pictures of the big bass, I weighed her and was pleasantly surprised to find the beaty weighed 5 pounds 11 ounces! Now we're talking...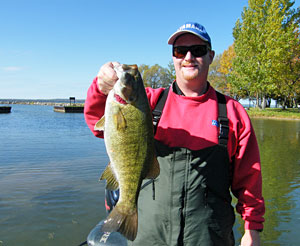 2 comments
My shadow is skinnier than I am.
It was skinny enough I was hoping people would think it was me… :D