Mullett Lake a No Show?
By djkimmel on Oct 11, 2008 | In News, Fish Stories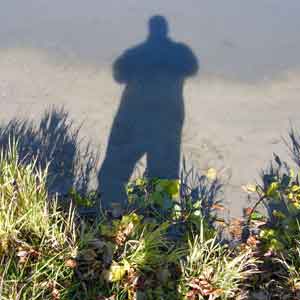 Well... I said the bass were biting, but unfortunately for many anglers up here right now, not many of them! After a slow start in our short evening Thursday albeit somewhat successful with cameraguy's biggest smallie ever at 6.5 pounds, we looked forward to a sunny day with warming water. Normally a good thing this time of year.
cameraguy and I did some fishing early to no avail. Then we went to work (okay, he did most of the work) with his various cameras. I think we got some very interesting footage we'll use later to entertain and maybe educate. We ran into genie and his partner Brett. We drove by Ryan and his dad. Talked to bender and Langer on the phone. No one was getting them much.
Finally, we fished up to an angler from Jackson I see up there most falls for a few years now and he asked me where the heck the bass where? Been out all morning without a bite. As soon as he said that and I told him my only for sure answer, "they're somewhere between that shore there and that shore way over there" he hooked a nice bass off the side of a point on a tube. Then he caught another one on the next cast. And that was it! He said he was glad he asked me, but bummed that he 'spooked the school.'
2 comments
My shadow is skinnier than I am.
It was skinny enough I was hoping people would think it was me… :D