How Not to Fish Team Tournaments

by Dan Kimmel*
with Original Artwork by Bill McElroy
---
Advice seems to be endless when it comes to subjects on fishing. We are continually bombarded with articles on topics ranging from 'how to slow-roll spinnerbaits' to 'how to find bass and make 'em bite.' All these how-to's, as I call them are fine, but sometimes I wonder if it wouldn't be much simpler with some subjects to just write how-not-to.
One such subject I've always felt would be better served by a how-not-to is team tournaments. I think two intelligent bassers can successfully fish tournaments as a team if they are just informed simply, and briefly, what not to do. Now, I'm not talking about the obvious partner no-nos here. Everyone knows you don't ever step on your partner's $150 custom cranking stick, flattening two $15 gold-plated silicon-carbine guides in the process. And you never throw any lure that has any chance of being "the only lure bass would hit that day" if you only have one. And you never, ever bring only one Spam and pickle sandwich or one Twinkie for lunch. These are what we in fishing call 'understood.'
No, I'm talking about the more subtle nuances of successful team tournament fishing, those little no-nos that can mount up and break a good team effort. Let me tell you a story from personal experience that better illustrates my meaning.
It was the morning of my first big team tournament with my new friend, 'Bill.'¹ Now, in earlier small team tournaments, I had found that 'Bill' had a few shortcomings, but I had decided that just because he never caught any bass was no reason to not fish with him. But nothing, not even his better than average talent for squirrel fishing (which he raised to new heights), had prepared me for the nightmare that was about to unfold. It didn't take long!
I dumped the boat with my partner in it and had just finished parking my fishin' truck when I noticed a commotion back at the ramp. The nearest competitor informed me that some guy was drifting down-river because he couldn't figure out how to work his trolling motor. Squinting in the pre-tournament darkness, I made out the unmistakable sleek lines of my custom (homemade) bass rig as it went floating by. Bill was frantically working the foot pedal of my ancient, but trustworthy trolling motor in an obviously futile attempt to reach shore.
"Bill," I hollered, "Whatsa matter!"
"The electric motor won't turn when I move the foot pedal. I tried to turn it left towards shore, but it went so far and then it stuck." "So," he continued, "I pushed on the pedal real hard until it broke, er, popped loose…now it won't turn!"
"#!!#$&#," I said.
After much maneuvering, I coached him to shore and attempted a quick fix for my crippled motor. A little ingenuity and a safety pin had us back in business just in time for the big blast-off. My spirits were definitely lifted as my dependable 20-horse had us easing into my first area minutes later. I had us just about positioned in the quick current for the proper casting angle when, with a loud PING!, the safety pin sailed from its resting place. The electric motor turned wildly and sent us spinning downstream.
"#!&@!$#," I said.
Hurriedly, I twisted another pin into the needed position, a little tighter this time so's not to scare any more ducks. We were back in action. I tried to calm down and get back to the business at hand. It was early yet, and things couldn't get any worse. Besides, I had on my new black satin official good-luck tournament-fishing Tackle Shop team jacket.
WHAP! "What was that!?!"
"Don't move," Bill says! "Luckily I was just using a Rapala, so I'll have those hooks out of your jacket in no time.
"Okay…hold still"…RRRRRIIP…"almost"…TEEAAARRR…"just about got it"…SCRATCH…there, "that should do it…(oops!). Good as new!"
Needless to say, we didn't catch any bass that day. Back at the weigh in I took quite a ribbing from my fellow competitors. But, the day hadn't turned out to be a total loss. I had learned from my experience. I now counted myself as among the authorities on how-not-to fish team tournaments, making it possible for me to bring you this informative article (despite risking the wrath of all outdoor writer's associations for breaking normal writing format). And, I had lightened my tackle boxes considerable by letting Bill use my older lures. Draped on numerous trees, powerlines, and fences up and down the river was an assortment of imitation daredevils, big ugly pre-rigged rubber worms with those little spinners and a bunch of old yellow hula-poppers.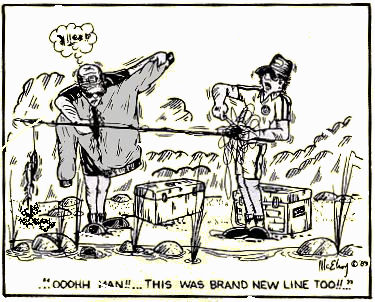 Original art by Bill McElroy of the world famous Scales and Tales cartoon series as seen in BASS TIMES and other publications.
Oh! One last thing I learned that day. As usually happens at the end of a long tournament day, I suddenly realized that I was starving. Where were those munchies I had in the boat? I pulled a small sack out of the back compartment. I could tell Bill was having similar thoughts, mainly because he had that same look on his face that my dog used to always have when I reached for her doggy snacks. As I opened the bag, Bill licked his lips in anticipation of the goodies inside. Slowly but surely, a smile started at the corners of my mouth and spread across my face as I saw in the bag…one Twinkie!
Next time: Post spawn bass and the federal budget deficit - tricks that work for both; or, just how many yellow hula poppers does 2.5 trillion dollars buy?
¹One name in this article has been changed to protect him from humiliation and never being asked fishing by anyone again, (and no, it's not Bill McElroy).
*This article previously appeared in the winter 1989 issue of MI-Bass Lines magazine
Return to Articles Index
Return to Top