---
---
Northern Michigan Big Bass Hunt 2005

Part 1 – Heaven on Earth? by Dan Kimmel




---

Sunday October 2, 2005 — Quest for Brown Bass




---

After only a 1-day delay this year (much better than last year), we were finally off on our annual fall northern fishing and camping trophy bass hunt (well actually, we just want to catch a bunch of really nice smallies – they don't have to be records… I guess they could be largemouths too – we aren't really that picky).

We drove all morning to Aloha State Park on the shores of Mullett Lake, arriving before noon despite a last stop for the rest of our food for a week and a good breakfast at a restaurant near Larry's Higgins Lake cabin. We got Larry's pickup camper set up after self-registering at the park office.

Pic - Dan's Toad Smallie
One of Larry's Toads
See the Sturge
Pg 2 - The Huge 8-2 Smallie


We were both more than a little ramped up, but not from exertion. Only Jack Smalldon was already up and on the water (well besides boats in 3 small tournaments we found out later, although you couldn't really tell). It was sunny and gorgeous. Hot too. Probably close to 80 degrees out.
Didn't take much discussion or real thought. I threw some tackle in Larry's boat and we launched his Ranger R93 into Mullett. Surprise one (well, not much of a surprise after this hot summer/fall) – the water temp was in the mid to high 60's still instead of the mid to low 50's we usually see this time of the year.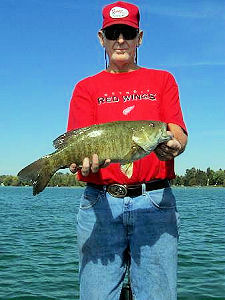 We decided to cut to the chase and start right on one of our favorite points – a little weed, rock and sand. We started out deeper with no bites. The water was very green and kind of murky. It looked like they'd had some wicked wind recently. We found a 'new' really thick large weedbed on our spot, but after a few minutes the weed bed coalesced into a huge school of minnows – bigger school than we normally see.
I was throwing a heavy ¾ oz chartreuse and white spinnerbait to the inside of the minnows at a 7 to 8 foot break. A huge smallie charged my spinnerbait and failed to connect. Got my heart really beating though – I said something like, "Holy! Jeez! Uurrk Wow! Did you see THAT!!!" Then Larry hooked a toad to the left of the edge my fish came from (it also ran the other way) on a tube. After a bulldogging fight, he landed this 5-pound+ smallie. (right)
I picked up an Xtreme Bass Tackle tube of my own tied to my fairly new All Star 7 foot tube rod and tossed the tube out. I popped a dink. Then a baby 2-pounder. But I wanted to hook a toad too. I was dragging my lure out away from the weeds/minnows when my tube was CRUSHED!!! I mean CRUSHED!!! Beauty of a smallie – well over 4 – did its best to not come in the boat. It tore across the surface like the Tasmanian devil, but I got it anyway and quickly released it (I wanted… needed… more).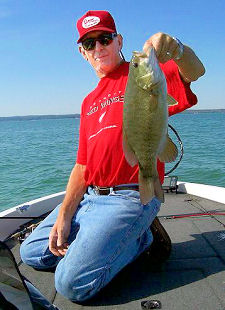 But the bass seemed to have too much natural food and were scattered, seemingly individually. So after a few more minutes we moved to a long rock/boulder point a little ways off and started whacking solid keepers really good. Several threes, and a few well over 4 pounds. Things were looking great! Life was good! Here's one of the 4's Larry caught. (left)
As the bite here slowed we moved to one of our favorite big smallie, deeper rock/boulder fields and I started burning the big ch/wh War Eagle spinnerbait again (painted ch/wh willow leaf blades). A big smallie coasted up behind the spinnerbait, and then grabbed it – one of those thrilling in close grabs that makes clear water (fairly clear, not as clear as normal) fall smallmouth fishing so heart-poundingly special.
I thought I had another 4-pound class bass, but this fish was really fighting strong. It ran under the boat and dragged my 7-foot All Star fiberglass crankbait rod into the water. It actually jumped right on the other side of the boat. Somehow, I kept the line (20 pound Shakespeare Super Tough green) from rubbing the keel despite a very strong surge from the powerful smallie.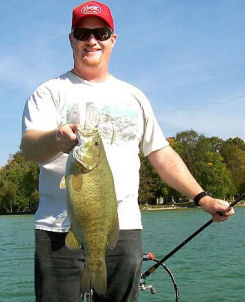 I pumped the fish back to my side of the boat and saw that it was much bigger than I originally thought. Now, the fight was making more sense. When I finally got the fish to hand and lifted it out, "Wow, what a TOAD!!!" This smallie had a fat hump on its back and a huge belly roll from its chin to anal vent (can I say that?) and even bulged out on both sides up past its lateral line, making its head look tiny (kind of funny). It was a football smallie, but only if the football was lumpy and overinflated by 40%, bulging against the rawhide.
Just holding the HAWG, I could feel the solid weight of it. It ended up being my biggest bass of the entire week. (right)
Unbelievably, I was still shaking from releasing the monster after a couple pictures when about 50 feet away, another huge smallie slammed my same spinnerbait. It was like trying to hook into a boulder. I didn't do too well setting the hook and this next hawg pulled off after a few seconds and a washtub boil on the surface. WOW! Two toads in a row… and we'd only been out about 2 hours on our first afternoon.
We ended up landing at least 2 dozen smallies, most over 3 pounds with several well over 4, at least one over 5 and one well over 6!!! What a start!!! I told Larry that we might have already spoiled ourselves for the entire week. We fished less than 3 hours before we decided to finish settling in at the camp and rest up a little from our long drive and preparations. Awesome afternoon!
Awesome weather! Awesome fishing!

Monday October 3 — Mullett Lake Repeat Performance?

We woke up to another gorgeous day. Not as bright as yesterday though. Out we went again, working more points and rock edges. The water had cleared up a bit already, but visibility was still reduced.

We tried going south to start but for some reason, those bass weren't up, ready and willing as normal. I caught one tiny dink and that was it. So back north we went after a couple hours. As soon as we got into some rocks, we started catching them.

The bass seemed a little jumpy today maybe because the water was clearing up again, but we still had fairly consistent success, running into single fish and small packs of 3 or 4 bass at a time. They didn't seem to be schooling up tight yet. We were having too much fun catching some 2's, good numbers of 3's and some heavy 4's but only one really big one today – this 5+ Larry landed, again on a tube. (right)

After about 6 hours of hard fishing we went in to get camp ready for all the other guys coming in over the next 3 days, and to rest Larry a little. He's been having some health problems lately that have been challenging to say the least.

We also wanted to get ready for a road trip tomorrow to Black Lake – a lake we'd never been on and didn't know much about.
Tuesday October 4 — Road to Black Lake
We'd never been to Black Lake before despite having fished other area lakes for about a dozen years. It's a pretty good-sized lake but smaller than Burt or Mullett. The launch at the State Park on the south end was shallow, but we made it out into a chilly, but quickly warming and beautiful fall day. Before it was over, we'd be sweating again.
I had marked some spots of interest and we started cruising them. In about 20 minutes, we found a weed line on a sand drop. Larry and I both commented it seemed like a great morning for topwater – calm, bright and warm. First cast down the weedline, and Larry's Pop'R is blasted by a decent keeper. It jumped off part way to the boat. We actually saw a small sturgeon swimming, several widely scatterd bass blast the surface up on the shallow flats and small groups of bass cruising the weed edge, but we couldn't get any other bites.
We tried some other edges, a few depressions and edges on flats, and a really nice looking steep weedy sand drop. We tried up shallow and out into 18 or 19 feet with no more bites. We were starting to wonder, but Larry really thought we needed to be in the shallow northern end near the big reed beds. I caved in from my original plan (it wasn't working anyway) and we went up to look at some great spawning territory, but even the deeper reeds produced no bites.
We found some nice weed flats though and what was throwing me was that we weren't even catching dinks or at least pike. There were a few boats out though most were perch fishing. We moved onto a little deeper weed flat, and I hooked and lost something solid burning a shallow crank over the weeds. It felt like a decent smallie. Plus we actually saw two smaller boats tossing bassy-looking baits.
We talked to one boat and they said they had caught several really nice smallies just tossing spinnerbaits. Shortly after we pulled away, they whacked a 3+ just to demonstrate this. We moved about 300 yards out onto this deeper flat and started seeing scattered weed clumps with lots of open, clean bottom.
Immediately, quality bass started following our lures back to the boat. Then we started seeing bass in singles, pairs and even small schools roaming the flat and edges of the thick weed clumps. But we couldn't get them to hit anything. Very frustrating. Larry finally had one grab a wacky-rigged stick worm that he had thrown out, and then let lie for a while as he ate a sandwich. Yeah! The ol' sandwich trick.
We had them now! Not! We kept seeing bass. We kept having followers, but could not get them to actually bite a hook. After a few hours of this and after quickly checking a few other spots with no success, we decided to head back to camp. Larry was still building up his energy and it's harder to stay energized when the fish aren't biting well.
At a nearby store, we talked to the owner of the Black River Marina and found out they had a tournament the past weekend with some big weights and huge fish weighed in. Many of the top weights came from the same area Larry and I saw all the bass in. He said he also had the only real deep-water ramp on the lake (actually up in the Black River) and said we could launch there for $5 (pay if they are there).
We headed back to camp to hear they were whacking 'em pretty good on Mullett today. That's okay – we had the rest of the week yet and I get bored fishing the same water over and over (no matter how good it is after too many days). Black was a pretty lake with some definite potential. With only catching a couple small bass, we didn't get any pictures this day.
- Tuesday PM – Mullett Quick Hit
Well, after a few minutes sitting in camp, hearing the stories, thinking about how warm and nice the day was, and then remembering I would be using my boat tomorrow because we were both expecting guests for the day, I decided to quickly transfer my stuff from Larry's boat to my boat and head out for an hour or two before dinner.
Good move that was! I ran north again to find the water had really cleared up nicely. There were even more minnows around the one point. I caught a small keeper and a dink on a spinnerbait and that was it again. I moved down to the long rock boulder point to find small schools gathering around the bigger boulders out deeper and just off the edges. I caught several 2 ½ to almost 4-pounders, each time having followers. But not right away…
A couple of the smaller keepers hit my tube, but I had more followers and didn't get bites off boulders I passed and actually saw groups of bass hanging around. I had won a box of lures in a drawing at Anthony Adam's Crossroads for Youth fishing day in August, and there were some small black Zoom Trick worms left (after the kids had raided out there share – always share the booty with your fishing partners). I rigged one up wacky style and tossed it out off the rock edge. I was counting my line down when it sped up from a foot or so a second to about 50 feet per second! SLAP! My rod was yanked down and I was into a 4+ smallie. I landed that one. Fixed the worm up and tossed it out again.
Again the line took off after sinking about 3 seconds. I set the hook into another beauty of a smallie over 4 pounds. I caught 2 more nice ones before I decided I better head in if I wanted any dinner. (I knew the 'old' guys would be a little touchy that I was out fishing while they were just swapping tall tales in the camp.)
On the way in, I stopped to make a couple quick casts to a stretch of sand drops I was hoping to use tomorrow for some taping we would be doing for a new fishing show (this has been a fall hot spot in years past and Larry had agreed to leave it alone until after we filmed… well that's what he said anyway). On the 4th cast of my tube, I hooked and landed a solid 3-¾ pound smallie. Good enough.

Wednesday October 5 — Swinging for the Fence
Because Derek and cameraguy were coming up later in the morning for some hopefully great smallie fishing, we went out in separate boats. Larry and Jerry were still saying they'd leave the sandy spot alone, but I wasn't sure how good the bass were in there, so I ran farther north to look for some small quick-hit spots.
I was surprised (for a week day in the fall) to find a guy in a small boat sitting right in the middle of the spot I was counting on to be a good choice. I saw him catch 3 smallies including a big one, all on live bait before I wrote the spot off. He was keeping them and appeared to live nearby, so I suspected this spot was getting hammered.
I headed back south and caught a couple here and a couple there off the little weed there is and of course the rocks. The big ones weren't moving in yet this early in the fall day, but I could see they were slowly filtering in. I stopped way out several feet deeper on one of the good points and quickly got into schoolers on spinnerbaits just roaming the rocks. Nothing over 3 pounds, but mostly solid keepers. Good for filler, but not for a short segment of big 'uns.
The radios started chirping up as other members of our group started checking in to see who was whacking them good so far. We all have VHF radios and sometimes they are used for confidence building, sometimes for clues to a good move and sometimes for a little 'friendly' bragging. I like to kid around, but try not to do too much bragging. It usually just escalates into truly tall tales.
I knew Derek had showed up and was now out with Larry. Everyone else was off to a slow start, but Derek and Larry were yucking it up that they were already whacking them and had several toads. On a hunch I got on the radio and told Mr. Dekker he better get off the 'camera' fish and go somewhere else for a while like he promised. He vigorously denied the offense, but I found out later they started right on the spot quickly catching 4 big ones… just before I called. (I know him too well.)
They moved and were still able to whack them pretty good in the next two spots – shallower areas that warm up faster so I didn't feel bad and neither should they.
Cameraguy showed up and I ran in to the ramp to pick him up around noon. We rigged up and ran back out to the 'camera' spot. The tape was rolling and on the 2nd cast, burning (the surface temp was up to 71 F here) a ¾ oz all white double willow War Eagle spinnerbait (I do better here in the fall when the water clears on all white), I felt the lure get bumped. I just kept it humming along right under the surface and was excited to see two big smallies coming in hot on my lure.
About 8 feet from the boat, I stopped the spinnerbait dead and the lead (bigger) smallie hesitated on seeing the boat. I twitched the lure in place and the desire was too great for the TOAD smallie to resist (I think she figured she could grab the 'food' and be off before the scary boat people could do anything). My 7-foot All Star rod (same 20-pound Shakespeare Supreme Super Tough line) was yanked down and the BIG fish turned and ran away from the boat as cameraguy's camera was rolling.
The smallie was HUGE. The fight wasn't long, but very thrilling on a short line. Despite nerves and not knowing how good it was hooked, I was able to grab its jaw and haul her into the boat. WHAT A BASS!! Probably 2 inches longer than my toad from Sunday, but not as fat. Just a thick, thick smallie with big shoulders. Let me tell you, my heart was PUMPING!
But we had a job to do, so we taped the release of the awesome fish. And I got that spinnerbait right back out there. Just burning along. To make a long story short, I was on fire, slamming two more well over 4 pounds and another over 5 pounds along with numerous 3+ class smallies all in about an hour and a half of taping! It was unbelievable! I was in a great mood this day.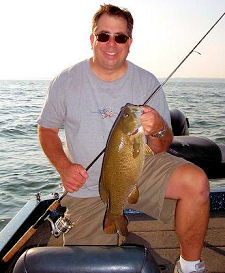 A little later we headed farther north and got into some decent fish here and there, but no more real toads although cameraguy took a break from taping to catch his biggest of the day on a tube up in shallower rocks. Here she is:
We stayed out fairly late since cameraguy could only stay today and Derek had to go home in the morning. There were numerous 5s and at least 2 other 6s caught by other members of our group this fabulous day in the beautiful North Country.
On the way in, cameraguy got into Larry's boat with Derek to do some alternate perspective and casting shots. Before Larry went in, we took some shots of some of the many big ones Derek and Larry had caught today.

Larry with 2 more toad smallies from an Indian summer October day on Mullett Lake (Above)

(Left) Derek with 2 of his own Mullett toad smallies

Then we proceeded to finish the business part of the day. I was just supposed to cast to the boat, but we were near the spot from earlier in the day. On my first two random casts burning the spinnerbait, I whacked two more solid keepers. I quickly caught two more after that before cameraguy told me to quit catching them. You know, some days, not a lot… but some days you just can do no wrong. Those days are great!

I do have to add here that we had a first in the group – our first sturgeon landed. Okay, so not a whopper, but pretty interesting and fairly rare – Judy Faynor landed this adolescent sturge on a tube. It was released to grow BIG.

We finished the day with a great dinner and cameraguy being, well… a camera guy, snapped this nice picture of Larry, Derek and I shortly before sunset of this fantastic day.

Well, that's the story on the first half of an exciting week of Northern Michigan smallmouth fishing. We have seven regulars in our group at this point along with our two Wednesday guests. A whole lot of 5-pounders have been caught so far along with several sixes and too many fours to count.

If you want to see how the rest of the 2005 adventure went, click here for part two of the story.
---
Featured Affiliate Offers
---






---