Bass Stopper Worms = KISS!
By editor on Jun 30, 2015 | In Bass Fishing Tips, How-to, Fishing Tackle, Fishing Products
K&E Stopper Lures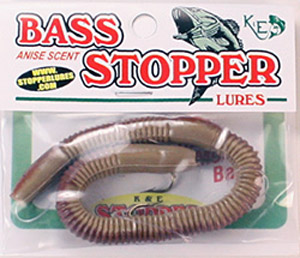 Bass Stopper pre-rigged worms have been around for decades. Photo Credit: K&E Stopper Lures
Bass Stopper worms have been around for decades. One of the biggest reasons they've been around for decades, besides catching tons of bass is KISS. KISS = Keep It Simple Stupid. These pre-rigged worms are about as simple as it gets when it comes to bass fishing. As simple as they are to use, there are still a few tricks that will help you become a more successful angler.
First, always use a swivel when casting a pre-rigged worm. This will help cut down on line twist and make your day on the lake more enjoyable. Second, the Bass Stopper worm comes in several colors. Some of the colors include Purple, Black, Natural and others such as Crawfish. All of these colors have been around for years, pick out your favorite color and give it a try.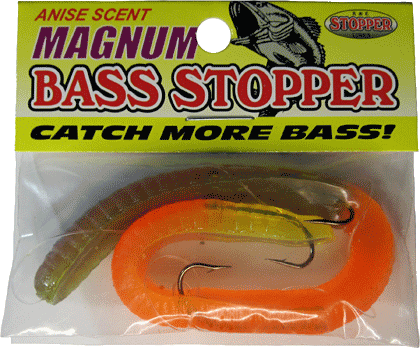 Bass Stopper pre-rigged worms come in two sizes including the Magnum. Photo Credit: K&E Stopper Lures
Next, the Stopper worms come in two styles, Bass Stopper and Bass Stopper Magnum. The Magnum is a larger version of its little brother and works just as well. The Magnum is also offered in the same colors as the Stopper worm. The last item, all Stopper worms come three hook regular, two hook weedless or three hook weedless. If you're fishing in heavy weeds or pads, a weedless worm may be your better choice.
Fish Stopper worms shallow in early season around new vegetation, pads, or docks, all of these areas will hold great fish. Throw it out and reel it in slowly waiting for the strike. As the summer rolls on don't be afraid to add a little bit of weight up about 18" from the worm and cast along weed edges or breaks. Stopper worms have made many of us look like great anglers for years. If only everyone knew how simple it really is...
by K&E Stopper Pro Staff