Lake St. Clair Bass Fishing – Summer Style
By Wayne Carpenter on Aug 23, 2014 | In Bass Fishing Tips, Smallmouth Bass, Lake St Clair, St Clair River, Fishing Tackle, Fishing Products, Xtreme Bass Tackle, Bass Guide
If fishing for smallmouth bass is your passion, summer bass fishing on Lake St. Clair and its connecting waters is the place to be. As the summer bite emerges two trends define the period: the smallmouth bass become spot specific and they get very color selective. These trends play right in to the hands of experienced and well informed bass anglers.
All bass anglers have spots stored in their GPS and a tackle box full of baits which should make them the odds on favorites for a memorable day of fishing on this body of water. However, all bass anglers do not know where the smallmouth are or how they got there. Knowing those things can make a trip out on the big water productive, fun and interesting.
When you know why a bass is feeding with a purpose at certain depth you make a cast, place the bait alongside the bass and a fight ensues. To not know those things means that baits are placed in areas that look fishy, but hold no bass. You can even be casting in the right area with plenty of bass but they will show no interest if the wrong bait is thrown. So how do we put these hungry bass together with enthusiastic and skillful anglers?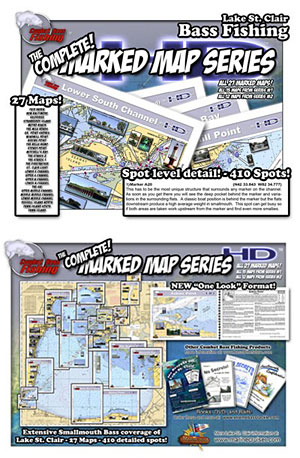 Xtreme Bass Tackle Marked Maps HD High definition color bass fishing maps chart book of Lake St. Clair and the St. Clair River save you time and money with 410 fishing hot spots covered including many GPS waypoints.
The Right Information
Having a map of "hot spots" assembled by a non-Michigan company can help. How about a chart book of 27 maps of Lake St. Clair and the St. Clair River with 410 proven spots (many with GPS coordinates) to put gas back in your pocket and fishing time back into your day?
Information can cut the big water down to size and help to make spot selection line up with seasonal trends. Enough information is available to you that you can rig your rods before you even leave the launch. To enjoy more fishing time and get on the best Lake St. Clair bass fishing available go to www.xtremebasstackle.com and order the Marked Maps™ Complete HD Chart Book.
The Right Baits
I'll be the first one to say that, "All baits catch fish." What we want to know is, "what baits catch bass the best?" What if one of the top bait designers in the country fished Lake St. Clair and designed baits specifically for this water. That would be great!

Xtreme Bass Tackle custom unique tube colors are based on over 15 years of research by Captain Wayne Carpenter. He designed the original St. Clair Goby Classic, St. Clair Crayfish, Mayfly, Alewife and St. Clair Goby NFT pictured here.
That person and the ultimate Lake St. Clair product line exists. You know it as my tubes by Xtreme Bass Tackle™. I've been researching these waters for over 15 years and designed the original St. Clair Goby Classic™ then later, St. Clair Crayfish™, Mayfly™, Alewife™, St. Clair Goby NFT™ and more. You roll these baits out there on this water and you are putting proven baits in front of bass that have been proven to eat them. It takes the guesswork out of it. It's not a question of what might work, but which bait will work best! You can order a variety of baits designed specifically for the bite on Lake St. Clair at www.xtremebasstackle.com.
The Right Presentation
I don't go fishing on Lake St. Clair without at least the bare bones tackle lineup listed below:
Tube rod
Drop-shot rod
Jerkbait/topwater rod
Wacky rod
Spinnerbait/crankbait rod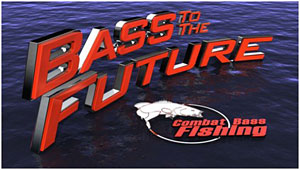 Find tons of free Lake St. Clair bass fishing information on Captain Wayne's blog at BasstotheFuture.com.
If the bass feeding on the bottom are small I'll throw drop-shot tubes and get a bigger bite (and vice versa). If the bass show themselves as aggressive then a crankbait or spinnerbait comes out. If the bass are a little sluggish a hard jerkbait can get them fired up. If the bass are in a funky mood then a way to entice them is with a slow moving wacky worm. You can read more about this on the FREE blog: www.basstothefuture.com.
A Guided Trip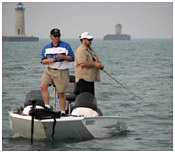 Captain Wayne Carpenter can quickly teach you to catch more big largemouth and smallmouth bass from Lake St. Clair through his bass fishing guide serviceYou can learn quickly with the right kind of guide who will not only put you on fish but give you inside information about a spot or bait selection. Acquire years worth of information, learn new techniques, catch smallmouth or largemouth as part of your Lake St. Clair bass fishing experience. To schedule a trip with Capt. Wayne call TOLL FREE (877) 485-2223 or contact by email at combatfishingguy@gmail.com.
So take a summer of fishing and turn it in to a summer of catching on Lake St Clair with information, baits and presentations that have a track record of success on this world class smallmouth fishery.


by: Wayne Carpenter
Great Lakes Captain / Bass Fishing Guide