Top early season picks of the pros
By Jeff Nedwick on May 16, 2014 | In Bass Fishing Tips, Where to fish, Largemouth Bass, Smallmouth Bass, Michigan Bass Fishing, Lake St Clair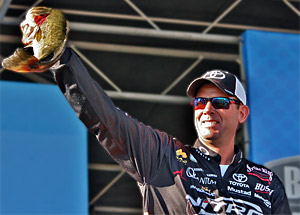 Kevin Vandam with a largemouth bass caught in Muskegon Lake. Photo Credit: Jeff Nedwick
Michigan's catch and release bass fishing season is finally here – and not a moment too soon.
The combination of one of the longest and coldest winters in decades and Michigan's closed bass fishing season means it's been at least five months since anglers have cast, flipped or pitched to bass in Michigan waters.
It's also been that long since bass have seen a lure, making this one of the best times of the year to fish for unpressured bass.
Finding the best spring bass fishing spots from among the thousands of great Michigan bass waters can be a real challenge. Fortunately, some of the best bass anglers in the world reside in Michigan and insight gathered from that homegrown talent can be a great asset to other Michigan anglers.
Legendary Michigan bass pro Kevin VanDam (KVD) is arguably the most successful tournament angler in the history of the sport. Sponsorship commitments and a packed tournament schedule leave KVD with precious little time for recreational fishing, but when the opportunity for some fun spring time bass fishing in Michigan does arise, it's clear where you'll find him – Lake St. Clair.
"The thing I love about Lake St. Clair is the diversity of the fishery. If you like to fish for largemouth, the canals are just loaded with two to three pound fish in the spring. But I go there for the smallmouth," says KVD.
KVD says that in early May, smallmouth bass should be staging near areas where they will soon spawn. "Jerk baits are a great way to find areas that hold staging fish. Once you find them, slow down and use finesse techniques," says KVD.
Another KVD favorite is western Michigan's Muskegon Lake. "Muskegon Lake is another diverse fishery, with good populations of both largemouth and smallmouth," says KVD. But unlike Lake St. Clair, KVD prefers largemouth on Muskegon. "There's a tremendous population of quality largemouth on Muskegon Lake. The whole north shore of the lake – from where the river enters, all the way to Lake Michigan – is one big weed flat and a lot of those largemouth move there to spawn on that flat," says KVD.
He uses soft jerk baits on Muskegon Lake when bass move into the weedier sections of the flat and hard jerk baits when they stage farther out on the weed edges.
Jonathan Vandam with a pair of Lake St. Clair smallmouth bass. Photo Credit: Jeff Nedwick
Another successful Michigan tournament pro, Jonathan VanDam (JVD) prefers Michigan's bigger smallmouth bass waters in the spring and his favorite early season bass spot is Grand Traverse Bay. "That's the best time of year to catch the true giants," says JVD.
The depth of this huge Great Lakes bay means bass will be in pre-spawn mode throughout the entire catch and release season. JVD suggests using tube jigs, drop shots and blade baits in 15 – 30 feet of water to catch some of Grand Traverse Bay's monster smallmouth bass.
JVD also includes Lake St. Clair on his short list of early season smallmouth hotspots. "Lake St. Clair is different because it's so shallow. Fish can't really get deep there," says JVD. His go-to baits for Lake St. Clair spring smallmouth bass include hard jerk baits and lipless crankbaits.
When Michigan native Chad Pipkens joined the ranks of the Bassmaster Elite series tournament circuit in 2013, it was just the latest accomplishment in what has been a very successful tournament fishing career. His earlier tournament success included eye-popping catches of smallmouth bass from northern Michigan's Burt Lake, so it's no surprise that Burt tops his list of favorite early season bass waters.
Pipkens says the big smallmouth bite on Burt Lake typically begins when fish move toward rocky areas to spawn around the second week of May and lasts for about six weeks. "They're up there, they're huge and they're there to eat," says Pipkens. His favorite presentations include jerkbaits, swimbaits and crankbaits.
Pipkens also likes southern Michigan's Kent Lake. Kent features both largemouth and smallmouth bass, but largemouth are the main draw. "In the spring, big largemouth move up onto the banks," says Pipkens. Kent Lake's shallow, stained water means it warms faster than most Michigan lakes and bass are often on spawning beds by mid-May. Bedding bass can be caught by sight fishing with tube jigs or other plastics. When cold fronts push bass off the beds, jerkbaits or lipless crankbaits work well on weed lines or bays adjacent to spawning locations.
These tips from the pros should give anglers even more options this spring. But running out of new places to fish in Michigan is rarely a concern – running out of time to fish them all is.
By Jeff Nedwick