TBF of Michigan Junior Member Cody Harris Has Banner Year In 2007

by Brian Bennett (motocross269)


Photos by Jeff Harris
---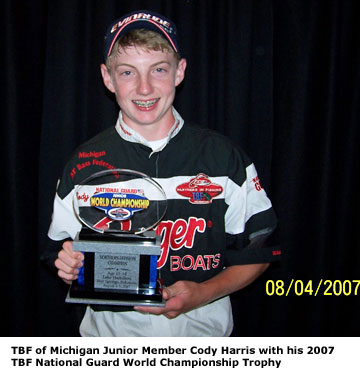 In Cody Harris' young fishing career he has already amassed a fishing resume' that many top bass pros would be proud to have. Cody has competed in many casting competitions and went on to win the Michigan Casting Kids state championship. He qualified for the Bassmaster Junior Championship as a competitor at the age of 11. In 2007 he won the TBF of Michigan Junior State Championship and on the next day finished 2nd at the BASS Junior State Championship. Cody won the TBF Junior Northern Division and placed 5th overall at the 2007 FLW/TBF National Guard Junior World Championship in Hot Springs Arkansas. He earned a $1,500 scholarship for himself and $1,000 dollars for the The Bass Federation (TBF) of Michigan Chapters for his performance. Cody was also rewarded with a sponsorship with Pure Fishing and Berkley Products.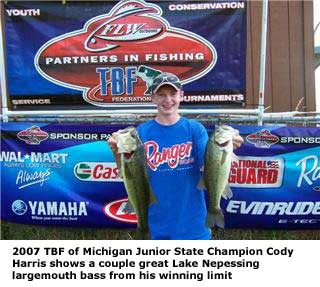 In preparation for the 2007 TBF State Championship on Lake Nepessing Cody prepared just as any bass champ would. He studied lake maps and previous tournament results so when it came time to pre-fish he had a head start on establishing a winning pattern. He found that pattern in practice and was confident on tournament day. Cody hit his best spot right from the start and was culling fish by 10:00 am. Cody was the only angler to catch a limit and was crowned the Michigan TBF Junior state champion. Winning the state championship earned him the right to compete against other junior anglers in his age group at the 2007 TBF Jr. World Championship in Hot Springs Arkansas.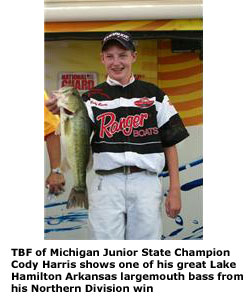 Cody spent his time prior to the TBF Jr. World Championship studying lake maps of Lake Hamilton and reading articles on the winning patterns in previous tournaments there. Through his research he came to the conclusion that most of the successful anglers were targeting schooling fish early in the day with topwater and as the day went on fish seemed to be moving to deepwater points and humps.

When Cody arrived at Hot Springs he was very impressed with the hospitality that the FLW Outdoors and their sponsors provided. FLW Outdoors held many events and games that appealed to anglers of all ages. Like a lot of anglers Cody struggled getting to sleep the night before the tournament. He spent most of the night checking and rechecking his tackle and equipment. On the first day of the tournament Cody was paired with FLW pro Mike Hawks. Cody managed to land a couple of small fish early, but things came together when he moved to deeper water and started throwing a PJ's football head jig and a Berkley chigger craw. At weigh in things looked good for Cody as a lot of the anglers had struggled on a tough day.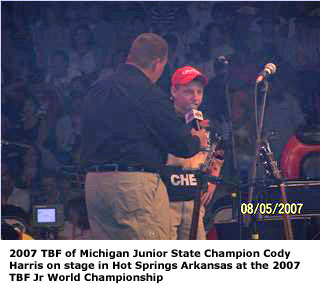 After the first day weigh in was complete, he had won the Northern Division and was sitting in fourth overall. He had made the cut and was fishing the next day. That night the junior anglers had a huge pizza party and were served by the FLW National Guard fishing team. On day two Cody was paired with FLW pro Tim Klinger. The second day was much tougher and he could only manage a couple of small fish and no keepers. Getting on the FLW stage and weighing in his fish in front of thousands of people has been the highlight of Cody's fishing career. Cody left Hot Springs with the #5 junior national ranking.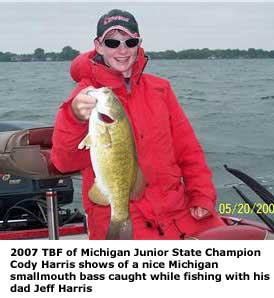 Cody recognizes his dad, Jeff, as the reason he is in competitive fishing today. Since the day his Dad put a rod in Cody's hand he can't get enough of time on the water. Jeff and Cody fished together as a team in an adult tournament during the summer of 2007 and brought home the first place trophy. It was a special time for both of them. With supportive fathers like Jeff and dedicated, outstanding young anglers like Cody I would say the future of bass fishing looks great.

Going into the 2008 season Cody has set goals to repeat as the TBF State Champion and to become the next TBF Jr. World Champion. He is also looking forward to competing at the next level, the Michigan BFL. Watch out Mark, Eric and Dan, Cody is coming. Cody will be giving seminars during the off season at local retailers. He hopes to convey his experiences to all kids and adults to help in any way he can to grow the sport.

Cody would like to thank TBF of Michigan, FLW Outdoors, Berkley, The National Guard, his mom and dad and anyone else that has helped along the way for all of the fantastic support.
Visit www.michiganbassfederation.com and www.greatlakesbass.com/forum for more information about TBF of Michigan's youth events and clubs, and to see Cody and other members' seminar schedules.
Return to Articles Index
Return to Top