78th Annual Ultimate Sport Show Takes Over DeVos Place – March 9-12, 2023
By editor on Mar 3, 2023 | In Showspan, Ultimate Sport Show
Showspan News
78th Annual Ultimate Sport Show Takes Over DeVos Place – March 9-12, 2023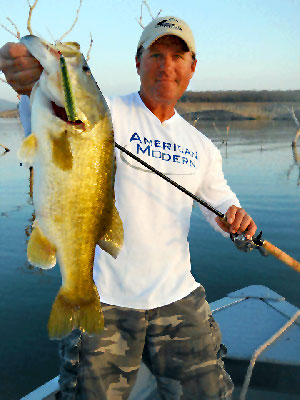 Pro angler Joe Thomas is another featured seminar speaker at the 2023 Ultimate Sport Show. Photo Credit: Showspan
(GRAND RAPIDS, Mich)—The Ultimate Sport Show – Grand Rapids returns to DeVos Place, March 9-12, offering the latest fishing, hunting and camping gear, as well as seminars, special events and features aimed to educate and entertain all. In all, over four acres of displays will be spread out including fishing boats, recreational destinations and outdoor gear.
Once again, long-time radio broadcaster and avid outdoorsmen Tony Gates joins the Michigan Sportsmen Against Hunger (MSAH) in collecting food donations for God's Kitchen of Catholic Charities West Michigan and other community organizations on the opening day. Those who bring at least six non-perishable food items (cans or boxes) on Thursday, March 9 (only) will receive one free admission ticket to the Show (to be redeemed on Thursday only).
The first 250 people in line Thursday and Friday will receive a free Michigan-made commemorative Eppinger Daredevle spoon, while the first 250 on Saturday and Sunday will be given a pre-rigged K&E Bass Stopper worm – another Michigan-based lure.
On Thursday evening (6pm), Jimmy Gretzinger and Jenny Olson from Michigan Out-of-Doors TV will interview the lucky hunters who have bagged some of the largest whitetail deer of the season as part of "Big Buck Night West". This one-night show will be filmed for airing on the upcoming television program.
Kids and families will enjoy the rock-climbing wall and the trout pond (with a fee of $7 benefitting Northern Little League). Another not-to-be-missed family feature is Dan Armitage's "Kid's Fishing Fun" seminars held on the 5000-gallon Hawg Trough, where kids (and kids at heart) learn the facts of fishing from the madcap guy himself.
Not to be missed, the Timberworks Lumberjack Show is always a popular people pleaser. Watch these guys and gals compete in spar-pole climbing, logrolling, chainsaw log cutting and more.
Take a stroll through a huge room filled with the wonders of the Woodland Wood Carvers. You'll find everything from the life-like carvings to the whimsical there. Let these artist's imagination bring you into a wondrous whittled world. Also be sure to take a walk down the isle of antique lures, rods, reels, outboard motors—as well, anything vintage with fishing—with renowned collector Terry McBurney. You're sure to reminisce of days of the past. Feel free to bring in your antique collection, as well; you could be walking out with a whole lot more pocket change than you came in with.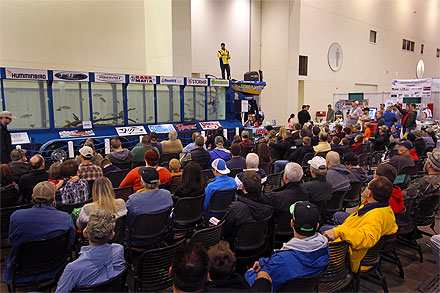 The 2023 Ultimate Sport Show features over 100 seminars including informative events on The Hawg Trough, Thursday, March 9 - Sunday, March 12. Photo Credit: Showspan
Hunting and fishing seminars are also back this year, led by leaders in the outdoor sports arena.
Bass fishing favorites like Captain Wayne Carpenter and TV host Joe Thomas will share their secrets; along with walleye gurus such as Mark Romanack, Mark Martin and Lance Valentine. Captain Jake Romanack has seminars on salmon and steelhead throughout the weekend, as well will Roger Hinchcliff and Jim Bedford. William T. Mangan will be fly casting on the 110,000-gallon Lake Ultimate, and Richard Holm will be giving up the tips and tricks for catching the ever-popular perch. Captain Matt "Catfish" Firestein will be on hand to chat up muskies.
Check out the free Ultimate Walleye Clinic with TV hosts Mark and Captain Jake Romanack on Saturday, March 11. Another must-see is the Ultimate Bass Clinic on Saturday, March 11, from 3 to 5 pm. Captain Wayne Carpenter hosts this amazing two hours of bass-fishing knowledge, which has a $25 fee collected beforehand.
Bass anglers make sure you mark your calendar for Saturday, March 11 for the Ultimate Bass Clinic. Most seminars at the 2023 Ultimate Fishing Show are free, but this special 2-hour, in-depth clinic costs $25 per participant. You'll get free lures and 2 hours of quality bass fishing knowledge. This year's clinic features Capt. Wayne Carpenter of Xtreme Bass Tackle, Dan Kimmel of GreatLakesBass.com and West Michigan Bass's Cy Ruel! The Ultimate Bass Clinic is in Stage D from 3:00 pm to 5:00 pm. Sign up before the Clinic at Wayne's booth 1925, or see me (Dan Kimmel) at booth 1929. Check out Wayne's new book - No Secrets on Lake St. Clair Volume 5 too!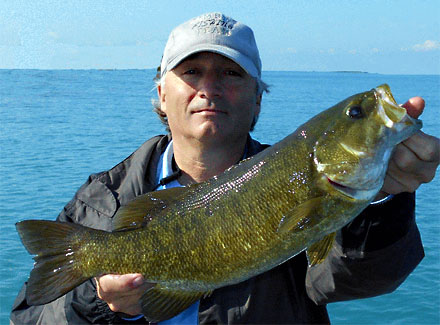 Xtreme Bass Tackle owner and guide Captain Wayne Carpenter is another featured seminar speaker, including the Ultimate Bass Clinic on Saturday, March 11. Photo Credit: Showspan
Like to hunt? Check out Denny Geurink, host of the Outdoor Adventures TV, and Tom Richardson, who will be talking turkey and deer all four days.
Steve Francis, owner of Country Smoke House, will be processing a deer on site, while the folks from the Grand Rapids Steelheaders will be filleting fish caught from the trout pond throughout the show.
The Ultimate Sport Show started in 1946 as the West Michigan Sportland Boat Show in the Grand Center with less than 25,000 square feet of space. In the 1980s, the show was divided resulting in the Grand Rapids Boat Show and the Ultimate Sport Show-Grand Rapids. Today, it is one of 14 consumer expositions produced by ShowSpan Inc., in Grand Rapids, Michigan. Founded in 1945, ShowSpan – a Studio C Company – is the largest producer of consumer shows in the Midwest.
WHERE: DeVos Place in Downtown Grand Rapids. 303 Monroe St NE
WHEN:
Thursday, March 9 1:00pm – 8:00pm
Friday, March 10 12:00pm – 8:00pm
Saturday, March 11 10:00am – 8:00pm
Sunday, March 12 10:00am – 5:00pm
PRICES: $12 adults, $5 children aged 6 to 14. Kids 5 and under are admitted free.
TICKETS: Buy tickets online now (no fees) – https://showspan.com/USG/home/dates-times-admission/
PARKING: There is plenty of close by parking – beneath DeVos Place, across the street and connected by skywalk. For more information, click here.
Floor Plan & Boat Line List
Features & Attractions
Promotions & Sponsors
Seminar Stage Headliners
Seminar Schedule