Family Fun, Conservation Highlight 50th Annual Outdoorama
By editor on Feb 23, 2023 | In Other Shows
Showspan News
50th Annual 2023 Outdoorama runs February 23 through 26 in Novi at Suburban Collection Showplace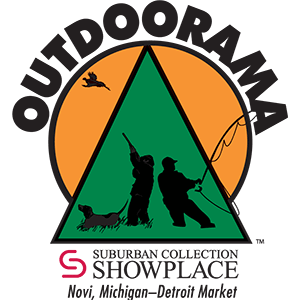 The 50th Annual 2023 Outdoorama runs February 23 through 26 in Novi at Suburban Collection Showplace. Photo Credit: Showspan
NOVI, MI — It's hard to fathom that southeast Michigan's premiere outdoors has been around for a half century but it's true. Over those 50 years the show has grown and this year features over five acres of conservation displays, boats, hunting and fishing gear, marine accessories, educational and informative seminars, and aisles upon aisles of outfitters from across the country, Canada, and beyond. It all comes together February 23-26 when Outdoorama opens its doors at Suburban Collection Showplace, 46100 Grand River Avenue in Novi.
Whether it's watching the thrilling head-to-head Timberworks Lumberjack competitions, enjoying an up-close encounter with Live Birds of Prey, catching a feisty trout in the Trout Pond, or attending one of the non-stop Educational Seminars there is something for everyone, young and old, to enjoy at Outdoorama.
Conservation continues to be the foundation of Outdoorama, but family fun also keeps folks coming back year after year. Patrons can't wait to return to Outdoorama to see Big Buck Night (Thursday only) and some of the biggest racks taken from Michigan in 2022, battle a king salmon or a dorado on the Video Fishing Simulator, plink around at our Pellet Shooting Range or "pig out" at the Ultimate Sportsman's Hog Roast.
Patrons will find door-buster deals at Outdoorama too. Whether it's boats or hunting and fishing gear, deals abound for everyone.
"For five decades we have been combining family fun, conservation and outdoors education to make Outdoorama the best and longest-running outdoors show in southeast Michigan," says Show Manager Ben Nielsen. "With winter weather gripping Michigan, and outdoors people being cramped up at home, this year's show offers some outdoors relief in an indoor setting to shake off the winter doldrums and get ready for the warmth of spring, which isn't far away. We're excited about this year's show and can't wait for the doors to open at 1 p.m. on February 23."
Returning to Outdoorama this year by popular demand is the Timberworks Lumberjack Show. These lumberjack world championship competitors use the same skills used in logging camps in the 1900s to thrill the crowds with entertaining dialog and head-to-head competition in skills including log rolling, pole climbing, ax throwing, crosscut sawing and more. The Timberworks Lumberjacks have nation-wide appeal and have appeared on television shows including Wide World of Sports and Fox and Friends. They are sure to be a hit with the crowds at Outdoorama.
Big Buck Night-East, an annual family staple on Michigan Out-of-Doors TV and a crowd pleaser at Outdoorama, will be filmed on Thursday beginning at 6 p.m. It's free with admission and doors open at 5:30 p.m.
On Saturday, deer hunters can learn how to process their own deer when Steve Francis, owner of Country Smokehouse in Almont, gives a demonstration on field dressing, skinning, butchering and packaging a whitetail.
The Michigan B.A.S.S. Federation Nation will again provide one of the best indoor Trout Ponds in the state. For a nominal fee kids can try their luck at catching a live rainbow trout. In addition there is a Pellet Shooting Range with certified instructors offering free lessons and an Archery Range for kids, staffed by members of the Michigan Bowhunters Association.
The Outfitters Expo provides show patrons with nearly unlimited family vacation and adventure travel, including hunting and fishing destinations throughout North America and beyond. You can book a fishing trip to Canada, an elk hunt in Idaho, a family houseboat adventure in Kentucky, a safari in Africa or any of a number of other trips and destinations.
Continual seminars are scheduled over the four days and cover topics ranging from fishing and hunting to training your bird dog or grooming your land for wildlife or hunting. All seminars are free with admission.
The first 250 attendees on Thursday and Friday receive a free, collectible Dardevle spoon from Eppinger Manufacturing Co. in Dearborn. The first 250 attendees on Saturday and Sunday will receive a K&E Bass Stopper lure from Stopper Lures in Hastings.
An added bonus for Outdoorama patrons is free crossover admission to the 16th annual Cottage & Lakefront Living Show, held concurrently at Suburban Collection Showplace.
The show that celebrates Michigan's great outdoors is Feb. 23-26. Bring the kids and grandchildren. Show hours are: Thursday, 1 to 8; Friday, 12 to 8; Saturday, 10 to 8; Sunday, 10 to 5. Admission: $12 adults, $5 children 6 to 14, free for children 5 and under. On-site parking is $5.
For more information, visit http://www.Outdoorama.com or call 616-447-2860.
Stop by the GreatLakesBass.com / GLIF booth 5767 in the 2nd row from the west wall of the show. We are right next to Xtreme Bass Tackle and across from 2K Jigs, so you can stock up on high quality, unique fishing tackle!
Discount weekday tickets are available online at Outdoorama.com. You can also follow late-breaking news and developments at: www.facebook.com/ULTIMATESPORTSHOWTOUR and at www.twitter.com/Outdoorama.