---
---
Start Your Bass Pro Shops Shopping Here
---
Great Deals & Sales Available on Top Products from Basspro.com! Shop Now Bass Pro Shops Your Adventure Starts Here!!
Save Money while helping GreatLakesBass.com stay open and free! Some deals and sale prices are only available on the Internet. Some deals may be of limited duration as indicated. All prices and sales subject to change without notice.
---
Click on the link and/or graphic for your latest Special Offers:



Get All Your Fishing Gear – Tons of lures, rods, reels, fishing line and more!!


Save Big With the Latest Bass Pro SALES!!

Fishing Gear at BPS -
Get everything you need here!
Featured Products & Offers from Basspro.com
---

BECAUSE WE FISH!
Whether you are a tournament competitor or a weekend enthusiast you can depend on P-Line to demonstrate superior strength, great castability and abrasion resistance that is unsurpassed on the water. Combining their experiences in copolymer and fluorocarbon technologies, P-line is on the leading edge of quality, high-performance fishing lines. Check out P-Line at Basspro.com!


P-Line Fluorocarbon / Co-Fluoride Fishing Line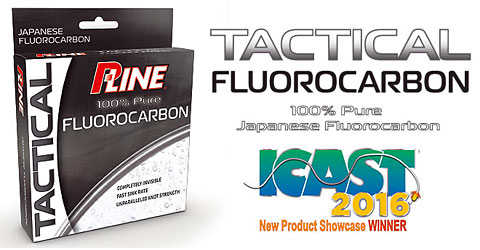 Premium Tactical Fluorocarbon
Your success as an angler starts with the tactical decisions you make long before you get to the water. You need every advantage possible to compete with the serious anglers of today and to catch those big, wily bass! That starts with your line! Longer casts and extreme invisibility are just a few of the benefits you get when you spool premium P-Line Tactical Fluorocarbon. Because Tactical is derived using the latest in raw material and extrusion advancements you know you've spooled with the strongest, most durable fluorocarbon available. Available in 6-20 Lb. Test in 200 yard spools. Buy P-Line Tactical 100% Pure Fluorocarbon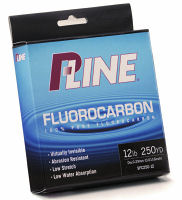 P-Line Fluorocarbon
P-Line's original Fluorocarbon is extruded from the highest quality Japanese fluorocarbon crystals, ensuring the best knot and breaking strength available in a soft fluorocarbon line. As the educated angler knows, fluorocarbon has a refractive index very close to that of water, making it invisible once it enters the water. Because of its inherent qualities, this line absorbs very little water giving it great knot strength. The low stretch factor increases sensitivity so you feel the lightest strikes. Available in 2 to 20 Lb. Test in 250 and 2000 yard spools. Buy P-Line Fluorocarbon Fishing Line
HALO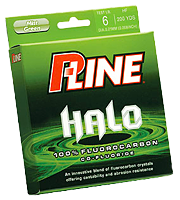 P-Line HALO - the union of unmatched proprietary extrusion technology coupled with the finest raw materials available has produced P-Line HALO Fluorocarbon; the first Co-Fluoride introduced into the United States. In a tireless effort of research and development, P-Line has engineered the next generation of fluorocarbon fishing line by introducing HALO Co-Fluoride. Different fluorocarbon crystals have different characteristics. With HALO, P-Line has blended different types of pure fluorocarbon crystals, giving anglers the best combination of strength, sensitivity, and castability in the best all purpose fluorocarbon line available - a personal favorite of mine!

Because Halo is 100% pure fluorocarbon it has a low refractive index making it invisible underwater. The specific gravity is much higher than traditional fishing lines giving the line a much faster sink rate. Halo comes in a new translucent low visibility Mist Green color, optimum for lakes, rivers, and inshore saltwater applications. HALO is available in mist green, and comes in sizes 4 to 20 pound test in 200 and 2000 yard spools. Buy bulk P-Line Halo Fluorocarbon Fishing Line - Mist Green - 2000 Yards - 10 lb.
P-Line Copolymer Fishing Line
P-Line CXX X-Tra Strong
CXX X-Tra Strong is the toughest, strongest, most shock resistant line on the market. If you're looking to throw into nasty cover for largemouth there is only one line to trust. Tournament anglers and guides alike choose CXX because of the abrasion resistance and its high strength to diameter ratio. With 5 colors to choose from, you're certain to have the perfect shade for any condition. CXX comes in sizes from 2 TO 125 Lb. Test in reel fill, quarter pound and bulk spools (yards of line varies from 300 to 3000 depending on line size).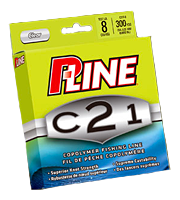 C21
C21, the latest addition to the P-Line family, is sure to raise the bar of what anglers can expect from an economically priced fishing line. The ultimate goal of our engineers was to create a line that bridged the gap between two of our most popular lines, CX-Premium and CXX X-Tra Strong, while maintaining a great price point. A copolymer line made with two types of nylon from Japanese raw materials and technology, C21 synergistically creates the ultimate line for spinning or bait casting reels, without putting a big dent in your wallet! C21 delivers great castability with a soft construction that literally flies off the reel with virtually no memory. Buy P-Line C21 Copolymer Fishing Line - Clear - 17 lb.
PF Original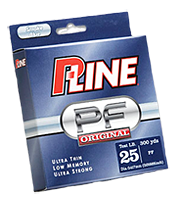 When P-Line PF Original was first introduced to anglers in the United States, a new era in copolymer fishing line technology emerged. With its small diameter and a soft supple finish P-Line Original became an instant hit with both saltwater and freshwater fishermen, who for the first time were realizing the advantages a high quality copolymer line delivers. A supple line allows for increased castability with both spinning and conventional tackle, permitting better coverage of the water. P-Line Original's smaller diameter gives anglers increased spool capacity while maintaining a high breaking strength while enhancing the presentation of your bait. Buy P-Line Original Copolymer Fishing Line - 12 lb.
P-Line Fluorocarbon Coated Fishing Line
CX Premium
P-Line's CX Premium Fluorocarbon Coated Line is one of the most innovative lines available, combining copolymer and fluorocarbon technologies. With low memory and improved limpness, CX Premium eliminates spinning reel line nightmares, and improves casting distance for baitcasting reels. The fluorocarbon-silicone coating virtually eliminates water absorption, so cold water and weather have little effect on line performance. With as much as 30% less stretch than average lines, it has increased sensitivity to detect and react to even the most subtle strikes. This great all-purpose premium line is available in Clear Fluorescent, Moss Green and Hi-Vis Fluorescent Green, line sizes from 2 to 30 Lb. Test, 300 and 3000 yard spools (260 yards for 30 Lb. Test reel fill). Buy P-Line CX Premium Fishing Line - 1000 Yards
Floroclear
With Floroclear's fluorocarbon coating the line is virtually invisible once it enters the water. This gives anglers the advantage of a more stealthy presentation, which will guarantee more strikes and hookups. With a special silicone treatment, Floroclear has reduced memory and increased castability. This line just plain casts. Available in Clear and Mist Green, 2 to 30 Lb. Test in 300 to 3000 yard spools (260 and 2700 yards for 30 Lb. Test). Buy P-Line Floroclear Fishing Line - 600 Yards or P-Line Floroclear Fishing Line - 300 Yards - 8 lb
---
*If you would like to become an advertiser on GreatLakesBass.com, Contact Us or please visit the Advertising page.