Dan Kimmel • PO Box 27424 • Lansing MI 48909 • 810-433-BASS (2277)
2001 Wal-Mart Bass Fishing League All American Qualifier
• www.greatlakesbass.com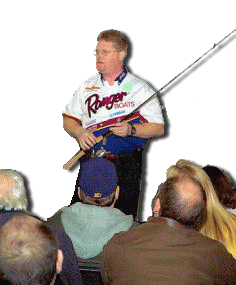 Personal Information
I had worked at Blue Care Network of Michigan, an HMO, for seventeen years. I lost my job as a medical data analyst in April 1999 in a merger. I used some of the time to compete in state, regional, and national tournaments during 1999/2000. I started my most recent 'day' job at McLaren Health Plan as a Sr Business Information Analyst in June 2001 after not pulling off a win at the 2001 Wal-Mart BFL All-American. I no longer work there as of June 2010.
I was born in March 1962 (a Pisces, of course). I've been married to Angie Brace Kimmel since January 1994. We live together with our pets in Lansing, Michigan. UPDATE: I no longer regularly participate in bass tournaments but I leave this up here for an example to other anglers who are pursuing their professional angler dreams.
Affiliations & Leadership Roles
Conservation rep Michigan B.A.S.S. Nation April 2013 – present
Conservation Director TBF of Michigan April 2013 – present
The Bass Federation (TBF) of Michigan Vice President October 2006 – April 2009
TBF of Michigan Conservation Director April 2006 – April 2009
Michigan BASS Chapter Federation (MBCF) Conservation Director (Oct 2005 – Apr 2006)
MBCF Board Member October 1989 – October 1996.
MBCF State Conservation & Natural Resources Director 1991 – October 1996
MBCF Chair Legislation & Public Policy Committee member 1988 – 1991
MBCF Legislation & Public Policy Committee member 1987
Michigan United Conservation Clubs (MUCC) Board Member 1989 – 1995
MUCC Fisheries Committee January 1987 – 1996
The Bass Boys Secretary/Treasurer 1994 – present
Mason Area Bass Anglers President two different 2-year terms
Mid-State Bass Busters Federation Secretary/Treasurer two years
In 1990 I was honored with a Special Conservation award from the MUCC, the largest state conservation group in existence, for work done in conservation and natural resources such as CSO legislation and wetlands protection.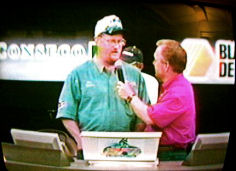 Tournaments
I fished my first money bass tournaments in 1985. I was extremely fortunate to take first place and big bass in that tournament. Winning this small open hooked me for good. Since 1986, I've competed in 10 – 20 money tournaments per year in Michigan and around the Midwest until 1999/2000 when I went to Table Rock for the 99 Redman Regional, then fished the Eastern EverStart Series in Florida, Alabama, South Carolina and Kentucky. Those two years, I spent over 270 days on the water.
Historically, since beginning money tournament competition in 1985, my record includes (team and draw):
Money Tournament Places
1st 2nd 3rd 4th 5th 6th 7th 8th 9th 10th
25 17 15 2 5 4 6 4 4 7
Additionally, I've taken big bass honors 27 times and have recorded 15 other money finishes (view my detailed history here). I've qualified for 4 MBCF state classics, 3 MBCF State teams to the B.A.S.S. Northern Divisional, 1 TBF of Michigan state team, 2 Redman Regionals, and the 1996 TriState Bass Classic. Club tournaments are not included in these stats. I was very excited about my qualification for the 2001 Walmart Bass Fishing League (BFL) All-American. It was the first All-American with Walmart as the marquee sponsor instead of Redman. I hope to qualify again. It was a great and exciting tournament.
Outdoor Writing
My first paid published article was an Angling Adventure trip to In-Fisherman in 1988. Until 1996, much of my writing time was taken up performing my MBCF environmental position, although I sold articles sporadically and had a column for one year in Hunt & Fish Michigan Magazine. I still try to use free time to write for the Internet and magazines. I've sold over two dozen articles and have had over 150 articles published.
I've been published in:
In-Fisherman
Bassmaster
Michigan Outdoor News
National Bass Angler
Fishing Facts
Michigan Out-of-Doors
Lansing State Journal Op-Ed
Hunt & Fish Michigan
Many Local/Membership-oriented publications and Web sites
You can read some of my articles on this Web site in the Articles Index.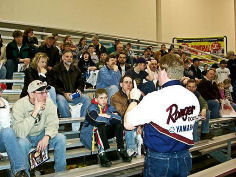 Public Speaking
I have many public speaking opportunities. Since 1984, I've spoken to groups of anglers, young and old, at tackle shops, schools, state and local fishing club meetings, youth events, juvenile centers, the Capital City Riverfest and various fishing shows. For example, I spent two days at a grade school in Williamston Michigan speaking in stages to the entire student body about fishing. I also recently spoke to the Michigan State University fishing club - made up mostly of students in fisheries and wildlife programs.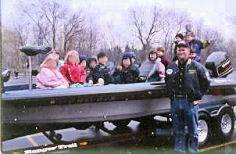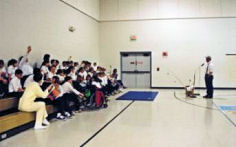 I also commonly speak at public meetings and hearings on a wide range of topics. I've been involved in conservation issues for 20 years including studying research reports and learning from fisheries and other researchers so I can speak accurately and decisively on the ranger of topics that affect the environment and the sport I love. I've met with local, state and national governmental officials many times. I was heavily involved in recent efforts to finally get a statewide spring catch-and-release bass season in Michigan - it was illegal to take or attempt to take bass outside of our short open season, which doesn't open until the end of May, before that. Some of my earlier efforts were recognized by the Michigan United Conservation Clubs 1990 Special Conservation award - a 'trophy' I'm as proud of as any fishing trophy.
Winters usually find me at various fishing shows representing sponsors and my various web sites.
Media Exposure
I spend part of my time cultivating media contacts locally and nationally. I've been fortunate to be reported on or interviewed in newspapers (Lansing State Journal and local papers at various tournament sites), magazines (Michigan Out-of-Doors, Bass Times, In-Fisherman, Michigan Outdoor News and local publications), television news at one time or another on most of the local stations, a few outdoor TV and radio shows (Wild Michigan Radio with Duran Martinez) for both my fishing and my conservation activities.
Internet Presence
GreatLakesBass.com is my Web site - the culmination of my needs to design and use what artistic capabilities I have while capitalizing on my strong interest in computers and the computer age. Combine computers and fishing, you get GreatLakesBass.com - a site that keeps growing with over 20,000 visits per months and 80 to 90,000 pageviews per month. Every day, anglers from all over the Internet visit, read and share on GreatLakesBass.com. This makes GreatLakesBass.com an excellent source of product information and access to anglers - I work hard to provide good service to all my sponsors using all aspects a full-featured web site has to offer.
Conclusion
I have experience in many areas that can benefit your products. I continually work to improve and pursue a more prominent place in the fishing world using the latest available resources, especially the Internet, where I maintain an extensive and varied fishing website including well-used discussion forums.
This resume is posted on line as much for providing others examples and ideas for their own professional fishing pursuits.
I work hard to be a good, decent person and to set a positive ethical and personal example. I hope my actions speak for themselves. But, I am strongly vocal when I support and believe in something. If you have any questions, I can be reached at 810-433-BASS (2277).





---

A Quote –by Elbert Hubbard, American Author, 1856-1915

---

One machine can do the work of fifty ordinary men.

No machine can do the work of one extraordinary man.




Accepting my awards from Forrest L Wood & Dan Grimes at the 2001 All-American in Hot Springs Arkansas