---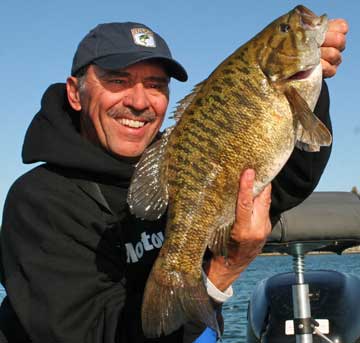 Anyone else tired of disappointment? We're blasted with it everyday. We live in a time where professional athletes are linked to steroids, celebrities make headlines for breaking the law, and our political leaders fight with each other instead of coming up with solutions. In today's world, it's hard to have faith in our leaders.

Napoleon Bonaparte once said, "A leader is a deal in hope." And today, I am especially glad to know Louie Stout.

Louie's largest smallmouth to date is a 6-14 beast taken from Burt Lake in Northern Michigan. He caught it on a Strike King tube in 3' of water in the fall of 2008.

As an avid outdoorsman, tournament fisherman, and lover of nature, I too need leaders to follow and Louie lives up to my expectations of positive leadership.
Many know Louie as a Senior Editor of Bassmaster magazine and many others know him as the Outdoors Editor of The South Bend Tribune. He has also written for several other major publications. With these jobs, Louie has had opportunities to fish the best bodies of water on the continent, met and fished with the biggest names in the fishing world; and with this in mind I asked him, "What would you consider the most memorable moment you've ever experienced in the outdoors."
His answer was both humbling and uplifting.
With no hesitation he spoke about an ice fishing trip with his son. His son suffers from cerebral palsy. "There was a ton of snow, and we had to walk a 100 yards to reach the pond," he recalls. "My son fell too many times to count; he had a rough time keeping his balance with the amount of snow and his condition." Louie admired his son, "I felt terrible for him, but he didn't complain once."
When they finally reached the ice, the fishing was great and his son caught a bluegill "about as quickly as his line got to the bottom. He even began doing some trash talking."
But Louie dreaded the trip back to the truck, and as feared, his son again struggled through the snow. But at one point, while they stopped to rest, his son looked his dad in the eye and said, "Dad, I'm sure glad you took me ice fishing today. Because now I know everything about ice fishing. And when I have a son, I can take him ice fishing and show him everything about ice fishing." These words brought tears to his eyes, "That moment put everything in perspective."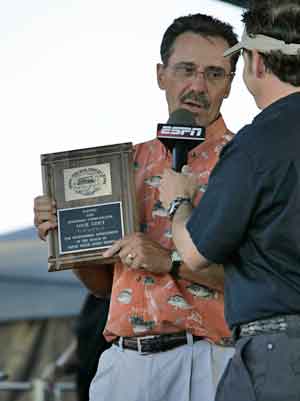 After covering professional fishing for 22 years, sharing a boat with many of the sports' greatest and fishing everywhere between Mexico and Michigan's Upper Peninsula, this moment of being a father and promoting the outdoors tops his list of experiences: here is the epitome of prioritizing.

Natural leaders do not apply for leadership positions, but are selected by peers. Louie never asked or volunteered to be a leader in the outdoors world; rather, he just followed his passions in life. And the principles he followed in pursuit of his passions, creates a path for all to follow.

Louie is interviewed by Keith Allan, emcee at BASS tournaments, after being inducted into the National Freshwater Fishing Hall of Fame as a "Legendary Communicator" in 2005. He was presented the award prior to the weigh-in at the BASS Elite Series Major on Lake Wissota, Wisconsin in 2005.
Louie grew up in Kokomo, IN, and was introduced to fishing by his grandfather. He recalls going cat fishing on the Eel River. But Louie credits Tom Hale for introducing him to bass fishing, "I was dating Tom's daughter and he took me fishing on Lake Manitou." Addiction was sure to set in as he caught a 5-pounder on his first trip.
Louie and Tom went on to start the fishing club, Kokomo Bass Anglers (still active today), in 1971. This was one of the first clubs ever in Indiana. Club fishing was also the beginning of his experience and interest in competitive fishing.
He enjoyed good fishing too. He reminisces, "Mississinewa, Salamonie, & Huntington Reservoirs were relatively new and the fishing was great."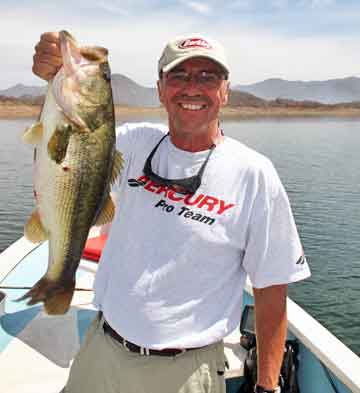 What many don't realize is how good of an angler Louie has become. Today he still competes regularly in local tournaments in the South Bend, IN area and is always in contention. However, he feels he was a better angler many years before. But fishing for a living was never an aspiration of his, "Everyone has that dream (of fishing professionally), but at the age when I could have pursued it, I had a young family and I never really had that desire."

In the spring of 2008 Louie Stout visited Lake Mateos in Mexico and landed this 6-12 largemouth. Lake Mateos is a relatively new destination for bass fishing in Mexico. He was a guest of Berkley along with a group of other writes for Bassmaster magazine. This fish was the 2nd largest the group caught that week. He caught it on a 10-inch Power Worm.
His passion existed for writing and the outdoors, and he wasted no time getting started. He had his first journalism job while still in high school. As a junior in 1967, he worked for the local newspaper. During the early 1980s he moved his family to Michigan City, IN where he became the outdoors editor for the Michigan City newspaper. From there his career ballooned.
Louie has now been covering professional bass fishing for 22 years and writes regularly for Bassmaster Magazine, Bassin' Magazine, and Fishing Tackle Retailer. He writes weekly for the South Bend Tribune, has written 2 books with Kevin VanDam, and contributed chapters to several North American Fisherman books. Ultimately, he estimates that his coverage of professional bass fishing makes up 90% of his income.
Advertisement - article continues below.


With Louie's extensive experience and the friendships he's developed, he has insight few of us can compare with and his convictions have solidified.
He feels local tournament circuits and clubs can and should be assets to a community and its fisheries, but too many are careless. He comments, "Those that do not respect the rules cause problems." He elaborates, "Lots of people hate us, waterfront property owners in particular, and when rules are not strictly abided by, their animosity increases."
Louie feels, "Clubs and tournament groups could be doing a lot more to enhance their image, but fail to do so."
He offers advice to help mend the animosity between anglers and property owners, "Fishermen: be cautious while fishing around docks: gently & carefully remove baits hooked to docks. And fish around people who are on their docks? This is rude." He acknowledges that property owners only add fuel to the fire with an aggressive approach towards anglers, "Arguing with a guy isn't going anywhere."
Bass fishing for the past 35 years has exploded in popularity and Louie has been actively involved the entire time. He has seen firsthand how fishing pressure from anglers and tournament circuits affect a fishery and it's not always good.
Are fisheries hurt from pressure? "You can't paint this with 1 brush." He explains, "But some circuits and clubs do detriment to the water. They don't take care of fish, enforce rules, or have much respect for what they're doing." He points out, "Sometimes we're our own worst enemy."
He adds though, "When done properly, it (pressure) doesn't hurt a fishery." He explains that, "There is not a great deal of mortality in tournaments, but fish get very educated and pushed out of areas that get hammered."
He has seen the opposite spectrum too: "On lakes without much pressure, the fish aggression is much higher."
Louie has seen a lot of changes with the everyday bass fisherman: "Information pipelines 35 years ago were very small." He clarifies, "People once joined clubs just to learn; clubs had waiting lists to join. Fishing with someone else is still the best way to learn, but with so much media and information available today it's not as necessary."
He has also seen some negative changes, "Today's fisherman isn't as in tune with environmental issues & community service. All he wants to do is fish tournaments." Louie describes this as, "disappointing."
With the current recession, Louie worries about the lack of funding for media exposure. Newspapers and other media outlets may be forced to cut back on programs and outdoors programs may be the first to go. Consequently less exposure equates to less say, and power for outdoorsmen.
While covering professional bass fishing the past 22 years, he's seen an evolution in professional anglers. He explains, "Absolutely a different person today!"
"Twenty years ago, professionals were not well educated. Fishing guides knew how to catch fish, but did not have the marketing or speaking abilities that professionals must have today." He points out that there are, "Lots of good fisherman today that can't make it without these skills."
"To be a professional today, catching fish, marketing, and speaking skills are equally important; whereas before, you only needed the angling skills and not the marketing."
He also points out, "Many professionals have college degrees today, and many pros that have children, also aspiring to be a pro, want them to get a degree first."
He reveals that many professionals today also hire personal trainers; overall they take much better care of their bodies.
Louie feels that the everyday fisherman is not necessarily an athlete, but the modern professional is; they have to be. And when asked if bass fishing is a legitimate sport he emphatically answers, "Heck yeah!" But acknowledges it is not a mainstream sport.
More opportunities exist for professional anglers today than ever before, but Louie feels BASS is the leader in professional fishing, "Not even a contest."
He acknowledges that FLW payouts are greater, but adds that the FLW business model is different than that of BASS.
"BASS welcomes a pro regardless of his sponsors while FLW strongly favors those who run either Ranger Boats or use the products of its sponsors," he explained. "That's one reason why you don't see some of the top names in bass fishing in FLW. I also think BASS enforces its rules more objectively."
On the other hand, he added, that doesn't make FLW a bad organization.
"If you simply want to fish tournaments and have a chance of winning a lot of cash, it offers a good venue," he said. "But if you want a pro career with access to a variety of sponsorships AND gain those sponsors broader media exposure, then BASS is the place to do it."
Of course these are subjective comments by Louie, but they fall on common ground with his character in doing and believing what is right. He sees BASS as the organization that looks after their anglers most efficiently.
Beside the responsibilities of clubs and tournament circuits, he sees room for improvement for bass fishing, "We have got to get more people interested. We have got to get more mainstream people interested." He recognizes the showing of BASS events and the BASSmaster classic on ESPN as a big step forward in getting more people interested, but insists more still needs to be done.
However, he doesn't put all the pressure on anglers. He holds state agencies accountable too, "They must improve accessibility to bodies of water." He cites Lake Maxinkuckee in Culver, IN as an example, "This is one of the best bodies of water in the state, but the accessibility is unacceptable."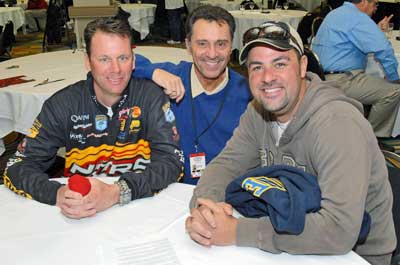 While reading this article readers may note the constant reference to Louie's first name; whereas typical articles refer to interviewees with their last names throughout. But Louie has always had excellent rapport with his community, peers and colleagues.

Louie Stout takes a moment to pose with Mark Zona and Kevin VanDam at the 2008 Bassmaster Classic media day. Aside from being business associates, these three have become very close friends.

A first name basis is the expected norm with him. This is true between professional anglers as well as novice anglers he comes into contact. First name basis with a known leader: a unique state creating feeling of encouragement and hope.

We all need hope and it's been dealt. Two hundred years ago Napoleon Bonaparte explained a leader: hope. Amidst all the uncertainty and angst in society, we have a source of hope and figure to lead.
Talk @ this article on the Forum

Return to Articles Index
Return to Top