| | |
| --- | --- |
| Professional Debut: Mickey Thomas of Edwardsburg Michigan Tackles Professional Bass Fishing, Part 1 | by Andrew Buss |
---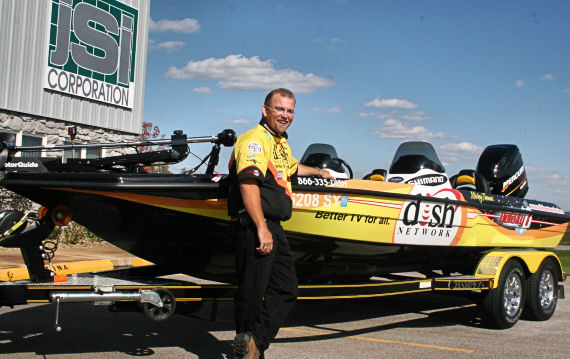 Few of us get to fulfill childhood dreams of playing Major League Baseball or fishing professionally; however, it's those few that do come true that keep us fantasizing. Close to home and a new source of inspiration is Mickey Thomas of Edwardsburg, Michigan. Thomas is now fulfilling his childhood dream of pro bass fishing. The 34-year old made his professional debut in the B.A.S.S. Southern Open on the Kissimmee Chain of Lakes in Polk County, Florida, March 1-3, 2007.
The following is part 1 of a 3-part series covering his first season as a professional. Thomas openly shares what he experienced and learned for those still striving to reach their dreams. Thomas finished 123 out of 197 anglers in his first event with a total weight of 8.1 pounds on 4 fish. This experience became possible for him with the support of Galaxy 1 Marketing/Dish Network. In the summer of 2006 Thomas and Galaxy 1 worked out a partnership that is beneficial for both parties.
According to most professional anglers, confidence is a key component to successful tournaments; however, Thomas readily admits this isn't so easy, "Really I thought that I would not feel a lot of pressure, but once you get there and it becomes real, I think if you don't feel some pressure, something is wrong. A lot of the pressure that I felt was because I have a lot of people that want me to do well, including myself, and I did not want to let them down. The other big factor is that I am fishing against guys that I have read about in Bassmaster, other publications, and seen on TV. These are guys that I look up to and it is unreal to compete against them at the same level."
He denies feeling intimidated, but acknowledges, "You can't help but feel butterflies at the beginning right before takeoff." He also confesses that managing these emotions was a challenge. To combat them he did what he does at home before big tournaments: "Went through my checklist of tackle and gear to make sure that I was ready to go and prepared as possible."
To his astonishment, tournament fishing in local events has its similarities to the professional events. He was surprised to see the same mental ploys his friends at home pull. He explains, "One thing that is no different from home is that people still talk a big game and play the same mind games that they do at home."
On southern bodies of water, extra challenges exist for those living in Southern Michigan. This location typically lands anglers on deep, clear natural lakes. This became an immediate disadvantage as Thomas found many differences between his home waters and Florida fishing. Most notably, "The biggest difference is the Kissimmee Chain is very shallow and until you gain experience on the lakes, you could actually fish for a mile and not catch anything and then load the boat from 100 yards of vegetation that looks exactly the same (as unproductive water)." Thomas is known at home for his prowess in shallow water and catching fish on their spawn beds but he also observed differences with the spawn, "Another big difference was the spawning areas are not exactly like ours up here, and the beds are giant-sized!"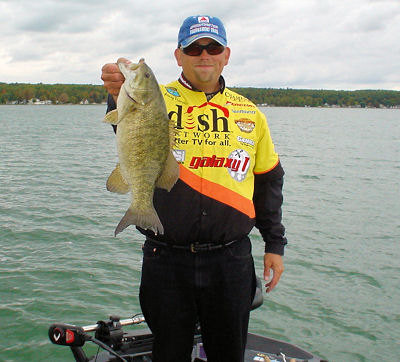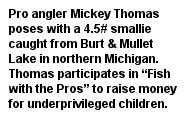 Thomas relied on several resources available to all anglers to prepare for this event. He put forth many hours of research on websites, periodicals, and other miscellaneous articles. However, he learned quickly that winning on this level requires more than thorough research; it also requires the ability to adapt, "The lakes were down 4 feet, so a lot of the research I did led me to water that was high and dry." In conclusion he states, "It makes sense to go to the lake at least once for at least 3 days before you go to the official practice preceding the tournament."
Adaptation was also a necessity during the event. Thomas found good fish towards the end of day 1, but, "On the second day we had 30 mph winds and it made fishing my best areas unfishable. So I learned the hard way you need to game plan weather as well." Consequently, he was only able to muster 2 more fish to his total and wasn't able to make the cut to fish day 3.
Mickey's first official practice presented humbling challenges: "Practice started off really rough and to tell you the truth, I did not get bit for the first 10 hours. I learned that I really needed to practice like it was the tournament and that forced me to think about strategy all day and make the correct changes." Practice was so coarse he even questioned his ability, "At times, practice was so tough it made me question why I was even there."
Despite his admiration for his peers and rough practice he was not deterred. In fact, the treatment he received from his fellow anglers helped ease his anxiety: "I was very happy that a lot of the regular and big name pros were very talkative and jovial towards me; especially Mark Davis and Terry Scroggins. Everyone treated me as an equal which I appreciated very much." He elaborates further, "I made some friends and now have some people to hang with at the meetings or go to dinner with."
Thomas has no regrets for the way he fished despite the low finish. He admits, "I am not sure that I would be able to really improve (by changing tactics) unless I got more time on the water." He hints that he spent considerable time trying patterns he figured would dominate the event rather than focusing on techniques he has more confidence with. "I also now understand that you can't always go away from your strengths even though a particular style of fishing may be dominant. I would definitely try some more of my fishing style in practice."
Along with his dialogue with many of his idols and fishing for high stakes, he also got a view of the event that was unique: "It was very exciting the first day when we took off, but then I went back to the hotel and saw the boats running down the canals on TV. It was great feeling to know that I was a part of that deal running wide open."
The much anticipated weigh-in was bittersweet. "With the big crowd watching, it was too cool." But while that experience was grand it was quickly overshadowed by his competitive nature and the disappointment he felt due to his low finish and not qualifying for the third day of competition. "The only answer is to make the cut and then try to win."
So what is life like as a professional angler? Thomas admits it's got some good and bad. It was a great experience he wouldn't trade for the world, but time away from his family was hard to swallow, "Being away from my wife and kids is one of the toughest things to go through. Daytime wasn't so bad because I was focused on fishing, but at dinner it really gets to you. During these times you realize how much they mean to you. Its important for me to point out how much help and support my wife has provided me. This is something I could not have done alone and I'm grateful for her."
Regardless of the disappointment he felt from his finish Thomas is ready for the next challenge and his goals have not wavered, "It will be great to make the final cut and be there on day 3." He also feels more prepared for the future, "I now won't have any surprises and I know what to expect. I also think it (first event) will help me in practice."
Read Part 2 of Professional Debut
Read Part 3 of Professional Debut
Return to Articles Index
Return to Top