Jamie Horton goes wire-to-wire to win B.A.S.S. Federation Nation Championship
By editor on Nov 11, 2011 | In Bass Tournaments, BASS, BASS Federation Nation, Bassmaster Classic

B.A.S.S. News
Top six punching tickets to Bassmaster Classic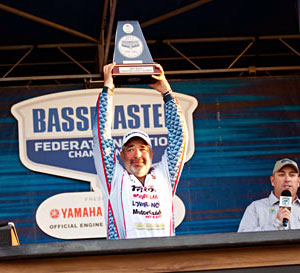 Jamie Horton led wire-to-wire on the Ouachita River to win the 2011 B.A.S.S. Federation Nation Championship in Louisiana. Photo Credit: B.A.S.S./Adam Harbottle
MONROE, La. — Mining a miniscule area made Alabama's Jamie Horton a champion for the second time on the Ouachita River.
The River Region Bass Fraternity club member relied on the same spot all three days to catch 36 pounds, 2 ounces to win the B.A.S.S. Federation Nation Championship presented by Yamaha and Skeeter Boats and a coveted seat in the 2012 Bassmaster Classic. In addition to his Classic berth, Horton earned the grand prize of a Skeeter Boat/Yamaha Outboard rig valued at $45,000 and an invitation to fish in next year's Bassmaster Elite Series.
While other contenders shied away from Horton's spot since local anglers had told them the water was too low to run there, Horton made the one-hour run and skimmed over thin water at times to reach his honey hole. "I was fishing up at a spillway, and the water has been coming over the spillway when the wind blows out of the north, and the fish were busting up there big time," said the four-time FNC qualifier. "I caught over 30 fish there Thursday. Yesterday the water wasn't coming over as good and I just caught but four there."
Today it took him about 30 minutes to haul in a limit from the spillway. "I stayed with them until about 1 o'clock and culled for my last time at 12:30." His best five weighed 9-15, which was good enough to hold onto the lead.
The key to catching his fish in the spillway was to cast into an eddy about the size of a 5-gallon bucket. He was burning a chartreuse XCalibur crankbait and banged it into rocks in about 6 to 18 inches of water. "I could see bass up there busting on shad and I could see their heads out of the water," said Horton, who also won a Bassmaster Series regional event on the Ouachita River the first week of November in 2006. "I just kept on hammering and hammering them."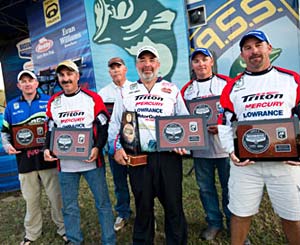 The top six Bassmaster Classic qualifiers from the 2011 B.A.S.S. Federation Nation Championship on the Ouachita River Louisiana. Photo Credit: B.A.S.S./Adam Harbottle
Horton and five other Federation Nation anglers will be competing in the 2012 Bassmaster Classic Feb. 24-26 on the Red River in Louisiana because they finished at the top of their respective divisions in the FNC. The divisional winners headed for the world championship of bass fishing are John Diaco of New Hampshire, representing the Eastern division; Idaho's Josh Polfer, Western division; Tom Jessop of Texas, Central; Indiana's Matt McCoy, Northern; and Chris Price of Maryland, Mid-Atlantic.
Results are on the GreatLakesBass.com B.A.S.S. Federation Nation forum.
For more information about the B.A.S.S. Federation Nation, go to www.bassmaster.com/federation.
2011 Bassmaster Federation Championship and Federation Divisional Championships presented by Yamaha and Skeeter Boats Official Sponsors: Toyota Trucks, Berkley, Evan Williams Bourbon, Mercury, Skeeter, Triton, Yamaha
2011 Bassmaster Federation Championship and Federation Divisional Championships presented by Yamaha and Skeeter Boats Supporting Sponsors: Humminbird, Lowrance, Minn Kota, MotorGuide
About B.A.S.S.
For more than 40 years, B.A.S.S. has served as the authority on bass fishing. The organization advances the sport through advocacy, outreach and an expansive tournament structure while connecting directly with the passionate community of bass anglers through its Bassmaster media vehicles.
The Bassmaster brand and its multimedia platforms are guided by a mission to serve all fishing fans. Through its industry-leading publications — Bassmaster Magazine and B.A.S.S. Times — comprehensive website Bassmaster.com, ESPN2 and Outdoor Channel television programming, Bassmaster provides rich, leading-edge content true to the lifestyle.
The Bassmaster Tournament Trail includes the Bassmaster Elite Series, Bass Pro Shops Bassmaster Open Series, B.A.S.S. Federation Nation events presented by Yamaha and Skeeter Boats and the ultimate celebration of competitive fishing, the Bassmaster Classic.
B.A.S.S. offers an array of services to its more than 500,000 members and remains focused on issues related to conservation and water access. The organization is headquartered in Birmingham, Ala.