Tommy Biffle runs away with the Central Open
By editor on Sep 11, 2011 | In Bass Tournaments, BASS Opens, BASS, Central

B.A.S.S. News
Smiley goes from fifth to first in Co-Angler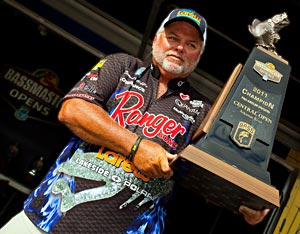 Tommy Biffle runs away with the 2011 Bassmaster Central Open on the Arkansas River in Muskogee Oklahoma. Photo Credit: B.A.S.S./James Overstreet
BROKEN ARROW, Okla. — Wagoner, Okla., Elite Series pro Tommy Biffle built on his 9-pound, 15-ounce lead with a five-fish stringer weighing 11-8 for a three-day total of 45-13, good enough to win the Bass Pro Shops Central Open in Muskogee, Okla., by more than 8 pounds. While the win was expected, it didn't come easy.
"It was a slow day," said Biffle, who was able to get into the shallow water he's been fishing the entire event using a jet drive outboard boat. "I didn't get my first bite until about 10:20, where I've been getting my fish by nine o'clock on the other days. It was cloudy early, and that's probably what kept the fish from biting."
Biffle estimates he caught 20 fish during the course of the day including drum and shorts. He was throwing a Biffle Bug during the entire event.
"I wasn't liking it for a while. I thought I'd be done by 9:30, so I was beginning to worry a little bit," said Biffle.
Lendell Martin of Nacogdoches, Texas, started the day in second with 24-6, almost 10 pounds behind Biffle. He rolled the dice and ran to a new area hoping to find fish that hadn't been pressured during the tournament, but managed to catch only three fish weighing 5-9, dropping him into seventh.
"I just didn't get many bites today," said Martin. "I'd been catching all my biggest fish in the middle of the day, and today I didn't get that bite. I did hook a huge fish in the brush that I went back and forth with, and when its face came out of the water it about scared me."
That fish turned out to be a 35-pound catfish.
The big move of the day came from San Jose, Calif., pro Chris Zaldain with 14-15, the biggest bag of the day and good enough to bump him from seventh to second with 37-4. While most of the other anglers in the tournament were focusing on rocks and wood, Zaldain was fishing grass, something he's more familiar with from his experience out west.
"I spent two days in practice in this one particular creek that had a lot of grass," said Zaldain. "I knew all the other guys were going to focus on rocks and stumps, so I went the complete opposite. The first thing I noticed when I went in there were all the bluegills."
Zaldain spent his entire three days flipping the edges of the grass mats and paying close attention to when the nearby locks would open and close. He was fishing a Sweet Beaver in Sprayed Grass color on 60-pound braided line and a medium-heavy flippin' stick.
"It's a small little creek, and when the locks would open it would create current, and the water would move out and then it would move back in. When the current changed, that's when I'd get bit," said Zaldain.
Fishing with Zaldain was co-angler leader Mat McMillan of Fort Worth, Texas. Unlike his pro partner, he didn't catch his limit, coming to the scales with two fish weighing 3-6, dropping him back to fourth place with 16-13.
"It was frustrating, and looking at the limit Adrian got, I don't know that a third fish would have done me any good," said McMillan.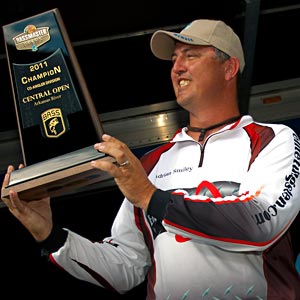 Adrian Smiley take the 2011 Bassmaster Central Open co-angler title on the Arkansas River in Muskogee Oklahoma. Photo Credit: B.A.S.S./James Overstreet
Starting the day in fifth place on the co-angler side was Adrian Smiley of Bossier City, La., who was fishing with pro Janet Parker. Smiley was leading the co-angler division after Day One with 8-14, and caught a 9-2 bag on the final day to win with a three-day total weighing 20-10.
"It took us until noon to find this one rock point that was holding some fish, and about an hour before weigh-in, Janet threw in with a jig, sets the hook and rod bends over and she yells for the net, and it turned out to be a drum," said Smiley. "I was throwing a KD 1.5 and threw back in the same spot and turned it two times, and the rod loaded up and I said, 'I got one too.' It turned out to be a 4 1/2-pounder."
Parker started the day in 12th place, so they were the first to weigh in. Smiley had to spend the rest of the weigh-in on stage sweating everyone else's catch.
"I knew all these guys are good, so I was a little stressed up there. I just feel very fortunate. This is an amazing place to fish," said Smiley.
Clayton Coppin of Wagoner, Okla., finished second in the co-angler division with 18-15, following a two-fish bag on the final day weighing 6-2. Coppin won as a co-angler in the Bass Pro Shops Central Open in Lewisville, Texas.
Final day results are available on the GreatLakesBass.com B.A.S.S. Forum.
2011 Bass Pro Shops Bassmaster Opens Official Sponsors: Toyota Trucks, Berkley, Evan Williams Bourbon, Mercury, Skeeter, Triton, Yamaha
2011 Bass Pro Shops Bassmaster Opens Supporting Sponsors: Humminbird, Minn Kota, Nitro Boats
About B.A.S.S.
For more than 40 years, B.A.S.S. has served as the authority on bass fishing. The organization advances the sport through advocacy, outreach and an expansive tournament structure while connecting directly with the passionate community of bass anglers through its Bassmaster media vehicles.
The Bassmaster brand and its multimedia platforms are guided by a mission to serve all fishing fans. Through its industry-leading publications — Bassmaster Magazine and B.A.S.S. Times — comprehensive website Bassmaster.com, and ESPN2 television programming, Bassmaster provides rich, leading-edge content true to the lifestyle.
The Bassmaster Tournament Trail includes the Bassmaster Elite Series, Bass Pro Shops Bassmaster Open Series, B.A.S.S. Federation Nation events presented by Yamaha and Skeeter Boats and the ultimate celebration of competitive fishing, the Bassmaster Classic.
B.A.S.S. offers an array of services to its more than 500,000 members and remains focused on issues related to conservation and water access. The organization is headquartered in Celebration, Fla.