Goin' around 'The Bend'
By editor on Apr 4, 2011 | In Bass Tournaments, BASS Elites, BASS

B.A.S.S. News
The Bassmaster Elite Series makes its way to Toledo Bend Reservoir April 14-17 for the TroKar Battle on the Bayou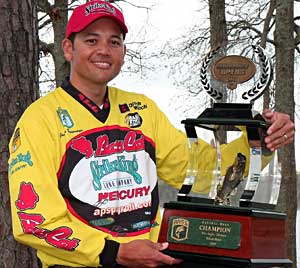 James Niggemeyer of nearby Van Texas won a B.A.S.S. tournament event in a fishoff on Toledo Bend Reservoir in 2009. Photo Credit: B.A.S.S.
James Niggemeyer will always have an unusual story to tell of competition on Toledo Bend. In March 2009, Niggemeyer triumphed there in a rare overtime fish-off for first place in the Bass Pro Shops Bassmaster Central Open. He sweated it out, spending up to 30 minutes on a single bedding bass before the ticking clock pushed him to the next spot. But in 3 1/2 hours, he ended up with more weight than Jerrel Pringle did, and their tie was broken in Niggemeyer's favor.
Niggemeyer hasn't spent much time on Toledo Bend lately, and he does not consider himself an expert on the big Louisiana-Texas border lake.
"Since I won, a lot of people have seen me as a Toledo Bend hand, a guy who really knows what's going on there," said the Bassmaster Elite Series pro who lives in Van, Texas, a 2 1/2-hour drive from Toledo Bend. "But the only time I really fish that lake is when I have a tournament there."
That time has come again: April 14-17, the Bassmaster Elite Series will stop in Many, La., for the TroKar Battle on the Bayou, right on the heels of the Alabama Charge, happening April 6-9 in northeastern Alabama on Pickwick Lake.
While the Elite Series has never been on 'The Bend,' many Elite Series anglers besides Niggemeyer have competed there. Todd Faircloth, who has lived all his life in Jasper, Texas, grew up fishing the reservoir. And besides Niggemeyer and Faircloth, Elite Series pros who live on the Texas side of the lake include rookie James Stricklin, also from Jasper; Kelly Jordon of Palestine, Texas; and Clark Reehm, who recently moved to Lufkin, not far from Toledo Bend. On the Louisiana side of the reservoir are Dennis Tietje of Roanoke and Jeff Connella of Bentley. Rick Morris of Virginia won a 2009 Professional Anglers Association tournament on Toledo Bend.
The list could go on. Faircloth estimates 90 percent of the Elite Series field has Toledo Bend experience. That means Toledo Bend's top prize of $100,000 and a berth in the 2012 Bassmaster Classic could be claimed by any within the 99-angler field.
Anglers also will be competing for points that count in the season-long race that determines several prizes. Foremost is one of the sport's highest achievements, the Toyota Tundra Bassmaster Angler of the Year title, which goes to the top points earner after eight regular-season events. But for all Elite Series anglers, points are paramount because they also determine 28 entries for the 2012 Bassmaster Classic and eight berths in the postseason.
A California-grown angler, Niggemeyer now guides on Lake Fork and considers Lake Fork his home water; and therein lies the root of his comfort level on Toledo Bend.
"There are a lot of similarities, although the lakes are different," he said. "The grass in the lake, and its timber, and its flats … when I put my boat in that body of water, I just feel really comfortable. I think that really helps me out, makes me confident about how to pattern those fish."
There's a tangible reason why he feels at home: Both Fork and Toledo Bend are within the Sabine River Basin. Straddling the Louisiana-Texas border, Toledo Bend is a much larger Sabine impoundment. Like most of the basin, Toledo Bend's water level has been low, thanks to drought conditions. In a January 2011 report by the Sabine River Authority, Toledo Bend's governing body, the water level was recorded at 163.68 feet, compared to conservation pool of 172 feet.
Niggemeyer said he has heard that the reservoir is still low. Because the fishery has been off-limits to Elite Series anglers since March 14 — and he didn't scout the lake before that — he's not sure.
Faircloth hasn't seen the lake lately, either, but he estimates that the water level is 6 to 7 feet low.
"Typically, anytime any lake's water level is down, the fishery doesn't show, doesn't flex its muscles like it could," Niggemeyer noted. "We'll know when we get there."
Faircloth said the lake was drawn down to complete a dam repair project. The expected rainfall to help fill it just didn't happen.
"Typically speaking, the lake is at normal pool or above pool this time of year," Faircloth said. "That's not the case this year.
"And with lower water, the fish just won't have as many places they can go; they're not as spread out. That makes fishing easier, and it should be a really good tournament."
Created in 1966, Toledo Bend still has a high-quality largemouth fishery.
"It's a really, really good fishery," Niggemeyer said. "I've heard Kelly Jordon call Toledo Bend the 'Champlain of the South.' Not only because it's so big, but because there's a lot of fish in there and some really big ones as well."
Facts about the TroKar Battle on the Bayou:
* First prize: The winner takes home $100,000 and a 2012 Bassmaster Classic berth.
* At stake: Besides a spot on the Top 50 payout list, anglers compete for points that count toward winning the 2011 Toyota Tundra Bassmaster Angler of the Year title and toward qualifying for the postseason — each $100,000 competitions. Also, the Top 28 in points at the end of the season will qualify for the 2012 Bassmaster Classic.
* When: April 14-17. Anglers will be allowed three days of official practice, April 11-13, before the four-day competition begins on Thursday.
* Where: Toledo Bend Reservoir on the Louisiana-Texas border.
* Launch: 7:30 a.m. CT at Cypress Bend Golf Resort and Conference Center, 2000 Cypress Bend Parkway, Many, LA 71449. The public is invited to watch the pros motor out in their wrapped rigs.
Pages: 1· 2