The Third Man, Open style
By editor on Aug 27, 2010 | In Bass Tournaments, BASS Opens, BASS, Bassmaster Classic
The Central Open race isn't nearly as close. To make it in 2011 for his second Classic appearance, Reehm must overtake Keith Combs of Texas. Combs holds the No. 2 spot with 545 points to Reehm's 502 points.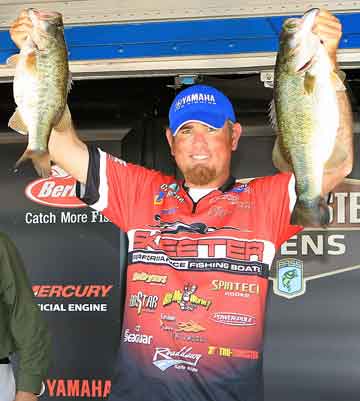 Lufkin Texas Pro bass angler Clark Reehm with two tournament largemouth bass
Photo Credit: BASS

Reehm said that to capture a Classic seat, he'll have to turn in a flawless performance and Combs will have to commit uncharacteristic errors.
"I've got a lot of confidence, but the fact is, he would have to falter," Reehm said. "I don't think he will, bar mechanical problems or something like that. And I wouldn't like that; nobody wants to win by default."
Almost 100 points in front of Reehm is leader Craig Schuff of Watauga, Texas. From below, Schuff's 600 points looks formidable.
"I've never seen that big of a lead in the Opens," Reehm said.
Article Courtesy of BASS News
Pages: 1· 2