The Longest Running Sport Show is the Ultimate Sport Show!
By editor on Mar 12, 2019 | In Showspan, Ultimate Sport Show
Showspan News
74th-annual Ultimate Sport Show – Grand Rapids to fill DeVos Place March 14-17, 2019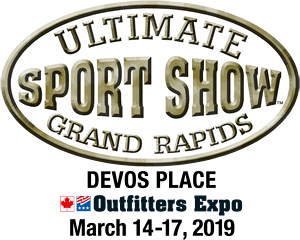 The 2019 74th annual Ultimate Sport Show Grand Rapids runs March 14 through March 17 at DeVos Place. Photo Credit: Showspan
Grand Rapids, Mi: Some things never change… Or do they? Take the Ultimate Sport Show – Grand Rapids, for example. Now in its 74th year, this show seeps with tradition that keeps people coming back year after year, yet, is a brand-new experience every time they attend.
Each year as winter wanes into spring, the DeVos Place, downtown Grand Rapids, Michigan, fills with the freshest faces of fishing, hunting and more, as well offers the events that outdoor enthusiasts and their families love to see time after time.
While it would take too long to fill you in on every little happening this full four-day show has to offer, we can't help but boast of some of the highlights of this happening – the longest-running outdoor sport show in the nation. And things get hoppin' well before even stepping foot in the door.
Free-for-all food drive... and more!
Thinking of coming opening day? Do right for charity and get in for free.
This year marks the 20th year radio personality Tony Gates, with WLAV Mornings, returns to host the MSAH Food Drive while broadcasting live from an RV at the show's entrance from 6:30 a.m. to 6:30 p.m. And all it takes for patrons to get in for gratis? Bring in at least six non-perishable food items that day. Yep, that's it!
All food is collected by volunteers and donated to God's Kitchen of Catholic Charities West Michigan, as well other organizations. This is the largest single-day food drive in Michigan, with some 2000 sportsman and -women each year donating an estimated 140,000 pounds of food for those in need over the last two decades.
And if you get there early, there's more freeness that awaits.
K&E Stopper Lures Bass Stopper worms from Anglers Mart.
Be one of the first 500 through the doors on both Thursday and Friday receive a free commemorative Dardevle spoon. With a century-long history, Eppinger Manufacturing's special-run of this world-famous lure bears the show's logo and date, and only 1,000 are made… Ever. And both collectors and avid anglers love 'em alike. Then on Saturday and Sunday, the Ultimate Sport Show has teamed up with Michigan's own K&E Stopper Lures, and the first 250 in line receive a free K & E Bass Worm.
So much awaits
Once through the threshold, there's decisions to be made. Does one immediately turn to the left and check out the wood carvers, head slightly farther and hit the seminar stages, go upstairs and peruse Michigan's best taxidermy on display, or turn right and hit the Exhibit Hall filled with over four acres of hunting and fishing gear, boats and RV's, as well the 110,000-gallon Lake Ultimate?
We say take your time; stay all day and see it all…
What a sight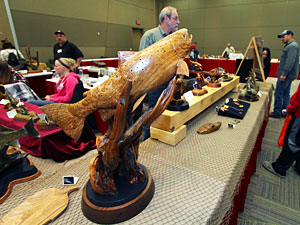 The Woodland Woodcarvers bring their outstanding handcrafted carvings done by local artists. Photo Credit: Showspan
The Woodland Woodcarvers area is filled with the outstanding handcrafted works of local artists. These artisans are happy to chat with you about the craft of creating art from blocks of wood and more, and many are creating more of their works of art on site. Much of their pieces are able to be purchased, as well.
More masterpieces await attendees' eyes within the Grand Gallery Overlook with the mounts of the Michigan Taxidermists Association's State Finals Competition being displayed. Held every year at the show, upwards of 250 masterworks in the taxidermy world are entered; from fish, deer, upland birds and waterfowl to just about every small and large mammal anyone could imagine, as well some that will surprise, this is the best of the best right there before your eyes.
It's Show Time!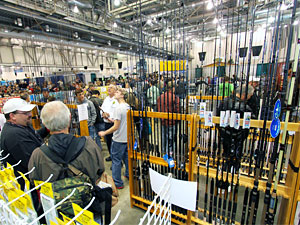 The Ultimate Sport Show is also the ultimate fishing tackle shop during its four day run March 14-17 at DeVos Place in downtown Grand Rapids. Photo Credit: Showspan
In between the three-football-field's-worth of hands-on perusing of thousands of hunting and fishing products within the Exhibit Hall, folks can sit back and enjoy the many attractions and events offered up.
Not too be missed, for one, is the DLW Timberworks Lumberjack Show. For over 25 years the Timberworks' brawny lumberjacks and lumberjills have been drawing live audiences of a million-plus, and been seen by even more via national television networks. Their attention-grabbing demonstrations tell the history, hard work and sport of lumbering by hand with a fun yet nostalgic look at the logging competition of the early 1900's. From the thunder of high-powered chainsaws, to axe-throwing and -chopping, log-rolling, cross-cut sawing, hot sawing and pole spar racing, this high-energy show is sure to please everyone from ages 8 to 80.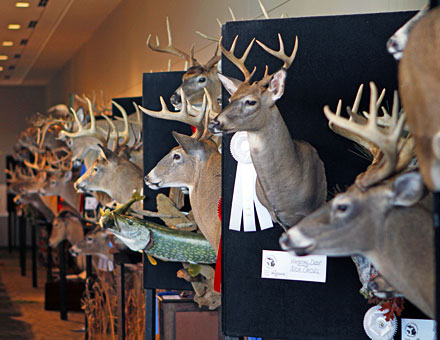 Big Buck Night West is another huge draw at the 2019 Ultimate Sport Show Grand Rapids, presented by Jimmy Gretzinger and Jenny Olson of the Michigan Out-of-Doors television show. Seating starts at 6:30 PM in Ballroom D Thursday night. Photo Credit: Showspan
Another huge draw is Big Buck Night West, presented by Michigan Out-of-Doors Television show. Seating starts at 6:30 p.m. in Ballroom D for this Thursday-night-only event, with celebrity hosts Jimmy Gretzinger and Jenny Olson interviewing the Michigan hunters who bagged some of the state's biggest whitetail deer of the season. To boot, the affair will be filmed for an up-and-coming episode of Michigan Out-of-Doors.
Other great family-fun venues include the ever-popular rock-climbing wall, trout pond, vintage boat and classic outboard motor displays and well antique tackle. And of course, there's the Michigan Charter Boat Association's fishing simulator.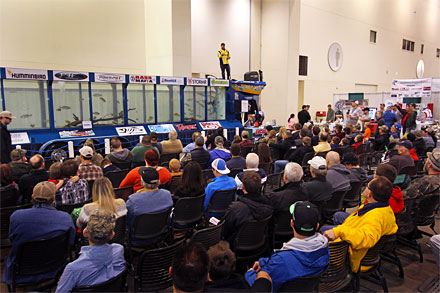 The Hawg Trough is one of the many popular and educational seminar stages during the 2019 Ultimate Sport Show Grand Rapids. Photo Credit: Showspan
That'll teach ya!
No other show offers more seminars and workshops than the Ultimate Sport Show – Grand Rapids, with both new and familiar faces in the hunting and fishing industry teaching you the latest in techniques.
Is walleye your fish of choice? Delve into the minds of pros such as Fishing 411 TV Host Mark Romanack, Tournament Pro Mark Martin, first-ever woman angler-of-the-year Marianne Huskey as well knowledge of Walleye 101's Captain Lance Valentine. Bass basics and beyond? Captain Wayne Carpenter, TV host Joe Thomas and many more will be on hand. Salmon, steelhead and trout experts such as Jim Bedford, Captain Jake Romanack, Roger Hinchcliff, and Dave Engel and Bill Bale will be in the house, as well. There are also muskie, panfish and fly-fishing seminars, moreover.
Back by popular demand are the special two-hour fishing clinics that patrons can sign up for, which include the Ultimate Bass Clinic, Saturday – 3pm to 5pm (Stage D - signup at the Xtreme Bass Tackle booth), the Ultimate Walleye Clinic on Saturday – Noon to 2:00 p.m. and the Ultimate Salmon & Steelhead Clinic, Saturday – 4:30 to 6:30 p.m.
On the hunting side of things, the best in gun and archery such as Denny Geurink, Seth McCullough, Jason Herbert, Tom Richardson and Len Jenkins will be on hand to talk turkey, deer, training hunting dogs and more. And if that's not enough, those looking to find more morel mushrooms this spring than ever before need look no further than the talents of the fungus finder herself, Theresa Maybrier.
As you can see, the Ultimate Sport Show – Grand Rapids still seeps with tradition, yet, is a brand-new experience every year.

Show Information
Sport Show Dates & Hours:
Thursday, March 14: 1 PM to 9 PM
Friday, March 15: 11 AM to 9 PM
Saturday, March 16: 10 AM to 8 PM
Sunday, March17: 10 AM to 5 PM
Adults: $12
Children 6 to 14: $5
Children 5 and under: Free
DeVos Place
303 Monroe Ave NW
Grand Rapids, MI 49503
For More Info
For more information, visit www.GRFish.com or call 616-447-2860. You can also follow late-breaking news and developments on Facebook at ULTIMATESPORTSHOWTOUR. Make sure you stop by the GreatLakesBass.com / GreatLakesIceFishing.com booth 2015 during the show! (3rd aisle from the back of building near the middle of the floor in line with the middle of The Hawg Trough)