Family Fun and Outdoor Adventure Await at Michigan's Oldest and Biggest Outdoors Show
By editor on Mar 8, 2017 | In Showspan, Ultimate Sport Show
Showspan News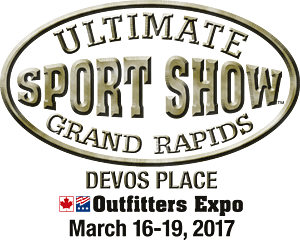 The 2017 Ultimate Sport Show Grand Rapids runs March 16-19 at DeVos Place. Photo Credit: Showspan
Grand Rapids, Mich. — Watch Alaskan Lumberjacks in log rolling competition or let your kids climb to the top of a rock wall. Learn how to process your own whitetail or catch a feisty rainbow trout from the Trout Pond. Looking to purchase a new boat? There will be over 200 boats on display. All of these activities and options and much more will be at the Ultimate Sport Show-Grand Rapids, the Granddaddy of hunting and fishing shows in Michigan.
For the past 72nd years the Ultimate Sport Show-Grand Rapids has put our tremendous outdoor resources in the spotlight with entertaining and educational activities. This year's four-day show will continue that tradition. The Ultimate Sport Show-Grand Rapids is March 16 to 19 at DeVos Place, 303 Monroe Ave. North, in downtown Grand Rapids.
"The state-of-the-art DeVos Place convention facility will be stocked full of boats, fishing gear, hunting gear, educational features and family entertainment when Michigan's premier Sport Show returns to downtown Grand Rapids, March 16-19," says Show Manager Ben Nielsen. "Hundreds of thousands of West Michigan residents enjoy recreating in the outdoors each year. The Ultimate Sport Show-Grand Rapids truly does have something for everyone."
The Alaskan Timbermen Lumberjack Show returns to the Ultimate Sport Show. Alaskan Timbermen team members combine entertaining dialog with head-to-head competition in Chopping, Sawing, Axe Throwing, Power Saw Cutting, Tree Climbing and Log Rolling to entertain the crowds at the Ultimate Sport Show. These men have honed their skills all summer long doing competitions for the cruise industry on the Alaskan island town of Ketchikan. These rugged woodsmen are some of the world's best timber athletes and have been featured on the OUTDOOR CHANNEL. When not cutting logs in competition you can find these men in the wilds hunting bear or mountain goats and catching halibut or king salmon on the ocean. The action and stories provided by these men will captivate the crowds.
Boats, boats and more boats will be on display this year at the Ultimate Sport Show. From fishing kayaks to walleye and bass boats, center consoles, pontoons and more, show patrons in search of a new boat will find a wide variety to choose from.
Outfitters Expo provides show patrons with dozens of family vacation and adventure travel opportunities including hunting and fishing destinations throughout North America and beyond. You can even book a fishing trip to Canada, an elk hunt in Idaho, a family houseboat adventure in Kentucky, or a safari in Africa.
The Michigan Taxidermist Association will hold its state competition and convention at the Ultimate Sport Show. Located in the 3rd floor "Grand Gallery Overlook at DeVos Place, this display of life-like taxidermy is the first stop for many show attendees. Be sure to stop by and cast your vote for the People's Choice award.
Another highlight of the show every year is the beautiful and impressive display of the Woodland Woodcarvers. These local artisans will display the results of their work, as well as demonstrate their considerable skills.
On Thursday evening Michigan Out-of-Doors TV will film Big Buck Night-West. Hosts Jimmy Gretzinger and Jenny Olson will interview hunters who took some of the biggest bucks during the 2016 season. This one-night event will be filmed for airing on an upcoming episode and is a must see for every Michigan deer hunter. Seating begins at 6:30 p.m.
Lake Ultimate returns to the Ultimate Sport Show. This 110,000 indoor lake will be a stage for on-the-water seminars by some of the biggest names in fishing.
The Hawg Trough, a 5,000-gallon aquarium on wheels, will be on display at the Ultimate Sport Show and will be used by seminar speakers to give patrons an up-close look at precisely how different tackle and techniques look underwater and how fish respond to them.
There will also be Antique and Classic Fishing Tackle, Vintage Boats and Outboard Motors, a Deer Processing Demo by Steve Francis of Country Smokehouse in Almont, Michigan, Fly Casting Demonstrations, Fly Tying Lessons, Fish Cleaning Demonstrations, the annual Grand Rapids Turkey Calling Competition, a Kids Fishing Tournament on Lake Ultimate and an Archery Range for Kids.
Don't forget our star-studded lineup of seminar speakers – including Mark Zona, Mark Martin, Mark Romanack, Marianne Huskey, Fred Abbas, Tim Andrus and Denny Geurink – covering topics including: walleye, bass, muskie, steelhead and salmon fishing; deer and turkey hunting; land management and food plots; fly fishing and kayaking.
Ultimate Clinics on Walleye, Bass, and Salmon and Steelhead will again be offered during the show. This year, the Ultimate Walleye Clinic and the Ultimate Steelhead and Salmon Clinic are free.
The first 500 attendees on Thursday and Friday receive a free, collectible Dardevle spoon from Eppinger Manufacturing Co. in Dearborn. The first 250 attendees on Saturday and Sunday will receive a K&E Bass Stopper lure from Stopper Lures in Hastings.
The Ultimate Sport Show-Grand Rapids is at DeVos Place March 16 to 19. NEW show hours are 1 to 9 Thursday; 11 to 9 Friday; 10 to 8 Saturday and 10 to 5 Sunday.
Admission is $10 for adults, $4 for children ages 6 to 14 and children 5 and under will be admitted free.
The 17th Annual Tony Gates/MSAH Food Drive will take place on Thursday. Bring a minimum of four pounds or six cans or boxes of non-perishable food items to the RV parked in front of DeVos Place and get into the Show FREE. The food will be collected by Michigan Sportsmen Against Hunger volunteers and donated to God's Kitchen and other needy organizations.
Discount coupons are available in the Grand Rapids Press and at Wendy's.
Visit www.UltimateSportShow.com for more information.