Over 120 Seminar Hours at 2014 Ultimate Sport Show
By editor on Mar 18, 2014 | In Showspan, Ultimate Sport Show

Over 120 hours of seminars await outdoor lovers at 2014 Ultimate Sport Show–Grand Rapids

Michigan's longest-running outdoors show offers speakers, calling contests, free ORV safety class, Ultimate Clinics and more March 20 to 23 at DeVos Place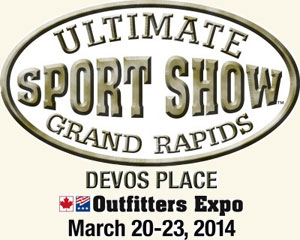 GRAND RAPIDS, MICH. — Experts on fishing, hunting, mushroom hunting, wilderness canoeing, kayaking and more will share the tips and techniques they use to achieve success during the show's 100-plus seminars gracing the six seminar stages – including Lake Ultimate and the Hawg Trough – at the 69th annual Ultimate Sport Show–Grand Rapids. The show is March 20 to 23 at DeVos Place, 303 Monroe Avenue NW in downtown Grand Rapids. Local and nationally acclaimed experts will share the special techniques that helped them soar to the top of their games.
Except for four intensive weekend Ultimate Clinics, all seminars are free with paid admission of only $10 for adults and $4 for children aged 6 to 14.
A pair of crowd favorites, walleye fishing expert Marianne Huskey and morel mushroom expert Theresa Maybrier return to the seminar stages this year.
Huskey is known in the professional fishing world as the "Walleye Woman." In 2012, the 15-year veteran of tournament fishing made history by becoming the first professional female angler to win Anglers Insight Marketing's (AIM) Angler of the Year honors. Born in Milford, she is also the director of the NPAA Youth Clinics for the AIM tournaments and works with other nonprofit organizations. She'll offer tips that helped her ascend to the top of the professional walleye circuit in her seminars, "Angler of the Year Walleye Tips."
Maybrier is America's foremost authority on morel mushrooms. The Omaha, NE native will teach show patrons how to identify morels, where to find them, how to prepare them and how to preserve them in her "Morel Hunting" seminars.
On average, a new seminar begins every 30 minutes over the four-day event, Michigan's oldest sport show, which began in 1946, and is the largest in the Midwest. No outdoor sport show in America has a larger or more diverse range of seminar topics.
Mark Millis, better known as "Uncle Millie," was born and raised in Lansing and will entertain and educate Ultimate Sport Show patrons with his seminars, "Gourmet Wild Game Cooking."
The Ultimate Sport Show kicks off Thursday night with several seminars including the always popular taping of Big Buck Night-West by Michigan Out-of-Doors TV. Jimmy Gretzinger and Jenny Olson will be on hand to interview the Michigan hunters who tagged white-tailed deer last fall sporting some of the largest antlers of the season.
On Saturday, Steve Francis, owner of Country Smoke House in Almont, MI, will demonstrate how to field dress, handle, butcher and package your next whitetail. Francis is an expert in his field and he'll start with a fresh deer and walk through every step of the process.
Bass Fishing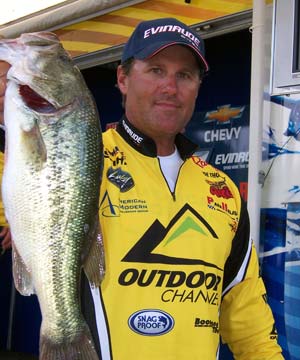 Professional angler Joe Thomas headlines the 2014 Ultimate Sport Show Grand Rapids bass seminar lineup on Saturday and Sunday with his Modern Bass Techniques from the Tournament Trail. Photo Credit: Joe Thomas
Joe Thomas is a professional angler, author and entertainer and will visit the Ultimate Sport Show–Grand Rapids on Saturday and Sunday. While in town, Thomas will share his "Modern Bass Techniques from the Tournament Trail."
Jim Vitaro brings his crowd-pleasing Hawg Trough – a 5,000-gallon fish tank – to the Ultimate Sport Show-Grand Rapids and you don't want to miss his seminars on "Fall Bass Fishing Tactics."
Capt. Chris Noffsinger is a premiere northern Michigan smallmouth bass guide and will instruct show patrons on the latest and greatest techniques to catch smallmouth bass in Michigan.
Capt. Wayne Carpenter has dedicated 16 years to bringing fishing information and bait technology to anglers. His in-depth research resulted in the "Combat Fishing Weekly Newsletter" along with several books, DVDs, maps and websites. Carpenter will entertain and educate patrons with his seminars on "Total Smallmouth Solutions."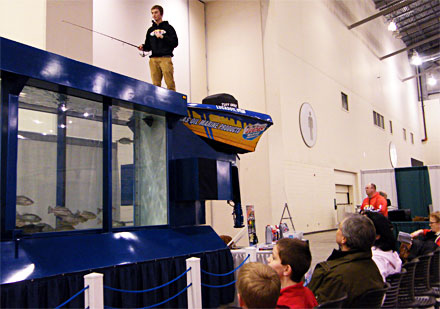 High school champion bass angler Danny Sprague literally shows you how to catch bass in his seminars on the Hawg Trough.
Dan Kimmel will present seminars on the "Ins and Outs of Bass Fishing;" Bill Ferris will instruct show patrons on "Putting More Bass in the Boat;" and Danny Sprague will share his secrets on "Catching Monster Bass."
Ultimate Clinics are back
Weekend Ultimate Clinics for Walleye (Saturday from Noon to 2 pm), Bass (Saturday from 3 to 5 pm), Salmon/Steelhead (Sunday from 11:30 am to 1:30 pm), and Electronics (Sunday 1:30 to 3:30 pm) charge $25 each and are limited to 100 attendees. The fee is for class materials, the value of which is "refunded" several-fold thanks to goody bags of sponsor products.
Pages: 1· 2