Family Fun Highlights Many Activities at Outdoorama
By editor on Mar 1, 2014 | In Showspan, Outdoorama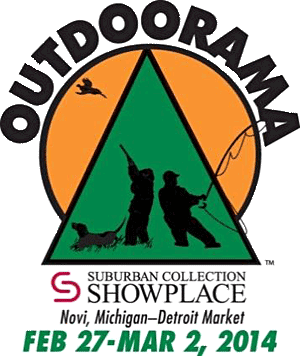 A strong tradition of conservation and outdoor heritage has been the heart and soul of Outdoorama since its inception in 1974 but family fun keeps many patrons coming back.
NOVI, MICH — A strong tradition of conservation and outdoor heritage has been the heart and soul of Outdoorama since its inception in 1974. Over four acres of all styles of boats, outfitters and guides, hunting, fishing, hiking and camping gear and a diverse lineup of education and entertaining seminars have certainly filled the bill. But it's the family fun that keeps many patrons coming back to Outdoorama, generation after generation. After all, Outdoorama provides wall-to-wall recreation and education for conservationists of all ages.
For the last 41 years, Outdoorama has served 1.4 million licensed anglers, 750,000 licensed hunters, and 1.4 million wildlife watchers with door-buster deals on outdoor-related gear.
The Michigan United Conservation Clubs (MUCC) launched Outdoorama at the old state fairgrounds in Royal Oak. This year's 41st edition, February 27 to March 2 at Suburban Collection Showplace, 46100 Grand River Avenue in Novi, remains true to its roots.
The always entertaining "Ultimate Air Dogs" exhibition, featuring former Detroit Tiger great Milt Wilcox and a bullpen of leaping canine companions, makes a big splash daily with Outdoorama patrons and is free with admission. Howell Nature Center's "Wildlife Encounters" program allows kids of all ages to get eye to eye with hawks, owls and other native Michigan wildlife.
The Michigan B.A.S.S. Federation Nation will provide one of the best indoor trout ponds in the state and for a nominal fee kids can try their luck at catching a live rainbow trout. There is a Pellet Shooting Range with certified instructors offering free lessons, and the Michigan Charter Boat Association will have its Virtual Fishing Simulator up and running at the show.
Mushroom hunting is a fun-filled, spring activity and Michigan families are taking up the sport in droves. Team Morel LLC and Theresa Maybrier will be on hand all four days and explain all-things mushroom to show patrons.
"Big Buck Night," an annual family staple on Michigan Out-of-Doors TV Show, will be filmed on Thursday starting at 7 p.m. It, too, is free with admission.
Target archery is growing by leaps and bounds among youths following the popularity of movies like The Hunger Games. The Michigan Bow Hunters Association will have a small archery range open for youths to give it a try.
More than 75 scheduled seminars on mushroom hunting, fishing, hunting for big and small game, dog training, growing food plots for wildlife, and other topics are free with admission and many in-booth demonstrations attract crowds throughout the show. A favorite is traditional skills expert Jim Miller who shows kids of all ages how Native Americans made fire, built canoes from birch bark, and tanned animal hides without chemicals.
Non-scheduled fun events are always popping up at Outdoorama. Keep your eyes open for "Gizmo" the robot, who just might be strolling the isles this year.
What kid doesn't like to munch on elephant ears, Mackinac Island fudge, roasted almonds or beef jerky? If they're still hungry, the Sportsmen's Grill food court serves up baskets of breaded fish fillets with slaw and fries at an affordable family price.
Outdoorama is crammed with new fishing and hunting boats along with hunting gear, fishing tackle and other outdoor products, including camping equipment. There is bottom-line value, especially on fishing and hunting boats, pontoons and pleasure boats, in addition to boat docks, lifts and other accessories.
Outfitters Expo provides the public with nearly unlimited family vacation and adventure travel, including hunting and fishing destinations throughout North America and beyond. You can even book a fishing trip to Alaska, an elk hunt in Idaho, a family houseboat adventure in Kentucky, or a safari in Africa.
Kids are among those who enjoy collecting the commemorative Dardevle spoons that Eppinger Manufacturing Co. in Dearborn hands out each year on Thursday and Friday to the first 500 show patrons. On Saturday and Sunday the first 250 patrons will receive a K&E Bass Stopper lure from Stopper Lures in Hastings.
Adding to the show's broad appeal is the 7th Annual Cottage & Lakefront Living Show, which runs concurrently at Suburban Collection Showplace and offers free crossover admission to Outdoorama patrons. The Cottage & Lakefront Living Show features a huge beach area of play sand where artisans build stunning sand castles and where the kids can play for free.
The show that celebrates Michigan's great outdoors and provides tons of family fun is February 27 to March 2. Bring the kids and grandchildren.
Show hours are Thursday, 3 to 9:30; Friday, noon to 9:30; Saturday, 10 to 9; and Sunday, 10 to 5. For more information go to http://www.Outdoorama.com or call 800-328-6550.
Discount tickets are available at Wendy's or online at Outdoorama.com
You can also follow late-breaking news and developments at: www.facebook.com/ULTIMATESPORTSHOWTOUR and at www.twitter.com/Outdoorama