Ultimate Fishing Tournament Presented by Mark Zona
By editor on Jan 11, 2013 | In Showspan, Ultimate Fishing Show

Ultimate Fishing Tournament
Presented by Mark Zona, Sponsored by WYCD
This unique Lake Ultimate event taking place Friday evening at the Ultimate Fishing Show Detroit will showcase Mark Zona in his element. Anyone who has ever seen Mark speak before, knows that he is very entertaining! When you pair that with a timed two person competition to see who can catch the biggest trout out of Lake Ultimate, this should be quite a treat!
Competitors will be pre-selected to compete in the competition. They will then be paired to fish against each other in a two minute match to see who can catch a trout first. The overall winner of the competition will be the angler that catches the heaviest fish between all the competitors. Mark will provide his unique commentary throughout the entire event. This promises to be one of the most entertaining features we have ever had at the Ultimate Fishing Show!
Ultimate Fishing Tournament Presented by Mark Zona, Sponsored by WYCD
Day:   Friday, January 11, 2013
Time:   6:00PM
Location:   Lake Ultimate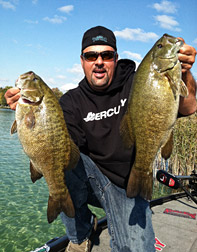 Make sure you also catch Mark Zona's Giant Smallmouth Techniques seminar Friday at 2:00PM on Lake Ultimate! Special Friday Only Appearance! Mark is well-known as a passionate and opinionated angler and expert analyst when it comes to tournament bass fishing.
It's no surprise that Mark Zona earned his reputation in the industry with a rod and reel in his hand. Along with having his own show on the Outdoor Channel, ZONA's Awesome Fishing Show, Zona has appeared as a host on several ESPN Outdoors shows including: The World's Greatest Fishing Show, The Bassmaster Elite Series Show, Bass Insider, College Smash-Mouth Bass, Loudmouth Bass, The Greatest Angler Debate, and BassCenter.
Giant Smallmouth Techniques Presented by Mark Zona
Day:   Friday, January 11, 2013
Time:   2:00PM
Location:   Lake Ultimate