OUTDOORAMA is an educational experience for all
By editor on Feb 22, 2012 | In Showspan, Outdoorama

From primitive survival skills to finding morel mushrooms
100-plus seminars feature America's top experts on nature, conservation, fishing, hunting and more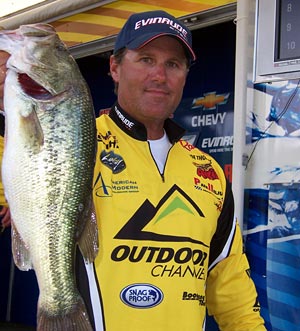 Professional bass angler Joe Thomas appears for seminars Friday only at the February 23 - 26, 2012 Outdoorama. Photo Credit: Showspan
NOVI, MICH — From hunting for deer and wild turkeys to fishing for bass, walleye, trout and salmon, there is something for outdoor enthusiasts of all skill levels to learn at the 39th Annual Outdoorama sport show, February 23 to 26 at Suburban Collection Showplace, 46100 Grand River Avenue in Novi.
"If you support conservation and appreciate our state's bounty of natural resources, then Outdoorama is for you," said Adam Starr, event manager in charge of juggling speakers for southeast Michigan's biggest offering of outdoors education instruction.
Although hunting and fishing are the roots of Outdoorama, launched by the Michigan United Conservation Clubs in 1974, the show also attracts bird watchers, mushroom pickers, wildlife photographers and others who love the outdoors. That's why Starr schedules a broad range of speakers and features, many of which are annual family favorites.
Among the most popular are the Team Morel presentations, led by Theresa Maybrier, America's top authority on wild mushrooms. After a three-year absence from Outdoorama, Maybrier returns from her Missouri home to share secrets and tips for finding, preserving and preparing the delectable fungi.
Traditional skills expert Jim Miller, a Port Huron native now living in northern Michigan, fascinates audiences with his demonstrations of how to build a birch bark canoe, make clothing from tanned animal hides, and start a campfire by rubbing sticks together.
There are plenty of seminars for hardcore hunters and anglers, too. Master bowhunter Tom Nelson, who lives in Grand Ledge, has collected more than 250 big-game animals with string and arrow. The host of Dead Down Wind's American Archer TV show will share the special skills required to "Become the Invisible Archer." Other deer-hunting experts include Michigan all-time record-holder Fred Abbas from Houghton Lake and Paul "Doc" Morrow, a specialist on creating food plots and backyard habitats.
New speaker Tom Mesnard, a consultant who founded Total Land Management in 1984, has helped hundreds of property owners grow big bucks like the more than 30 trophies he has collected from Michigan, Canada and throughout the Midwest.
Thursday evening is "Big Buck Night" when successful hunters bring their mounted trophies and tell the stories behind them for a huge crowd and the rolling Michigan Out-of-Doors TV camera crew. On Saturday evening, Steve Francis, owner of Country Smoke House in Almont, will demonstrate how to field dress and butcher an entire deer.
Wild turkey hunters will enjoy seminars by Seth McCullough, one of Michigan's top experts, along with Saturday's Open Turkey Calling competition, hosted by the Huron Valley Chapter of the National Wild Turkey Federation. Top finalists of the sanctioned event are eligible to compete in the National Calling Competition.
There are plenty of seminars for anglers, too. Mark Martin, Mark Romanack and Lance Valentine are well-known walleye authorities. They join bass-fishing expert Capt. Wayne Carpenter, Lansing's river-angling guru Jim Bedford, and muskie guides Don Miller, Mike Pittiglio and the legendary Bob Brunner. Pro bass angler Joe Thomas appears on Friday-only. Fly fishermen won't want to miss Mike Schultz's specialty seminars. The owner of Schultz Outfitters has fished throughout the world for both saltwater and freshwater species.
Hunting-dog owners receive training tips from professional pointing-dog trainer Tim Fox of Shooting the Breeze Hunt Club and Mark Romanack, an avid bird hunter and waterfowler who will demonstrate blind retrieves with Mason, his black Labrador retriever.
All seminars are free with admission. Outdoorama attendees receive free crossover admission to the concurrent Cottage & Lakefront Living Show, also at Suburban Collection Showplace. That show has many more free seminars.
In addition to the five seminar stages, many impromptu demonstrations, mini-clinics and brief seminars occur throughout the show at various exhibitors' booths. These include live birds of prey by the Michigan Hawking Association and live animals from the Howell Nature Center.
If the subject is conservation and the outdoors, there is almost certainly a seminar, clinic or demonstration. For more information, go to www.Outdoorama and click on "Speakers and Seminars" or call 800-328-6550.
Admission $10 for adults and $4 for children 6 to 14 (no charge for 5 and under). Show hours are Thursday and Friday, 2 to 9:30; Saturday, 10 to 9; and Sunday, 10 to 5.
For late-breaking news and developments go to www.facebook.com/Outdoorama and www.twitter.com/Outdoorama