Kevin VanDam, Babe Winkelman to headline Michigans biggest fishing show
By editor on Jan 4, 2012 | In Showspan, Ultimate Fishing Show

See both angling experts at Suburban Collection Showplace during the Ultimate Fishing Show—Detroit January 12 to 15 in Novi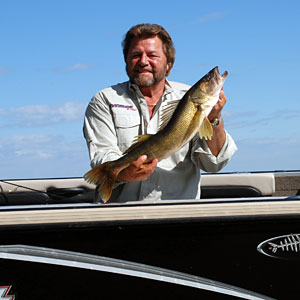 Babe Winkelman, host of the TV show Good Fishing, headlines the 2012 Ultimate Fishing Show Detroit on Saturday only. Photo Credit: Showspan
NOVI, MI — The big one just got bigger with today's announcement that two of the angling world's biggest stars are featured speakers at the annual Ultimate Fishing Show—Detroit, January 12 to 15 at Suburban Collection Showplace, 46100 Grand River Avenue in Novi. The "catch of the year" includes Kevin VanDam, four-time Bassmaster Classic champion from Kalamazoo, and Babe Winkelman, whose popular TV show "Good Fishing" is one of the nation's longest-running programs.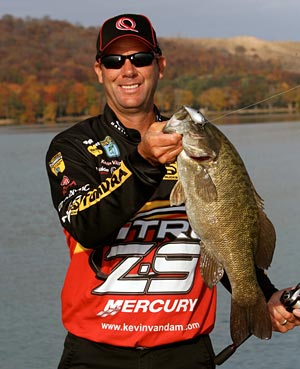 Top professional bass tournament angler Kevin VanDam headlines the 2012 Ultimate Fishing Show Detroit on Friday only. Photo Credit: Showspan
Last June, VanDam, whose tournament earnings since turning pro in 1992 have surpassed $5 million, won an unprecedented seventh "Angler of the Year Award." KVD, as his fans call him, will make an exclusive appearance on Friday, Jan. 13 at Michigan's biggest fishing show in North America's largest freshwater angling market.
Legendary angler, Babe Winkelman will appear on Saturday, January 14, to share tips and tales about his extensive fishing experiences in Canada. Show producers are expecting record crowds both days. There is no extra charge for the seminars, and both stars will be available for free autographs.
More than 100 other free fishing seminars by top experts are scheduled during the four-day show. New speakers include Dan Armitage (ice fishing, kayak fishing, kids fishing) and Howell's Kim Stricker, who brings his multi-media "Hook 'N Look" TV series to the show. Back by popular demand is "Walleye Woman" Marianne Huskey, along with more than 20 other angling experts.
America's biggest angling supermarket
More than 400,000 licensed anglers live in southeastern Michigan, an hour's drive or less from the venue. Besides "schooling up" at Novi for instruction, they come for the show season's best value on fishing boats and angling gear and to book angling adventures from the many professional guides, charterboat captains, lodges and outfitters.
Wilson Marine, Wonderland Marine West, Anderson Boat Sales, Angler's Marine, Freeway Sport Center in Fenton, and Grand Pointe Marine in Lansing are among the biggest downstate dealers bringing more than 200 new fiberglass and aluminum fishing boats to the show. Other major dealers include Bee's Sports in St. Johns and Chapman's Boat Sales in Lapeer. Cabela's in Dundee and Hideaway Yachts are new dealers who will also remove the wraps from boat/motor/trailer packages designed for catching bass, walleye, steelhead, salmon, panfish and other popular Michigan species.
The fleet of new boats includes pontoons, offshore trolling craft, canoes and kayaks—more than 40 brands in all.
The huge show always occurs early in the new year when major boat and motor manufacturers announce their annual rebate programs, special discounts and other buying incentives. Factory experts will be on hand to answer technical questions and to help anglers compare prices and features.
4 acres of fishing stuff
The Ultimate Fishing Show – Detroit offers 4 acres of boats, tackle, gear, and specialized fishing equipment, a veritable supermarket for buyers looking for new product selection and value. Frank's Great Outdoors, Lakeside Fishing Shop, KD Outdoors and other key Michigan retailers are among the 150 tackle exhibitors.
The dealers include traveling vendors from other markets, like StrikeMasters from Minnesota, along with Frabill, Otter, Vexilar and other manufacturers of ice-fishing tackle and accessories.
Many are one-of-a-kind makers of lures, tackle components and accessories. Anglers can choose from the plethora of brand names as well as customized, specialized gear that includes cutting-edge electronics, fishing-boat accessories, and the newest offerings in downriggers, rods, reels, nets, lines and other gear.
Pages: 1· 2