Cast for a chance to fish with Kevin VanDam
By editor on Dec 13, 2011 | In Showspan, Ultimate Fishing Show

A chance to fish with KVD - the world's best angler!
Fishing competition at the Ultimate Fishing Show—Detroit, January 12 to 15 to benefit Kevin VanDam's favorite charity – the March of Dimes.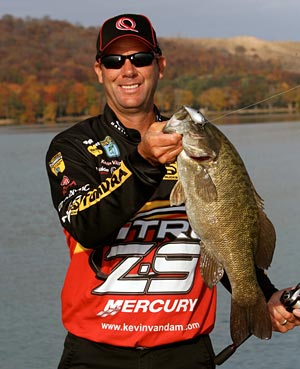 Visitors at the 2012 Ultimate Fishing Show Detroit can compete in a charity cast off to benefit the March of Dimes for a chance to fish with Kevin VanDam. Photo Credit: Showspan
KALAMAZOO, MI — Kevin VanDam, four-time BASSMASTER Classic champion and currently the world's top angler with more than $5 million in tournament earnings, does everything in a big way. But the "big catch" at the Ultimate Sport Show (in Detroit, January 12 to 15), where KVD will make an exclusive appearance, is his favorite charity - the March of Dimes.
The Kalamazoo Division of the March of Dimes will receive all the proceeds from the KVD Cast Off, to be held during the last two hours each day of the four-day event, on Lake Ultimate, the show's 110,000-gallon indoor lake.
Contestants pay $10 each for three chances to "put it in the cup" for a $50 prize during timed, two-minute-long, side-by-side competition. The event is first-come, first-served with no preregistration required. All contestants enter a drawing (which includes entrants from the Ultimate Sport Show in Grand Rapids, March 15-18) for the Grand Prize Drawing: the chance to fish with Kevin during a sanctioned evening tournament this summer near his Kalamazoo home.
The National Bass Anglers Association (NBAA) will announce the tournament date and location. For more information, check in at the NBAA booth during both shows.
The March of Dimes is all about babies—those born healthy and those who need our help to survive and thrive. Kevin VanDam and his wife Sherry are the parents of twin boys who were born four months prematurely. They credit the research and educational support provided by the March of Dimes for helping keep their sons alive when they were born too soon and too small some fourteen years ago.
Today, the boys are healthy, active teenagers, thanks to the mission March of Dimes.
Show hours are Thursday, 2 to 9:30; Friday, Noon to 9:30; Saturday, 10 to 9; Sunday, 10 to 5. Admission is $10 for adults and $4 for children 6 to 14. There is no charge for children 5 and under. For more information, go to www.UltimateFishingShow.com or call 800-328-6550.
You can also follow late-breaking news and developments at www.facebook.com/ultimatefishingshow and at www.twitter.com/ultimatefishdet