Lake Ultimate is the nation's most-popular sport show stage
By editor on Mar 3, 2011 | In Showspan, Ultimate Sport Show

But kids casting, leaping Labs, non-stop seminars present challenges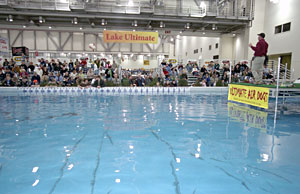 The 110,000-gallon Lake Ultimate is one of four seminar stages hosting the nation's top fishing and hunting speakers. Photo Credit: Showspan
GRAND RAPIDS — The nation's only-known indoor lake at a sport show has become a true "hot spot" that draws thousands of spectators during the Ultimate Sport Show in downtown Grand Rapids. The 66th annual event is March 17 to 20 at DeVos Place, 303 Monroe Ave. NW.
At 110,000 gallons, Lake Ultimate takes hours to set up and fill with water. Once it's ready, the lake presents a unique challenge for show organizers charged with scheduling activities there. Lake Ultimate is the most popular of five stages that feature two dozen hunting and fishing experts presenting more than 100 non-stop seminars.
"The seminars are the easy part," said Adam Starr, show manager responsible for the annual juggling act. "When national fishing stars like Marianne Huskey, the only woman on the walleye professional circuit, come to Grand Rapids, we have to schedule them on Lake Ultimate because the portable bleachers there accommodate hundreds of spectators. Even then, it's often standing-room only."
David Rose on perch fishing, Lance Valentine on walleye fishing, Glen Blackwood on fly fishing, and Mark Romanack on hunting dog training are among the more than 20 specialty seminars slated for Lake Ultimate.
The lake has fully rigged bass and walleye boats for the experts to demonstrate their specialized fishing methods such as vertical jigging and pinpoint boat control. The audience roars its approval when one of the speakers catches a 4-pound rainbow trout.
"This is in-your-face, real-time action," Starr said. "Show patrons love Lake Ultimate, and the speakers do, too."
Between the seminars, Starr has arranged for Milt Wilcox's "Ultimate Air Dogs" show on Lake Ultimate. The presentation by the former Detroit Tigers ace pitcher has become a popular show feature with more and more fans showing up to watch the athletic canine performers and to compete with their own dogs.
Starr has scheduled nine Ultimate Air Dogs presentations during the four-day show. For the complete seminar schedule, go to www.UltimateSportShow.com or call 800-328-6550. To register dogs for the competition, go to www.ultimateairdogs.net.
On Thursday evening, Big Buck Night West features Michigan Out-of-Doors TV Show co-hosts Jimmy Gretzinger and Jenny Olson and special guest Tony Gates, afternoon host on WLAV-FM. From 7:00 to 8:30 p.m., the trio will interview successful Michigan deer hunters eager to share their stories to hundreds of spectators as well as to the cameras for future TV shows.
Other crowd-favorite activities include radio promotions like "Kids Catching Competition" (Saturday at Noon) and "Kayak Demos" by Powers Outdoors (Friday and Saturday at 4:00 pm, and Sunday at Noon).
These are the reasons why the water is rarely quiet on Lake Ultimate during the Ultimate Sport Show.
Show hours are Thursday, from 3:00 to 9:30; Friday, from 11:00 to 9:30; Saturday from 10:00 to 9:00; and Sunday from 10:00 to 5:00. Admission is $10 for adults and $4 for children 6 to 14. Kids 5 and under get in free.
Discount coupons are available at the Grand Rapids Press, and Wendy's restaurants. For more information, go to www.UltimateSportShow.com or call 800-328-6550. Follow show developments on Facebook and Twitter.