Ray Eye, America's top wild turkey hunting expert, leads new seminar lineup at OUTDOORAMA
By editor on Feb 22, 2011 | In Showspan, Outdoorama

Bowhunter Tom Nelson, Fred and Greg Abbas add sizzle to all-star Hunting Stage sponsored by GreenStone Farm Credit Services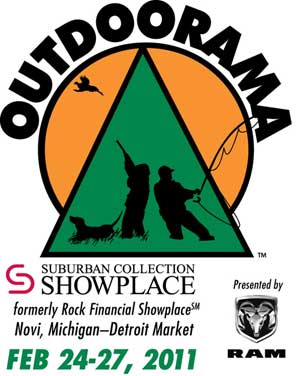 NOVI, MICH — From hunting for deer and wild turkeys to fishing for bass, walleye, trout and salmon, there is something for outdoor enthusiasts of all skill levels to learn at the 38h Annual Outdoorama sport show, February 24 to 27 at Suburban Collection Showplace, 46100 Grand River Avenue in Novi.
"Education is at the core of the conservation message," said Adam Starr, event manager in charge of scheduling what is southeast Michigan's most ambitious lineup of expert speakers. "That's why we're excited to have Ray Eye and Tom Nelson, considered by many to be America's top wild turkey and whitetail bowhunter respectively, in the show for the first time."
Eye, who lives in Missouri, will appear Friday, Saturday and Sunday for once-daily presentations of "Chasing Spring," his exciting multi-media account of the ultimate turkey hunting trip across America. See him in person and follow his adventures via his radio show and dedicated blog as well as on www.OutdoorLife.com and in the print edition of Outdoor Life magazine.
Master Bowhunter Tom Nelson, who lives in Grand Ledge, Michigan, has collected more than 250 big game animals with string and arrow. The host of American Archer TV Show and regular guest on the ESPN Radio network will speak one-time only, at 5:00 pm on Thursday, February 24. The topic: "Becoming the Invisible Archer."
Their seminars, along with more than 70 others by 20 other hunting and fishing experts, are free with admission. Outdoorama attendees also receive free crossover admission to the concurrent Cottage & Lakefront Living Show, also at Suburban Collection Showplace. That show has many more free seminars, as well as fee-based photography classes by Steve Gettle, whose work has appeared in National Geographic, Audubon and other publications.
In addition to the five seminar stages, many impromptu demonstrations, mini-clinics and brief seminars occur throughout the show at various exhibitors' booths. For example, Jim Miller, a primitive skills expert, shows how Native Americans tanned hides the natural way and made fire by rubbing sticks through ongoing, on-the-spot demos.
Here are the seminar stages, speakers and subjects. For times and more information, go to www.Outdoorama.com and click on "Speakers and Seminars."
The Hunting Academy, sponsored by GreenStone Farm Credit Services
Deer hunting expert Fred Abbas, who grew up in Dearborn and resides in Houghton Lake, ranks first in the state for harvesting trophy bucks. His collection includes four record-book whitetails taken in 1990, the last year Michigan law allowed a four-buck limit. The inventor of the Bowgrunter Plus call will offer daily seminars on "Manipulating Trophy Bucks."
Abbas is joined by Mark Martin, the walleye fishing pro who is also an accomplished hunter of trophy whitetails. Ed Spinnazola is an expert at growing food plots for deer. The Quality Deer Management spokesman has written a book on the subject. Paul "Doc" Morrow, owner of Back Forty Habitat Solutions, will also offer tips and techniques for attracting wildlife to private property.
Dan Donarkski, author of 21 Days in Africa, will share his success formula for an African big game safari.
Turkey hunters won't want to miss the "Turkey Tech University" daily seminars by Greg Abbas, Fred's son, as well as Thursday and Friday talks by Seth McCullough, who speaks on the "Life Cycle of the Wild Turkey."
The Huron Valley Chapter of the National Wild Turkey Federation hosts an open turkey calling championship on Saturday. Open to the public, the preliminaries begin at Noon, followed by the finals.
Pages: 1· 2