From leaping Labradors to making birch bark canoes, OUTDOORAMA attractions are uniquely appealing
By editor on Feb 22, 2011 | In Showspan, Outdoorama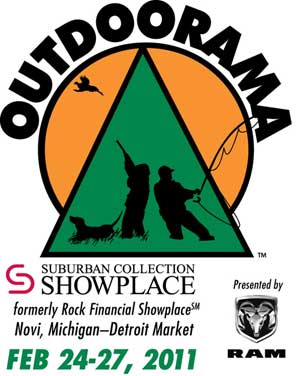 NOVI, MICH— If you want to paint the "outdoors of Michigan," you'll need a broad brush. In addition to thousands of sportsmen and women who follow traditional hunting and fishing pursuits, the state is home to many others who cherish its abundant natural resources. From campers and canoeists to bird watchers and wild berry pickers, the Great Lake State has much to offer.
For four days each winter, the "outdoors" comes inside for Michigan's best-known show: Outdoorama. This year's dates are February 24 to 27. The location is Suburban Collection Showplace, 46100 Grand River Avenue in Novi.
The 38th Annual Outdoorama has it all: hunting gear, fishing tackle, new boats for family fun and fishing, and loads of accessories and other equipment. More than 75 non-stop seminars—all free with admission—are slated. The show offers good things to eat and tons of fun for families.
Nestled among the busy booths and packed aisles are special attractions that easily go unnoticed. All are free with admission. Here are some of the features:
Traditional Skills of our Ancestors
Teacher Jim Miller of Willow Winds near Mikado in rural Alcona County demonstrates forgotten campcraft and survival skills learned thousands of years ago by our common ancestors. Activities include building a canoe from birch bark, making watertight baskets from slivers of ash, and building a fire with a bowstring.
The 55-year-old Miller, who grew up in Port Huron, is a frequent visitor to southeast Michigan. The Native American village he helped construct at the Cranbrook Institute of Arts and Science features a 26-foot-long wigwam made from cedar and birch. His summer-camp demonstrations are popular at the E.L. Johnson Nature Center in Bloomfield Hills, and he is a frequent lecturer at area schools.
Miller's authentic reproductions have not gone unnoticed by Hollywood filmmakers. His handiwork has appeared as props in Thunderheart and The Indian in my Cupboard. Miller has traveled to Alaska and Oklahoma to help reacquaint Native Americans with long-forgotten traditional skills.
At Outdoorama, he will demonstrate Slavic techniques for making furniture from willows, birch bark canoe construction, how to make Ojibwa-style snowshoes from ash, and how to tan a deer hide the natural way without chemicals. His "Wilderness Skills of our Ancestors" delights audiences of all ages. For more information, go to www.jmwillowwinds.com.
Milt Wilcox and Ultimate Air Dogs
Former Detroit Tigers pitcher Milt Wilcox has found a new sport beyond baseball. His "Ultimate Air Dogs" show of leaping Labrador retrievers and other athletic canines is an Outdoorama favorite. During all four days of the show, Milt and his black Lab, Sparky, will demonstrate—along with many other dogs—how far they can jump into a large pool from a running start and how high they can leap from a stationary position.
The public is invited to join the weekend competition. For registration and information about qualifying times and requirements, go to www.ultimateairdogs.net.
Pages: 1· 2