Here once a year, OUTDOORAMA is Michigan's No. 1 show for family fun and conservation education
By editor on Jan 19, 2011 | In Showspan, Outdoorama

February 24 to 27 2011 event features Big Buck Night, Wildlife Encounters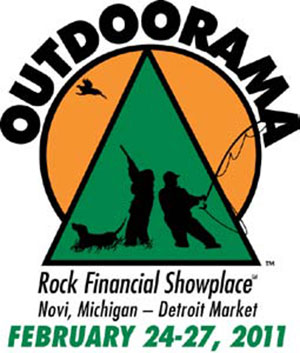 NOVI — Outdoor enthusiasts look forward to the shortest month of the year because that's when Outdoorama, sponsored by RAM Trucks, comes to town. The 38th annual edition of Michigan's most popular show is February 24 to 27 at Suburban Collection Showplace, 46100 Grand River Avenue in Novi.
Many of the state's more than one million anglers and hunters will pack what used to be called Rock Financial Showplace for great deals on boats and sporting gear, for conservation education and dozens of free seminars, and for family entertainment and features.
Returning to crowd fanfare are favorite attractions like "Big Buck Night," "Wildlife Encounters" and "Ultimate Air Dogs" with Milt Wilcox hosting daily demonstrations and weekend competition.
Although hunting and fishing are at the show's core, Outdoorama has long appealed to Michigan's huge core of conservationists, those lovers of nature who also hike and camp, boat and canoe, and who pursue bird watching, wildlife photography and other outdoor pursuits.
"Outdoorama is all about celebrating our state's outdoors heritage while keeping in mind our responsibilities toward the environment," said Adam Starr, show manager. "That's why the Michigan United Conservation Clubs, which started the show nearly 40 years ago, still plays a major role."
Adding to the show's broad appeal is the 4th Annual Cottage & Lakefront Living Show, which runs concurrently at Suburban Collection Showplace. Patrons to either event receive free crossover admission. "We've kept the admission fee low again this year," Starr said. "It's $10 for adults and $4 for children 6 to 14. Kids 5 and under get in free."
A large number of lodges, outfitters, guides and charter boat captains from Alaska to Africa have reserved space in the show. Great values on fishing boats, duck hunting boats, pontoons and pleasure boats will be at the show along with docks and other accessories.
Besides Ultimate Air Dogs, family fun activities include a Trout Pond with live rainbows, pellet shooting range, free Casting Kids Contest hosted by the Michigan B.A.S.S. Federation Nation, a video fishing simulator, and the Sportsman's Grill with fried fish all four days of the show.
Many specialty vendors with hunting equipment, fishing gear, and camping supplies had already reserved space before the show sold out for space in late December.
Dozens of sport clubs and organizations, many of which are MUCC affiliates, will staff booths with volunteers to hand out literature and explain club programs.
Ray Eye, considered by many to be America's top turkey-hunting expert, heads a stellar seminar lineup of top hunting and fishing experts. Eye, a radio-show host and former national champion caller from Missouri, tantalizes crowds with "Chasing Spring," his popular multi-media presentation. Other speakers include Greg Abbas on turkeys, white-tailed deer expert Fred Abbas, and food-plot teacher Ed Spinazzola.
Pages: 1· 2