World's best bass angler, Kevin VanDam, headlines non-stop seminars
By editor on Dec 19, 2010 | In Showspan, Ultimate Fishing Show
New Lake Ultimate speakers include Marianne Huskey with walleye-fishing tips from the AIM Pro Walleye Tour and a team of Canadian experts who will share successful flyfishing tactics in Ontario lakes and rivers. Wisconsin walleye pro Tommy Skarlis and ice-fishing expert Mark Martin from Twin Lakes, Michigan appear on the weekend only.
Among the nonstop seminars on Lake Ultimate are casting demonstrations by Orvis fly fishing experts from Colton Bay Outfitters in Ann Arbor.
Three others stages at the Ultimate Fishing Show—Detroit teem with other speakers, many of whom are professional guides and charter boat captains with specialized expertise. These include:
Joe Raymer (Saginaw), "Ice Fishing for Michigan Walleye"
Scott Shelagowski (Lowell), "Michigan Steelhead Fishing in Rivers"
Mike Pittiglio (Washington Twp.), "Muskie Trolling Tactics on Lake St. Clair"
Wayne Carpenter (Clawson), "Lake St. Clair Bass Tactics"
Jerry Lee (Livonia), "Great Lakes Trout and Salmon"
Don Miller (Saline), "Open Water Trolling for Muskies"
Chip Cartwright (Orchard Lake), "Early Season Lake Erie Walleye"
Doug Samsal, "Jigging and Casting for Muskie on Lake St. Clair"
Jim Bedford (Lansing), "River Fishing for Steelhead and Trout"
Mark Romanack (Tustin), "Open Water Walleyes"
On Saturday at 4:00 p.m., Minnesotan Dan Reed offers a one-time-only seminar called "GPS/3D Fish Mapping Technologies" as applied to local lakes.
The National Bass Angler's Association seminar series also returns with ten pro-staffers to lead high-powered talks. The NBAA team also present the Ultimate Casting Competition where show patrons can test their casting accuracy against peers and pros. There is no charge and contestants can sign up at the show.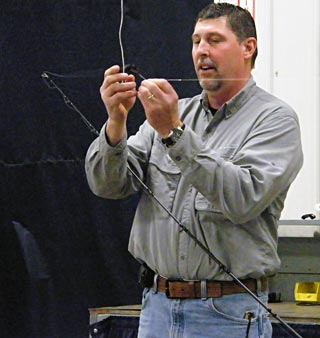 Fishing 411 host and walleye expert Mark Romanack provides detailed information in his informative seminars

Mark Romanack will lead the annual Walleye Super Clinic on Saturday. It's an intensive two-hour-long super seminar limited to 100 students who pay $25 each. Each "student" gets a goody bag filled with sponsor products worth two to three times the seminar fee.

Dave Engel and Bill Bale, who have won nearly every Lake Michigan trout and salmon tournament in recent years, will host a similar fee-based Salmon Super Clinic on Sunday. As with the Walleye Super Clinic, students can sign up at the show.
For the full seminar schedule, go to www.UltimateFishingShow.com. Follow us on FaceBook and Twitter.
Show Hours are Thursday, January 13 from 2 to 9:30; Friday, from Noon to 9:30; Saturday, 10 to 9; and Sunday, 10 to 5. Tickets are $10 for adults and $4 for children 6 to 14. Kids 5 and under get in free. For more information, call 800-328-6550 or go to www.UltimateFishingShow.com.
Pages: 1· 2