World's best bass angler, Kevin VanDam, headlines non-stop seminars
By editor on Dec 19, 2010 | In Showspan, Ultimate Fishing Show

Stellar speaker lineup puts the "ultimate" in fishing show program
* Thirty speakers on 4 stages offer 120+ seminars, all free with admission
* The nation's leading experts share catching tips and tactics
* Fee-based "Super Clinics" are weekend features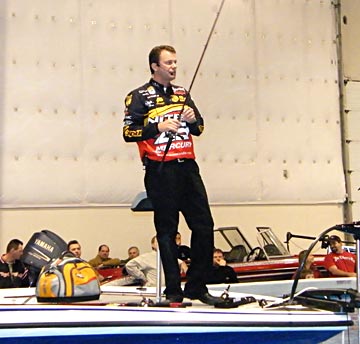 NOVI– There's a reason they call it the Ultimate Fishing Show–-Detroit. When the doors open at 2:00 p.m. on Thursday, January 13 for Michigan's biggest all-angling show, 30 of North America's best-known fishermen become teachers.

The experts include household names like Kevin VanDam as well as several new speakers. The seminar leaders will tackle four separate stages at Rock Financial Showplace in Novi January 13 to 16 to share their special methods for catching everything from bass to bluegills.
Whether you're a worm-dunking novice or a sophisticated fly fisher, the seminars, clinics and demonstrations—all free with admission—will increase your understanding of how fish live in their specialized habitats, what they eat, and how to catch them under all conditions.
There are even seminars on how to maintain your fishing boat. Expert technicians from Wilson Marine will demonstrate do-it-yourself tips for repairing motors and boats and maximizing their life.
The "Who's Who of Expert Anglers" includes Kalamazoo's Kevin VanDam, the world's top bass angler with more than $4 million in tournament earnings. The unprecedented, three-time BASS Classic champion makes an exclusive appearance on Saturday for his "Ultimate Bass Fishing" seminars at 1:00 and 6:00 pm. VanDam will sign autographs after his demonstration talks on 110,000-gallon Lake Ultimate, the nation's biggest virtual-fishing stage.
"Each year our goal is to pack the seminar stages with the best and brightest fishermen in the business," said Adam Starr, Show Manager. "In spite of a demanding schedule, Kevin VanDam always makes the Ultimate Fishing Show—Detroit. He's a favorite of fans from eight to 80."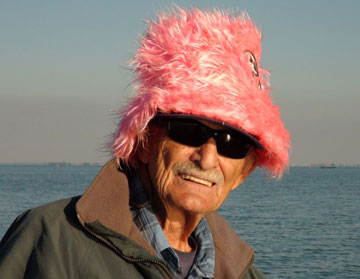 A kid at heart, Legendary Guide Hall of Fame Angler Muskie Bob Brunner is always entertaining and interesting
Photo Credit: Mark 'cameraguy' Gomez

Lake Ultimate, which is stocked with live rainbow trout, is the most popular stage at Novi, an hour's drive or less from 400,000 licensed fishermen. Speakers deliver real time, on-the-water demonstrations from fully equipped fishing boats. Outdoor writer and fishing guide David Rose from Traverse City, who will speak on "Panfish in Depth," is also the host MC for Lake Ultimate. Other seminars scheduled there include Flint's Lance Valentine ("Jigging the Detroit River"), 86-year-old Freshwater Fishing Hall of Fame inductee Bob Brunner from Shelby Township ("Casting for Muskie and Pike"), and Berkley resident Chris LeMessurier who returns to repeat last year's popular demonstrations on fishing from kayaks.

Pages: 1· 2