Public opinion needed on proposed bass season regulations
By editor on Jul 13, 2014 | In MI Dept of Natural Resources, Species related, Fisheries Management, Fishing

Public meetings schedule and online survey available for anglers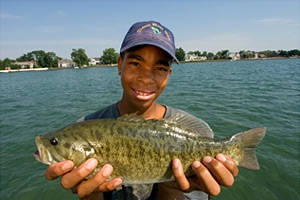 The Michigan Department of Natural Resources is asking for public input through public meetings and online survey on proposed largemouth and smallmouth bass season regulation changes. Photo Credit: Michigan Department of Natural Resources
In order to get public input on proposed regulations to expand Michigan's bass fishing seasons, the Department of Natural Resources has announced an online survey and public meetings throughout the state in July. For the past year the DNR's Fisheries Division has been working with the Warmwater Resources Steering Committee (a public advisory group) to discuss expansion of bass seasons.
The regulation expansion options being discussed would increase fishing and harvest seasons. Under all options, bass populations would still be protected and include a winter no-harvest season, 14-inch minimum size limit and daily possession limit.
To gauge public opinion, both anglers and non-anglers are encouraged to complete the DNR's bass regulations survey, available here: https://www.surveymonkey.com/s/BassRegs. The goal of this survey is to determine the level of support for increasing angling opportunities for largemouth and smallmouth bass through changes to existing fishing seasons.
Additional public input will be gathered via a series of public meetings. Dates, times and locations include:
Monday, July 14, 6-7:30 p.m. (CDT), Dickinson County Library, 401 Iron Mountain St., Iron Mountain (Upper Peninsula)
Tuesday, July 15, 6-8 p.m. (EDT), Carl T. Johnson Hunt & Fish Center, 6093 M-115, Cadillac (North Michigan)
Tuesday, July 15, 6:30-8 p.m. (EDT), Oshtemo Branch Library, 7265 W. Main St., Kalamazoo (Southwest Michigan)
Tuesday, July 15, 6-8 p.m. (EDT), Saginaw Bay Visitor Center (in Bay City State Recreation Area), 3582 State Park Drive, Bay City (East Michigan)
Tuesday, July 15, 6-7 p.m. (EDT), Tahquamenon Area Public Library, 700 Newberry Ave., Newberry (Upper Peninsula)
Wednesday, July 16, 7-8:30 p.m. (EDT), DNR Customer Service Center, 1801 Atwater St., Detroit (Southeast Michigan)
Wednesday, July 23, from 7-9 p.m. (EDT), Ishpeming Town Hall, 1575 U.S. 41 West, Ishpeming (Upper Peninsula)
Wednesday, July 23, 6-7:30 p.m. (EDT), DNR Field Office, 1732 W. M-32, Gaylord (North Michigan)
Thursday, July 24, 7-9 p.m. (EDT), Portage Lake District Library, 58 Huron St., Houghton (Upper Peninsula)
A random selection of about 1,000 licensed anglers will also receive a survey in the mail.
For more information on these meetings, visit www.michigan.gov/fishing or contact: Patrick Hanchin, 231-547-2914, ext. 227; Elyse Walter, 517-284-5839 or Ed Golder, 517-284-5815.
---
More Michigan Bass Season Information on GreatLakesBass.com
---
About the Michigan Department of Natural Resources
The Michigan Department of Natural Resources is committed to the conservation, protection, management, use and enjoyment of the state's natural and cultural resources for current and future generations. For more information, go to www.michigan.gov/dnr.