Clough to accept award for B.A.S.S.
By editor on Aug 11, 2011 | In Conservation, B.A.S.S. Conservation, Fishing

B.A.S.S. News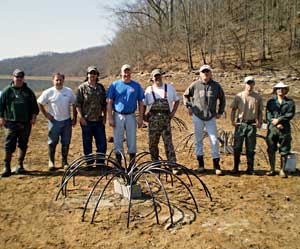 Members of the West Virginia B.A.S.S. Federation Nation work on habitat improvement. Photo Credit: B.A.S.S./West Virginia BFN
CELEBRATION, Fla. — "Giving back is the best gift you'll ever receive," are words Garry Mason lives by. Mason, founder and CEO of the Legends of the Outdoors National Hall of Fame, makes it a point to thank people who have given of themselves to promote conservation in the outdoors.
This weekend, Mason will thank B.A.S.S. for its efforts in promoting bass fishing and protecting the resource. B.A.S.S. has been selected for the American Outdoor Organization of the Year award, and Noreen Clough, B.A.S.S. National Conservation Director, will attend the Legends of the Outdoors National Hall of Fame banquet and induction ceremony to accept the award.
"On behalf of B.A.S.S., its members, the B.A.S.S. Federation Nation and the state conservation directors, I'm proud to accept this award," said Clough, who came out of retirement to rejoin B.A.S.S. earlier this year. "B.A.S.S. is strong because its members care about the resource and dedicate themselves to making fishing accessible to everyone. B.A.S.S. is delighted to be recognized by the Legends of the Outdoors."
Jerry McKinnis, one of three owners of B.A.S.S. LLC, agreed. "It's a privilege for B.A.S.S. to be recognized by Legends of the Outdoors this year," said McKinnis. "B.A.S.S. has been and continues to be a positive driving force behind this industry, promoting its anglers, conservation issues, education and the competitive aspect of bass fishing."
B.A.S.S. is only the third recipient of the award. Previous honorees were National Wild Turkey Federation and Ducks Unlimited. "This award is not just for those who run these organizations," said Mason, "but also for all the volunteers and the people behind the scenes who strive for excellence for their mission."
The award will be presented to Clough during a ceremony Aug. 14 at the Gaylord Opryland Resort and Convention Center in Nashville, Tenn., in conjunction with the Bass Pro Shops Land and Wildlife Conservation Expo.
Mason said his organization rewards those who have helped set standards and guidelines for the rest of the outdoor world to follow. This year's class of inductees includes Steve Coleman, Ronnie Capps, Roger Raglin, Larry Shockey, Mark Sosin and Joella Bates. "Inductees of the Legends of the Outdoors National Hall of Fame are not necessarily national public figures," explained Mason, "but they are people who have had a significant impact on the industry or the resource."
Legends of the Outdoors National Hall of Fame members scheduled to be on hand this weekend include Peggy Vallery, Tommy Akin, Jerry Martin, Soc Clay, Roland Martin, Harold Knight, Brenda Valentine, Alex Rutledge, Jack Oliver, Ray Scott, Ralph McDonald, Emily Shaffer and Jimmy Holt.
The event is open to the public. The doors for this event will open at 8 a.m. (CT), and the banquet and awards ceremony will begin at 9 a.m. To obtain ticket and sponsorship information for this event, visit www.legendsoftheoutdoors.com, or call 731-593-0171 or 731-693-7770.
About B.A.S.S.
For more than 40 years, B.A.S.S. has served as the authority on bass fishing. The organization advances the sport through advocacy, outreach and an expansive tournament structure while connecting directly with the passionate community of bass anglers through its Bassmaster media vehicles.
The Bassmaster brand and its multimedia platforms are guided by a mission to serve all fishing fans. Through its industry-leading publications — Bassmaster Magazine and B.A.S.S. Times — comprehensive website Bassmaster.com, ESPN2 and Outdoor Channel television programming, Bassmaster provides rich, leading-edge content true to the lifestyle.
The Bassmaster Tournament Trail includes the Bassmaster Elite Series, Bass Pro Shops Bassmaster Open Series, B.A.S.S. Federation Nation events presented by Yamaha and Skeeter Boats and the ultimate celebration of competitive fishing, the Bassmaster Classic.
B.A.S.S. offers an array of services to its more than 500,000 members and remains focused on issues related to conservation and water access. The organization is headquartered in Celebration, Fla.