Noreen Clough Returns As B.A.S.S. Conservation Director
By editor on Jan 12, 2011 | In Conservation, B.A.S.S. Conservation

B.A.S.S. News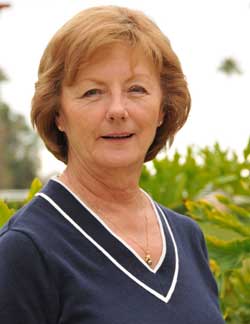 Noreen Clough returns as B.A.S.S. Conservation Director Photo Credit: B.A.S.S.
CELEBRATION, Fla. — Noreen Clough, a highly respected and experienced leader in conservation and natural resource organizations, has been named B.A.S.S. conservation director, the organization announced today.
Clough, who served 20 years with the U.S. Fish and Wildlife Service, including director of the FWS Southeast Region, formerly served as B.A.S.S. conservation director from 2004 until her retirement in 2007. Chris Horton held the position from that time until last fall, when he became midwest director of the Congressional Sportsmen's Foundation.
"I've known Noreen for many years, and I am excited about the enthusiasm and dedication to sportfishing she brings back to B.A.S.S.," said Jerry McKinnis, an owner of the company. "Anglers contribute so much time and money to conservation already. It's great to have her providing leadership for bass fishermen on behalf of our resources."
She will be working closely with state conservation directors and other leaders in the B.A.S.S. Federation Nation, and she will represent sportfishing interests on national conservation and natural resource boards, in addition to other responsibilities.
Her first priorities will be to help "re-energize the state conservation director program and help them establish meaningful, exciting conservation priorities," Clough said. "They have done a remarkable job over the years, and they are respected for the work they've done throughout the sportfishing industry."
She identified efforts to make large areas of key fisheries off-limits to sportfishing, such as Marine Protected Areas, as a major threat to recreational angling. "The whole idea that giant areas need to be set aside as protected areas — in freshwater as well as saltwater — violates good fishery management," she said. "I want to ensure that B.A.S.S. stays connected to the larger fisheries and sportfishing community and will remain a player at the table when key decisions are made regarding the future of fishing."
Clough has received numerous honors for her work, including being named the American Sportfishing Association Woman of the Year and receiving the U.S. Department of the Interior Meritorious Service award and the Coleman Outdoors award. She currently serves on the board of the Berkley Conservation Leaders Advisory Team and is a member of the Michigan State University Fly Gals team, mentoring graduate students in sportfishing and conservation advocacy.
She resides in Clermont, Fla.
About B.A.S.S.
For more than 40 years, B.A.S.S. has served as the authority on bass fishing. The organization advances the sport through advocacy, outreach and an expansive tournament structure while connecting directly with the passionate community of bass anglers through its Bassmaster media vehicles.
The Bassmaster brand and its multimedia platforms are guided by a mission to serve all fishing fans. Through its industry-leading publications — Bassmaster Magazine and B.A.S.S. Times — comprehensive website Bassmaster.com, and ESPN2 television programming, Bassmaster provides rich, leading-edge content true to the lifestyle.
The Bassmaster Tournament Trail includes the Bassmaster Elite Series, Bass Pro Shops Bassmaster Open Series, B.A.S.S. Federation Nation events presented by Yamaha and Skeeter Boats and the ultimate celebration of competitive fishing, the Bassmaster Classic.