By editor on Oct 19, 2010 | In Bass Tournaments | 1 feedback »
When Dobson and Green arrived, there were a few other boats in the area. "They weren't catching much. The water was stained up now so a little harder to see, but I already had the spots marked which allowed me to see the key spots," says Dobson. "We caught about 40 keepers after we got there. We would pick up a few threes and fours, and then we'd catch one of the big ones."
"Other anglers were catching a few around us, but not those real big ones," continued Dobson. "One thing that made a difference for us, besides already having the key spots marked - working our baits a lot more patiently. Long pauses, at least 5 seconds, on jerkbaits and practically dead-sticking tubes. It was one of those glorious days that you dream about! We landed most of the big fish that we got on. A few would hit and miss a couple times, but I switched to a Carolina rig and went to the long pause in the 56 to 57 F water."
"A few would get off before we hooked them good, but we got all the big bass we visually saw," says Dobson. Despite the cold October water, the bass weren't biting light. "When they did eat, they were smashing the bait! They would hit so hard they would jerk the rod out of your hand, but you would still miss them," says Dobson. "They'd come back, eat it again. You'd finally get them on the third or fourth time."
Dobson and Green were switching between Pointer 100 Double Deeps (chartreuse shad is Dobson's confidence color), tubes and drop shots – soft baits mostly in greens, pretty standard fair like green pumpkin with a little purple. Another key Dobson couldn't say enough about was Provider Tackle's tube head (Art Ferguson's company). "His tube head is incredible, kind of like a Kahle hook, just the right size (3/0) that keeps those big fish buttoned up! I always use that tube head when I fish tubes. Especially in the spring and fall when the bass key on the tube more. I've been throwing them on Sunline Fluorocarbon. Excellent line," says Dobson.
Dobson was pretty open about lures and techniques. The one thing he was unwilling to share was the bait he caught the giant 6.78 pound big bass winning smallie on. "I caught it on a special bait that I hold close to my chest," says Dobson. "I will say it's a bottom bait."
Says Dobson about that particular bass, "When we caught that big one, I thought about the quote from Jaws – 'looks like we are gonna need a bigger boat!' Kyle had to grab the hoop of the net so it didn't break when he brought it into the boat!"
"With about an hour to go before they had to run in, Kyle and I both doubled up on 5 pounders," says Dobson. "I say to Kyle, dude, neither one of these fish will cull what we already have! I told you when we left the Firecracker we weren't coming back until we had 30 pounds! Look, we got a big sack and you've just had your powerhead replaced. Maybe we should return."
Having bass of about 6, 6.3 and 6.78, and knowing 5 pounders would no longer cull for them, they decided they probably had over 29 pounds. Time to get back early. "We headed in and took it easy," says Dobson.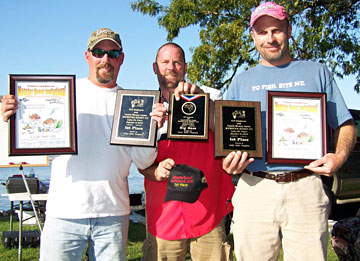 Kyle Green (L) and Scott Dobson (R) showing all the top wood from the dominating Monsterquest record catch
Photo Credit: Drew Smith

The rest is now history. Quite a feat to crush a huge 27.81 pounds limit by almost 2 pounds!! Monsterquest saw a monster of a weigh in with the top 3 all over 25 pounds and the top 4 teams easily busting 100 pounds!! Kings for a day were definitely Dobson and Green with their unofficial record of 29.68 pounds!
"Fall is the time to catch a 6 pounder on St. Clair and Erie if you can brave the elements. We follow them out into 19 or more feet of water. I'd pick St. Clair any day over Erie myself," says Dobson. "More options. More things I can do regardless of the weather. Tuesday, we took outdoor writer Darl Black out to those same bass and caught another 6 pounder. Joe Balog followed along with another writer from BASS, Mike Pehanich, and they caught a 7-pounder," says Dobson.
1 comment